Press Releases
Now in paperback, Rebecca Mead's My Life in Middlemarch
A New Yorker writer revisits the seminal book of her youth--Middlemarch--and fashions a singular, involving story of how a passionate attachment to a great work of literature can shape our lives and help us to read our own histories.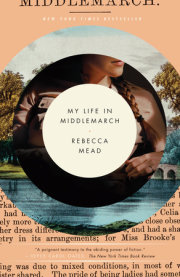 Rebecca Mead
Imprint: Broadway Books
On sale: January 27, 2015
Price: $15.00
Pages: 320
ISBN: 9780307984777
Contact:
Lauren Kuhn
212-782-8637
lkuhn@penguinrandomhouse.com
Select Praise for My Life in Middlemarch
New York Times Book Review Editor's Choice
Featured on the Entertainment Weekly "Must" List
One of The Guardian's (UK) Ten Best Books of the Year (So Far) 
"My Life in Middlemarch is a poignant testimony to the abiding power of fiction." —Joyce Carol Oates, New York Times Book Review
"Fans of this Victorian mainstay—or, really, any book lover in a passionate long-term relationship with a novel—will find Mead's research and analysis deeply gratifying. And if you haven't ever read Middlemarch, Mead's lucid writing will send you straight to the bookstore. . . .  A–." —Entertainment Weekly
"Part memoir, part biography, part literary appreciation, My Life in Middlemarch is pure pleasure." —NPR
"Mead's middle-aged rediscovery of Middlemarch—and her insights into Eliot's rich middle age—is not to be missed." —The Atlantic
"My Life in Middlemarch, which I loved, follows not just the different things Mead got out of Middlemarch at different times in her life, but her personal, even tactile attempts to better know Eliot." —Washington Post 
"Anyone who believes that books have the power to shape lives and that 'our own lives can teach us how to read a book' will respond with fascination and delight to Mead's evolving appreciation of the richness and relevance of Eliot's masterwork." —O, The Oprah Magazine 
"Clearly this book was a pleasure for Mead to write—it's personal, intimate, yet rigorously researched—and it seems to have deepened her relationship with the novel she loves so much. Her passion proves infectious for the reader as well, and My Life in Middlemarch will surely encourage readers to discover Eliot's masterpiece for the first time—what an enviable experience—or, like Mead, to regard it as a lifelong and steadfast companion."—USA Today
In this New York Times bestselling, genre-defying blend of memoir, literary criticism, and biography, New Yorker staff writer REBECCA MEAD revisits the seminal book of her youth—George Eliot's Middlemarch – and shows how a passion for great books can inform our identities and help us understand our own stories. MY LIFE IN MIDDLEMARCH (Broadway Books; January 27, 2015), now available in paperback with new material, including a reading group guide, a recommended reading list, and a guided tour of important George Eliot sites, is a probing account of a life spent reading and an appreciation of what it is to have a favorite book—even if it's not Middlemarch.
Mead first turned to George Eliot's masterpiece as a teenager living in a small English coastal town, desperate for adventure, and she found in Middlemarch the compelling intelligence and promise of wit and seriousness she craved for herself.  The book became as much a part of her teenage self-fashioning as her clothes, revealing to her who she was and who she wanted to be.
This strong sense of connection to Middlemarch has endured throughout Mead's life. After gaining admission to Oxford and moving to the United States to become a journalist, through several love affairs, then marriage and family, Mead read and reread Middlemarch. While Virginia Woolf once called it "one of the few English novels written for grown-up people," Mead astutely notes, "Only a child thinks a grown-up has stopped growing," and so each time she returned to the novel, she found herself learning from it anew.
MY LIFE IN MIDDLEMARCH is a testament to the universality of Eliot's themes: the characters struggle with love, marriage, parenthood, and morality as acutely as anyone encountered in modern life. The comfort and insight Mead finds in the book remain even as her life changes:
Middlemarch was one book I had never stopped reading, despite all the distractions of a busy working life. I went back to it as a student: "Discuss George Eliot's treatment of 'oppressive narrowness' and its effect on her characters" was the essay title I selected to answer in my first-year exams at college, where the hard chair and the grand hall amounted to my own escape from oppressive narrowness. I read it again in my twenties, when I was working my way up from an entry-level job, preoccupied by ill-fated romantic entanglements, but captivated by city life. In my thirties, trying to establish myself as a writer to be taken seriously, I was struck with new, poignant force by the story of Lydgate—the ambitious would-be reformer who becomes, instead, a society doctor . . . The novel opened up to me further every time I went back to it.
As Mead matures, she finds her life echoing both Middlemarch and George Eliot's in uncanny ways. Like Eliot, who set up house with a man with young sons, Mead too falls in love with a father of three, and she recognizes her domestic adventure reflected across a century, both in Eliot's descriptions of managing her own adopted boys and in Middlemarch's depiction of the need to be patient with young men as they come into their own.
In her forties, facing the not-unusual melancholy of middle age, Mead knew that after decades as a writer, it was time to focus on something that fundamentally mattered to her. She returned to Middlemarch once again to examine its role in her own becoming, the many lives of the book, and the singular career and legacy of George Eliot. The result is MY LIFE IN MIDDLEMARCH, a lyrical, literary exploration of the importance of books—how our experiences shape our reading and how reading in turn shapes the way we live.
ABOUT THE AUTHOR: REBECCA MEAD is a staff writer for The New Yorker and the author of One Perfect Day: The Selling of the American Wedding. She lives in Brooklyn. Follow her on Twitter @RebeccaMead_NYC.
Related Posts: