Press Releases
Now in paperback, Pulitzer Prize winner Kai Bird's bestselling The Good Spy
Bird offers a compelling portrait of the remarkable life and death of America's most important spy in the Middle East.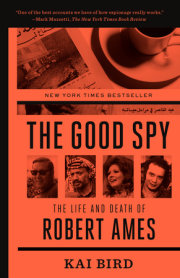 Kai Bird
Imprint: Broadway Books
On sale: May 26, 2015
Price: $16.00
Pages: 448
ISBN: 9780307889768
Contact:
Lauren Kuhn
212-782-8637
lkuhn@penguinrandomhouse.com
Select Praise for The Good Spy
"A rich, nuanced portrait of a man who, in the CIA's term, had a high tolerance for ambiguity . . . One of the best accounts we have of how espionage really works." —Mark Mazzetti, New York Times Book Review
"Cool and authoritative . . . The book's understated pleasures come from reading a pro writing about a pro. Mr. Bird has a dry style; watching him compose a book is like watching a robin build a nest. Twig is entwined with twig until a sturdy edifice is constructed. No flourishes are required. . . .  Mr. Bird's style is ideal for his subject." —Dwight Garner, New York Times
"A well-researched, engagingly presented biography . . . The Good Spy is a fascinating book that sheds much-needed light on one of the murkier corners of CIA—and Middle Eastern—history." —Max Boot, Wall Street Journal
When Pulitzer Prize–winning author Kai Bird set out to write the story of CIA officer Robert Ames—unknown to most of the public but a legend in agency circles—he had his doubts. Who would talk to him about the life of a clandestine agent? Who would tell him thirty- and forty-year-old secrets, all still classified?
But within months he had gathered a remarkable amount of material for what became THE GOOD SPY (in paperback May 26, 2015), a surprising and powerful biography of Ames, who ranged through the Middle East for two decades before dying in the Beirut Embassy bombing in April 1983. Bird had known Bob Ames when the former was a teenager in Saudi Arabia; Ames was his family's next-door neighbor. When Bird contacted Bob's widow, Yvonne Ames, he wasn't sure she'd even remember him; to his surprise, she readily agreed to an interview, and later, much more. A year into the project, she found in the family attic Bob's correspondence, an open window into his life and work as a CIA officer.
Simultaneously, other doors opened. While the CIA itself never responded to Bird's requests, eventually more than forty current and retired CIA, PLO, and Mossad officers shared their memories of Ames. Those seasoned spies all seemed to feel that the old secrets now belonged to history.
One day Bird made a cold call on Skype to a cell phone in Amman, Jordan. Mustafa Zein answered the call—and immediately asked Bird how he had found his number. Bird couldn't tell him, but Mustafa talked to him anyway. He later said he had been waiting for someone to tell his story—and the incredible story of Bob Ames—for nearly three decades.
Mustafa told Bird everything about his friendship with Ames, the man he called "Munir" or the "enlightened one." Believing that listening and empathy, not brute force, were his best intelligence tools, Ames earned the trust of key figures in the Arab world for more than twenty years, a pioneer in the art of espionage, who learned, respected, and lived the local culture on its own terms. Through Mustafa, Bird learned the extraordinary story of how Ames in this way cultivated a ten-year relationship with Ali Hassan Salameh, Yasir Arafat's intelligence chief. This highly clandestine relationship between the CIA and the PLO, the first of its kind, sowed the seeds of the Oslo peace process.
Mustafa also helped Bird solve the mystery of the identity of the mastermind behind the embassy bombing that killed Ames—and along with him, the potential for a lasting peace he had so painstakingly cultivated. The assassin is alive and well—and readers will be shocked by the revelation of where he now resides.
            THE GOOD SPY is filled with many such new insights, including:
Stunning revelations about the 1983 Beirut bombing
Unprecedented disclosures about the making of a CIA operative
The road to 9/11
What Washington knew, and when
Mossad's efforts to end the Ames/Salameh back channel
Revelations about the 1980 "October Surprise"
THE GOOD SPY is a masterpiece-level narrative of the making of a CIA officer and a uniquely insightful history of twentieth-century conflict in the Middle East. 
ABOUT THE AUTHOR: KAI BIRD is co-author of the Pulitzer Prize-winning biography American Prometheus: The Triumph and Tragedy of J. Robert Oppenheimer and author of The Chairman: John J. McCloy, The Making of the American Establishment and The Color of Truth: McGeorge Bundy and William Bundy, Brothers in Arms. He coedited with Lawrence Lifschultz Hiroshima's Shadow: Writings on the Denial of History and the Smithsonian Controversy. A contributing editor of The Nation, he lives in Washington, D.C., with his wife and son.
Related Posts: