Press Releases
Now in paperback: THE POWER OF MEANING by Emily Esfahani Smith
Finding Fulfillment in a World Obsessed With Happiness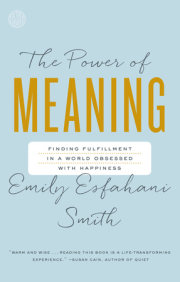 Emily Esfahani Smith
Imprint: Broadway Books
On sale: September 5, 2017
Price: $16.00
Pages: 320
ISBN: 9780553446562
Contact:
Rachel Rokicki
212-782-8455
rrokicki@prh.com
Praise for The Power of Meaning 
"The analysis that opens the book, and that structures the whole, is simple and elegant… The insight that, in our daily lives, we need to think of others and to have goals that include caring for others or working for something other than our own prosperity and advancement is the most valuable message in the book."
—Wall Street Journal 
"An intelligent page-turner… In a world that seems caught between pure hedonism and divisive sectarianism, the book mounts a timely challenge."
—Prospect (UK) 
"Smith—a wonderful, engaging writer—writes about the ways that all of us search for meaning…[and] offers clear, compelling, and above all useful advice for how to live with meaning and purpose."
—The American Conservative 
"Beautifully written and rigorously researched, The Power of Meaning speaks to the yearning we all share for a life of depth and significance. In a culture constantly shouting about happiness, this warm and wise book leads us down the path to what truly matters. Reading it is a life-transforming experience."
—Susan Cain, author of Quiet
---
Happiness is overrated. Our culture is obsessed with it, and we devote vast amounts of time, money, and brainpower to attaining it. Yet many of us feel alienated or aimless nonetheless. With suicide rates in the U.S. recently hitting a thirty-year high and depression trending upward for decades, it's clear we've been pursuing the wrong goal. Chasing happiness, research shows, makes people unhappy—and when social scientists crunch the numbers, they find that what predicts this rising tide of despair is not a lack of happiness but a lack of something else—a lack of having meaning in life. In her compact, wise book, THE POWER OF MEANING: Finding Fulfillment in a World Obsessed With Happiness (Broadway Books; On-sale: September 5, 2017), now available in paperback, Emily Esfahani Smith urges us to abandon the pursuit of happiness and aim to lead a meaningful life instead.
Smith, who holds a master's degree in positive psychology from the University of Pennsylvania, writes about psychology, culture, and relationships for The Atlantic, New York Times, and The Wall Street Journal, among other publications. Her main stage TED TALK this year was received with a standing ovation, and she made waves with her thought-provoking 2013 piece about meaning in The Atlantic, "There's More to Life than Being Happy"—one of the most shared and read stories in the magazine's history, attracting millions of readers. Because of the response to that piece and because of her passion for this subject, Smith brings us THE POWER OF MEANING, in which she explores three crucial questions: What makes life worth living? How do people today find meaning in their everyday lives when so many of our shared sources of meaning, like religion and tradition, are vanishing? And how can we build cultures of meaning that allow us to thrive? The result is a rich, deeply researched book that invites readers to take stock of and reimagine their lives.
Using as a starting point her unique personal experience growing up in a Sufi meetinghouse in Montreal—where dervishes came over to her family's home twice a week to meditate, drink Persian tea, and tell stories from the lives of great Persian mystics—Smith takes the reader on an intellectually and aesthetically lush journey. She structures THE POWER OF MEANING around what she calls the four pillars of meaning—Belonging, Purpose, Storytelling, and Transcendence—and introduces us to people who find meaning by building up these pillars in their daily lives, among them a football star who discovers his purpose as a teacher after a shattering accident; a group of medieval enthusiasts who find belonging in their idiosyncratic community; a photographer who draws inspiration from her Hindu upbringing; and a group of college students who flock to an ancient monastic service in Seattle to experience a sacred moment together.
Synthesizing a kaleidoscopic array of sources—sociologists, psychologists, philosophers, neuroscientists, stargazers, as well as figures in literature and history (George Eliot, Aristotle, Virginia Woolf, and the Buddha, to name a few)—she dispels the myth that the search for meaning is some esoteric pursuit that involves traveling to distant monasteries or paging through dusty volumes of philosophy and theology. Rather, there are untapped sources of meaning all around us. And by integrating the four pillars in our lives, we can achieve a deeper satisfaction and equip ourselves to overcome the challenges life throws our way, from minor stressors to major traumas. In addition, Smith reveals the extraordinary benefits that come with meaning. People leading meaningful lives have better cardiovascular health, are less likely to suffer cognitive impairments, and, if they work or are students, are more engaged and productive.
THE POWER OF MEANING puts forward a new perspective on what constitutes the good life, and offers a tool kit for how to achieve it for ourselves, our families, and our communities. Inspiring and story-driven, THE POWER OF MEANING will strike a chord in anyone seeking a life of greater depth and significance.
ABOUT THE AUTHOR: Emily Esfahani Smith is an author and journalist who draws on psychology, philosophy, and literature, as well as her own reporting, to write about the human experience—why we are the way we are and how we can find grace and meaning in a world that is full of suffering. Her writing has appeared in the Wall Street Journal, New York Times, The Atlantic, TIME, and other publications. She is also an instructor in positive psychology at the University of Pennsylvania, as well as an editor at the Stanford University Hoover Institution, where she helps manage the Ben Franklin Circles project, a collaboration with the 92nd Street Y and Citizen University to build meaning in local communities. Born in Zurich, Switzerland, Emily grew up in Montreal, Canada. She graduated from Dartmouth College and earned a masters in applied positive psychology from the University of Pennsylvania. She lives with her husband in Washington, DC.
Related Posts: