Press Releases
Now in Paperback: Patriot Number One by Lauren Hilgers
A Chinese Rebel Comes to America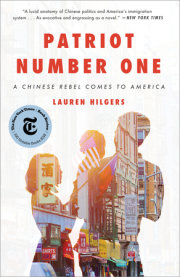 Lauren Hilgers
Imprint: Broadway Books
On sale: April 9, 2019
Price: $16.00
Pages: 336
ISBN: 9780451496140
Contact:
Sarah Breivogel
212-572-2722
sbreivogel@penguinrandomhouse.com
Select Accolades and Awards:
J. ANTHONY LUKAS BOOK PRIZE, FINALIST 2019
PEN/JACQUELINE BOGRAD WELD BIOGRAPHY AWARD, FINALIST
A NEW YORK TIMES NOTABLE BOOK OF 2018
A NEW YORK TIMES BOOK REVIEW EDITORS' CHOICE
A WALL STREET JOURNAL TOP 10 BOOKS OF 2018 SELECTION
Amid debates about the "Dreamers," "the caravan" of Central American immigrants the President warned would bring dangerous criminals to our border, and border wall funding, the story of one of America's largest immigrant communities has been remarkably underreported. In recent years, newly arrived immigrants from China have outnumbered those from Mexico, but there are few books about Chinese immigrants, especially those in the working-class Chinese community. In PATRIOT NUMBER ONE: A Chinese Rebel Comes to America (Broadway Books; on sale April 9, 2019)—now in paperback—journalist Lauren Hilgers offers a deeply reported account that captures this vibrant community and humanizes the difficulties immigrants face.
Over three years ago, Hilgers received an unexpected call. "Hello, Lauren!" a man shouted in Mandarin. "We might be seeing you in New York soon!" The voice belonged to Zhuang Liehong, a Chinese dissident Hilgers had met the previous year while reporting a story. Despite having almost no contacts in the United States and a shaky grasp of English, Zhuang explained that he and his wife, Little Yan, had a plan to slip away from their American tour group and move to Flushing, Queens, to escape persecution at home. A few weeks later, in the middle of a snowstorm, they arrived on Hilgers' doorstep.
In PATRIOT NUMBER ONE, Hilgers, who lived in Shanghai for six years and has written extensively about China, weaves the captivating story of Zhuang and Little Yan into a larger investigation of the Chinese community in Flushing, one of the fastest-growing immigrant enclaves in the United States. To be an immigrant, Hilgers makes clear, is to live between worlds, and even as she follows her subjects' new lives she also depicts the lives they left behind in Wukan, China—the village whose rebellion galvanized democracy activists around the world and the place where Zhuang became a local hero. As a young man, Zhuang used the online alias "Patriot Number One" to recruit other supporters of democracy, whom he led in protest against Wukan's corrupt regional leadership, garnering international attention and government concessions. As he saw his friends kidnapped by state thugs, survived his own arrest and interrogation, and mourned a friend's death in police custody, he resolved to escape to America.
Yet once Zhuang and Little Yan arrive, they struggle to make sense of life in Flushing—to find work and an affordable place to live, to win asylum, to bring their infant son over from China, and to keep their own relationship intact. Zhuang's natural optimism bumps up against Little Yan's steady pragmatism as they negotiate surprises and disappointments—the rocky terrain that comes with making a fresh start. Zhuang comes to wonder whether "Patriot Number One" still has a role, in either America or Wukan.
In addition to Zhuang and Little Yan, we meet Tang Yuanjun, a democracy activist caught up in the Tiananmen Square crackdown in 1989, still struggling with a life of exile in the United States, away from the frontlines of political activism. And there is Karen, one of Little Yan's friends from night school. A college graduate in China, she now works part time in a nail salon as she attends vocational school, hoping for a better life. With a novelist's eye for character and detail, Hilgers captures the joys and indignities of starting from scratch amid the byzantine network of employment agencies and language schools, asylum scams, and illegal housing that allow Flushing's immigrants to survive—and the dreams, American or stubbornly Chinese, that sustain them.
# # # # #
About the Author: Lauren Hilgers lived in Shanghai, China, for six years. Her articles have appeared in Harper's, Wired, Businessweek, The New Yorker, and The New York Times Magazine. Patriot Number One is her first book. She lives in New York with her husband and their daughter.

PATRIOT NUMBER ONE: A Chinese Rebel Comes to America
By Lauren Hilgers
Broadway Books • On sale: April 9, 2019 • Price: $16.00 paperback • Pages: 336
ISBN 978-0-451-49614-0
Also available as an ebook and on audio from Penguin Random House
Visit broadwaybooks.com
You can find the author on Twitter @lehilgers
Related Posts: