Press Releases
Now in paperback: Under Magnolia by Frances Mayes
#1 New York Times bestselling author Frances Mayes returns to the place that shaped her as a child: the American South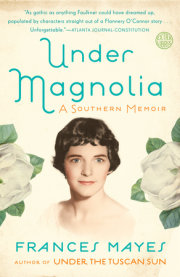 Frances Mayes
Imprint: Broadway Books
On sale: March 31, 2015
Price: $15.00
Pages: 352
ISBN: 9780307885920
Contact:
Rebecca Welbourn
212-782-9634
rwelbourn@penguinrandomhouse.com
Praise for Under Magnolia
"The strength of Under Magnolia lies in the very claustrophobia Mayes aches to flee as a child. . . . In certain heightened moments of this memoir, Mayes breathes the same air as [Carson] McCullers." —New York Times Book Review
"As gothic as anything Faulkner could have dreamed up, populated by characters straight out of a Flannery O'Connor story . . . A thorny memoir that strips away the polite Southern masks, sweet magnolias be damned . . . Unforgettable." —Atlanta Journal-Constitution
"With perfect-pitch language, Mayes unblinkingly describes her growing-up years. . . . One can almost taste the mushiness of 'a pot of once-green beans falling apart in salt pork'; one can almost smell the cloying scent of honeysuckle, gardenias, and overripe peaches that infuse the always-too-humid air." —USAToday.com
"You better believe we devoured every page of this delicious read." —SouthernLiving.com
"Under Magnolia is a vibrant example of Mayes' literary artistry. Her memoir teems with beautiful, pellucid vignettes, described with a painter's eye for detail." —Arts Atlanta
"Under Magnolia is a gorgeous, dreamy remembrance of hot Southern afternoons, mothers in red lipstick and Shalimar, Elvis turned up loud to cover up the family troubles that ran deep. An unflinching love song to her simultaneously rich and troubled childhood, it is Mayes' most generous work yet." —BookPage
---
Following on the heels of her beloved books of life in Italy—Under the Tuscan Sun, Bella Tuscany, Every Day in Tuscany, The Tuscan Sun Cookbook—Frances Mayes brings us UNDER MAGNOLIA: A Southern Memoir (March 31, 2015; Broadway Books),now available in paperback. Her most personal book to date, UNDER MAGNOLIA is a lyrical account of Mayes's coming of age in the Deep South, her decision to leave it behind to explore the world, and her return there to start a new life.
For most of her adult life, Mayes's American home was in California, where she served as chair of the Department of Creative Writing at San Francisco State University. She embraced that life for twenty-three years before being drawn back to the South by family ties and by "Edenic connections with what I love most about the South: the powerful landscape . . . I'm born knowing that the place itself runs through me like rain soaking into sand." Following her own philosophy of stare attento—to stay alert to the next opportunity—she left California and resettled in an artistic community in North Carolina.
Once there, inspired by finding an old cache of autobiographical writing, dusty scrapbooks, and her still-locked childhood diary, Mayes began to examine the South through the lens of maturity. UNDER MAGNOLIA captures a particular time in the region—the dawning of the civil rights era—when the world was about to change but Mayes's hometown of Fitzgerald, Georgia, wasn't yet aware of that. Mayes delves deeply into the past, the bitter and sweet stories of her complicated family: her beautiful yet fragile mother, Frankye; her unpredictable father, Garbert; her grandfather Daddy Jack, whose life Garbert saved; her grandmother Mother Mayes; and the family maid, Frances's confidante Willie Bell.
Chronicling her travels as a young woman throughout Virginia, New Orleans, Florida, and Georgia, Mayes explores the power of place and the idea of home. With acute sensory language, she relishes the sweetness of the South, the smells and tastes of her childhood meals—the sweet tea, peach ice cream, pressed chicken, brown sugar muffins, grits with cheese, and black bottom pie—and the fragrance of her hometown trees: the crape myrtle, oak, palm, long-leaf pine, magnolia, pecan, and sycamore. She writes of her youth as a spirited tomboy, a rebellious and secretive child through her university years—a period of exquisite freedom that imbued her with a profound appreciation of friendship and a love of travel—to her escape into a new life in California. Mayes exuberantly re-creates her world of intense relationships and her passionate connection with the land from which she sprang.
With her gift for luminous physical description and vivid and affecting characterizations of family and friends, UNDER MAGNOLIA is a searingly honest and unforgettable story of a girl whose perspicacity and dawning self-knowledge lead her out of the South and into the rest of the world, and then to a profound return home.
About the Author: In addition to her bestselling Tuscany memoirs, Under the Tuscan Sun, Bella Tuscany, and Every Day in Tuscany, FRANCES MAYES is the author of the travel memoir A Year in the World;The Tuscan Sun Cookbook; illustrated books In Tuscany and Bringing Tuscany Home (with Edward Mayes); a novel, Swan; a text for readers, The Discovery of Poetry; and five books of poetry. Her books have been translated into more than fifty languages. She divides her time between Italy and North Carolina. For more information on her Italian wines, please visit www.tuscansunwines.com. You can also visit her at www.francesmayesbooks.com.
Related Posts: