Press Releases
Now in paperback: THE LESSER BOHEMIANS by Eimear McBride
Winner of the James Tait Black Prize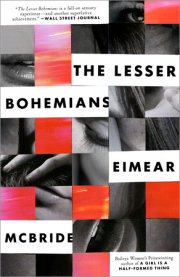 Eimear McBride
Imprint: Hogarth
On sale: August 15, 2017
Price: $16.00
Pages: 320
ISBN: 9781101903506
Contact:
Rachel Rokicki
212-782-8455
rrokicki@prh.com
Select praise for The Lesser Bohemians:
Winner of the James Tait Black Prize
Longlisted for the 2017 Baileys Women's Prize for Fiction
Shortlisted for the James Tait Black Prize for Fiction
Shortlisted for the 2016 Goldsmiths Prize
Shortlisted for the 2016 Bord Gáis Energy Irish Book Awards Eason Novel of the Year
Shortlisted for the Royal Society of Literature's Encore award
"[A] propulsive coming-of-age story… imbued with a captivating sense of youthful excitement and vulnerability." —The New Yorker
"The confidence and the capacity are as good as anyone's…there's an openness, an inclusivity, a distinct lack of God-almightyness, that makes reading [McBride] such a pleasure." —Jeannette Winterson, New York Times Book Review

"The Lesser Bohemians is every bit as stylistically resourceful as Girl, every bit as urgent and authentic. It is also more well-rounded, better. The narrative voice will be recognizable to readers of the earlier novel, capturing a snapshot of thought at the moment before grammar constrains it, what the author has referred to as a "stream of pre-consciousness." The word order is once again scrambled to ingenious (and poetic) effect, clauses pared down to their impressionistic essences…For a second time, Ms. McBride has channeled the mental life of a narrator with an intensity, a lack of mediation, that few authors can achieve. The Lesser Bohemians is a full-on sensory experience—and another superlative achievement." —Wall Street Journal
 
"Spellbinding…[H]er stunning second novel shows that she has not only acquired fresh surfaces to work on, she has also developed exciting new brush strokes…McBride's prose sings…The Lesser Bohemians recalls Samuel Beckett and Henry Miller. Ultimately, though, it is a fiercely original work, an extraordinary novel crafted by a fearless modern writer." —Minneapolis Star Tribune
"The Lesser Bohemians is a love story, yes, but it is really an electric and beautiful account of how the walls of self shift and buckle and are rebuilt." —NPR.org
 
"Joycean…The novel is filled with intricate, imaginative wordplay…crafted by one of the most admired young talents in fiction." —Scott Simon, NPR
"[A] powerful novel about desire." —O, The Oprah Magazine
"Not often does a novel so expertly seduce its readers into an alternate state of consciousness that it mimics an actual dream state, where everything solid is hazily just beyond reach. McBride, with her deployment of modernist technique reminiscent of James Joyce, elicits such a mental state throughout her new novel, The Lesser Bohemians ― really, it's the only way to read it." —Huffington Post
 
"This is above all, a love story: bare, achingly romantic, and crushingly felt." —Booklist, starred review
Eimear McBride's award-winning and critically lauded debut novel, A Girl Is a Half-Formed Thing, was hailed by the New York Times Book Review as a "future classic" and by The New Yorker as "blazingly daring"; The New York Review of Books praised it as "remarkable … [McBride pushes] further even than Beckett"; Vanity Fair called it "groundbreaking"; and NPR raved that the debut was "shattering … so alive … readers can't help but be pulled into the vortex of this devastating, ferociously original debut." It elicited widespread international praise, including comparisons of McBride to Edna O'Brien, Virginia Woolf, and James Joyce. Moreover, it won almost every major literary award, including the Baileys Women's Prize for Fiction, the Desmond Elliott Prize, the Kerry Group Irish Novel of the Year award, the Goldsmiths Prize, and was a finalist for the Folio Prize and was shortlisted for the Dylan Thomas Prize. Hogarth will publish McBride's second novel, The LESSER BOHEMIANS, in paperback on August 15, 2017—a redemptive, captivating story about love and innocence, joy and discovery, the grip of the past and the struggle to be new again, set across the bedsits of mid-nineties north London.
McBride is at the top of her form, and The LESSER BOHEMIANS is nothing short of a linguistic marvel. The novel features all the fiery, visceral, and dazzling language that leapt off the page with A Girl Is a Half-Formed Thing and which makes this novel equally propulsive; the reader is swept up in the poetry of this heart-wrenching love story. The LESSER BOHEMIANS centers on a young eighteen-year-old Irishwoman as she arrives in London to begin anew as a drama student. Then she meets an attractive older man. He's an established actor, twenty years her senior, and the inevitable tumultuous and exhilarating relationship that follows is one that will change them both forever. McBride holds this couple's love under her fierce gaze, giving us all a chance to remember what it's like to fall hard for another. The LESSER BOHEMIANS is about innocence and sexual passion. At once epic and exquisitely intimate, it is a celebration of the dark and the light in love.
ABOUT THE AUTHOR: EIMEAR MCBRIDE was born in 1976 and grew up in Ireland. She currently lives in the UK with her family. The Lesser Bohemians is her second novel.
Related Posts: