Press Releases
Now in paperback: JUNE by Miranda Beverly-Whittemore
From the New York Times bestselling author of Bittersweet comes a novel of suspense and passion about a terrible secret that changed a family forever, featuring an all-new reader's group guide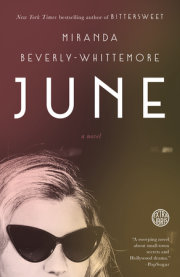 Miranda Beverly-Whittemore
Imprint: Broadway Books
On sale: February 14, 2017
Price: $16.00
Pages: 432
ISBN: 9780553447705
Contact:
Rebecca Welbourn
212-782-9634
rwelbourn@penguinrandomhouse.com
Praise for June
New York Post "Summer's Hottest Reads"
Kirkus Reviews "11 Excellent Summer Reads for Your Book Club"
Elite Daily "5 Books You'll Regret Not Reading This Summer"
"Intrigue? Yes, please. Scandals and surprise inheritances? All the yesses! . . . Savor every page of this twisty novel." —Cosmopolitan
"Cinematic." —Vanity Fair
"A sweeping novel about small-town secrets and Hollywood drama." —PopSugar
"An enthralling story of Hollywood glamour, first love and shifting loyalties . . . June invites readers to sink into its narrative the way Cassie sinks into the embrace of Two Oaks: with a thirst for a good story and a tall glass of lemonade." —Shelf Awareness

"[It's] the perfect kind of literary love story, a thrilling Hollywood plot of murder and blackmail commingled with the steady, capacious Midwest. Best read with a glass of cold lemonade." —Andrew Unger (BookCourt), New York Post
"From Castle Otranto to Wuthering Heights, houses have inhabited our fictions for centuries, shaping the narrative and characters. In Miranda Beverly-Whittemore's absorbing Gothic mystery, June, Two Oaks, a mansion in rural Ohio, influences the dreams and desires of the two generations of unyielding women. . . . A bittersweet love story hidden beneath blackmail and murder." —Minneapolis Star Tribune
"The glamour of old Hollywood and the haze of family secrets come to life in June." —BookPage
"June delivers deliciously satisfying suspense . . . packed with family secrets, illicit romance, loyal friends, endearing celebrities, and mysterious tragedies. From the opening line, you can't help but rubberneck your way through, craning to read one more page, sentence, word, before being forced to re-enter the real world again." —The Week
"This one was the perfect book at the perfect time, a real page-turner. . . . Masterfully handled dual timelines transition back and forth seamlessly. There is a bit of a gothic mystery, multiple love stories and heartbreak, blackmail, murder and even some dirty politics." —Fredricksburg Free Lance–Star
"[June] has everything: an opulent house in a quaint small town in the Midwest, a surprise inheritance, the possibility of a secret love child, Hollywood melodrama, betrayal, family conflict, and so much more. It is just the book to take the mind off quotidian troubles." —Sarah Weinman, The Crime Lady
"A crumbling family home, a shockingly large inheritance, a small-town mystery, and a high-wattage Hollywood star: June is atmospheric, ambitious, and filled with enough intrigue, betrayal, passion, and heartbreak to keep you reading all the way to the explosively satisfying end." —Christina Baker Kline, #1 New York Times bestselling author of Orphan Train
"A delicious and delightful tale about what happens when small-town secrets and family bonds collide with the intrigue and romance of Hollywood. Beverly-Whittemore draws a rich and detailed portrait of two parallel summers that will draw you in from the beginning and keep you guessing until the end." —J. Courtney Sullivan, New York Times bestselling author of Maine and Commencement
"At turns lush and tender, harrowing and poignant, Miranda Beverly-Whittemore's June is historical fiction at its most masterful, and a love story rich in complication and heartbreak." —Megan Abbott, award-winning author of Dare Me and The Fever
"When Miranda Beverly-Whittemore crosses small-town Ohio with Hollywood glamour, both come alive, breaking stereotypes and zooming in on their flawed, complicated denizens. Brilliantly weaving past and present, June is elegant and suspenseful, but refreshingly raw and intimate. Read it! From page one you'll find yourself in the hands of a master storyteller." —Hilary Liftin, New York Times bestselling author of Movie Star by Lizzie Pepper
"A perfectly paced, compelling story of love, lust, and family secrets, June draws you into its gentle embrace, expertly waltzes you between present and past, mesmerizing until the very last page." —Amy Hatvany, author of Somewhere Out There
"The past is not all glossy nostalgia; Beverly-Whittemore illuminates the conflicts roiling under a smooth, socially acceptable surface. . . . Fans of Hollywood, then and now, will find this dramatic story line appealing." —Library Journal
"Beverly-Whittemore offers up two interconnected tales of family secrets, 60 summers apart. . . . The dual narratives are enjoyable both singly and in tandem as the novel explores the changing possibilities for women, the evolution of the Hollywood fame machine, and love's potential for genuine human transformation."  —Publishers Weekly
"Hollywood meets small-town Ohio in 1955, starting reverberations that last for generations. . . . Beverly-Whittemore has fashioned an appealing story of romance and suspense with a focus on love and legacy." —Booklist
"Love between a small-town girl and one of Hollywood's leading men leads to murder, blackmail, and secrets. Beverly-Whittemore returns with another charming page-turner, this time marrying old Hollywood elegance to Midwestern practicality. . . . A lightly gothic tale of hearts broken and mended in small-town America." —Kirkus Reviews
---
With her novel JUNE (February 14, 2017, Broadway Books), now out in paperback, Miranda Beverly-Whittemore has crafted a love story for the ages, as well as an addictive, propulsive tale of old Hollywood glamour, the heyday of a small Ohio town in the 1950s, and one magical summer that changed its inhabitants forever. Written with the same cinematic scope and taut atmospheric suspense as Beverly-Whittemore's New York Times bestseller Bittersweet, which "succeed[ed] in shining a light into the dark, brutal flaws of the human heart" (New York Times Book Review) and was hailed as a "mesmerizing gothic thriller" (People) and as "addictive" (Entertainment Weekly), and drawing in part on her own family background in Ohio, JUNE breathes life into the everyday activities of a small town in 1955, animated by the secrets we all keep from one another and from ourselves. As this page-turner shifts deftly between the past and present, it invites a poignant examination of the idea of legacy, the definition of family, and the costs of love and loyalty.
Twenty-five-year-old Cassie Danvers, grieving and adrift after her grandmother June's death, holes up in her family's crumbling ancestral mansion in tiny St. Jude, Ohio. But an unexpected knock on the door from a handsome stranger forces her out of isolation: she has been named the sole heir to legendary movie star Jack Montgomery's fortune. At first any connection between them seems impossible: June was happily married for decades to Cassie's grandfather. Then Jack's glamorous daughter Tate shows up as well, retinue in tow, hoping to claim her father's millions for herself. Tate decides to stay with Cassie until they can unearth the truth of what really happened all those years ago—in the summer of 1955 when a Hollywood film crew descended on St. Jude, and its leading man first set eyes on eighteen-year-old June.
Together they come to discover the true reasons for June's silence about that long-ago summer and the indelible effects it left on those close to her—her loyal best friend and neighbor, Lindie; Jack Montgomery; and Diane DeSoto, Jack's costar in the movie—whose lives were forever altered by murder, blackmail, and betrayal. Along the way, Cassie and her houseguests discover secrets unlike anything they could have imagined, grapple with what was sacrificed by the people closest to them, and learn what it truly means to love someone, steadfastly, across the ages.
ABOUT THE AUTHOR: MIRANDA BEVERLY-WHITTEMORE is the author of three other novels: the New York Times bestseller Bittersweet; Set Me Free, which won the Janet Heidinger Kafka Prize, given annually for the best book of fiction by an American woman; and The Effects of Light. A recipient of the Crazyhorse Prize in Fiction, she lives and writes in Brooklyn.
Related Posts: