Press Releases
Now in paperback, Jennifer Clement's haunting story of love and survival, Prayers for the Stolen
Winner of the Sara Curry Humanitarian Award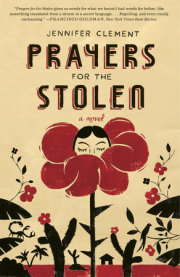 Jennifer Clement
Imprint: Hogarth
On sale: November 4, 2014
Price: $15.00
Pages: 240
ISBN: 9780804138802
Contact:
Lauren Kuhn
212-782-8637
lkuhn@penguinrandomhouse.com
Select Praise for Prayers for the Stolen
"Beguiling, and even crazily enchanting . . . [Clement] writes a poet's prose, spare and simple, creating her world through patterns of repeated and varied metaphors and images that blossom inside the reader like radiant poppies. . . . Prayers for the Stolen gives us words for what we haven't had words for before, like something translated from a dream in a secret language. The novel is an ebullient yet deeply stirring paean to its female characters' resiliency and capacity for loyalty, friendship, compassion, and love, but also to the power of fiction and poetry." —Francisco Goldman, New York Times Book Review
"[A] beautiful, heart-rending novel . . . Fiercely observed comparisons of human and inanimate life form a continuing motif throughout the story. . . . [Clement] achieves the formidable feat of smooth, clear English that pulses with an energy and sensibility that is convincingly Latin American. . . . So compelling . . . Prayers for the Stolen is a powerful read." —Wall Street Journal

"Compelling . . . Just beautiful . . . Really, really beautiful." —Diane Rehm, NPR 
"The theme of Prayers for the Stolen is the wanton violence inflicted on women and the destruction of communities as a result of the drug trade in Mexico, but Clement's eye for the revealing detail, the simple poetry of her language, and the visceral authenticity of her characters turn that deadening reality into a compelling, tragically beautiful novel."  —Yann Martel, author of Life of Pi
"The author builds a powerful narrative whose images re-create an alarming reality that not everyone has dared to address but that everyone has definitely heard. Let's pray for spoons." —El Paso Times

"Powerful . . . Clement's deft first-person narrative style imbues authenticity to her depiction of a world turned upside down by drug cartels, police corruption, and American exploitation." —Booklist (starred review) 
"Clement is more a poet than a documentarian, and the girls and women of the village she chronicles are complex individuals. . . . Clement treats the brutal material honestly . . . and ultimately allows Ladydi to continue to hope."—Publishers Weekly
"Moving . . . Through a beautifully rendered poetic rhythm all her own, Clement tells a story of the often forgotten women who carry on through the drug wars. . . . Prayers for the Stolen tells a complicated and layered story. . . . It feels painfully real, with a dry wit and subtly inquisitive subtext that should leave American readers wondering what can be done." —Kirkus Reviews
Receiving stunning reviews from publications including the New York Times Book Review and Wall Street Journal, international talentJennifer Clement made a striking American fiction debut with Prayers for the Stolen earlier this year. Now available in paperback (Hogarth; November 4, 2014), this visceral novel of rare beauty is the story of Ladydi Garcia Martínez, a girl growing up in rural Mexico in the shadow of the drug wars. Based on Clement's extensive research and on-the-ground interviews, the book is a fictionalized account of a very real and terrifying world.
The mountains of Guerrero, home to thirteen-year-old Ladydi, her friends, and family, are a world unto themselves. Children flee military planes dropping chemical poison on the opium crops, without regard for the fragile flesh burning below. Bodies turn up on the outskirts of the village only to be taken back to the earth by scorpions and snakes. School is held sporadically, when a volunteer can be coerced away from the city for a semester. Here, where the drug lords are kings, being a girl is a dangerous thing. Mothers disguise their daughters as sons, and when that fails, they make them ugly by cropping their hair and blackening their teeth—anything to protect them from the cartels. And when the black SUVs roll through town, Ladydi and her friends burrow into backyard holes like animals, tucked out of sight.
As the girls struggle to survive, grow up, and help their mothers earn a subsistence living, the threat of violence and poverty is inescapable. While Ladydi's mother languishes in Guerrero, drinking and waiting futilely for her husband to return from his new life in the States, Ladydi dreams of a better life, one that means more than just survival. Her indefatigable spirit inspires those around her and brings vibrant life to otherwise bleak circumstances.
As the former president of PEN Mexico who was born in the United States and raised in Mexico City, Clement is uniquely poised to introduce American readers to the landscape of Mexico's drug culture. Poet W. S. Merwin said of her work, "She writes in English, but dreams in Spanish." Her life's work is founded on that dichotomy, bridging the gap between Latin America and the States. Moreover, over the course of her work with human rights organizations, Clement interviewed women involved with the drug trade. She realized there was a rabbit warren of girls hidden throughout the country, disguised behind the false fronts of shopping malls, behind closed doors of convents, and—for the poorest families—hidden underground to protect them from abduction by the cartels, to be prostituted, sold into slavery, or used as mules.
Prayers for the Stolenwas inspired by Clement's years in Guerrero and her interviews with survivors who were once hidden girls. Her ten years of research took her to a women's prison near Mexico City and the female inmates inspired the characters in the book. While Clement met with assassins, criminals, and innocents whose lives had been molded by violence, she also encountered unbearable tenderness. The unexpected blend of bitter disappointment and irrepressible hope is reflected in her lyrical novel and makes Prayers for the Stolen an astounding read.
ABOUT THE AUTHOR
Jennifer Clement studied literature in New York and Paris before writing the internationally acclaimed memoir Widow Basquiat, to be published in the United States by Broadway Books on November 4, 2014. She later wrote two novels, A True Story Based on Lies, a finalist for the Orange Prize, and The Poison That Fascinates, as well as several books of poetry. Clement's work has been translated into twenty languages. Clement lives in Mexico City.
Related Posts: