Press Releases
Now in paperback, Howard Jacobson's Man Booker Finalist J
From the author of the forthcoming Shylock Is My Name: William Shakespeare's "The Merchant of Venice" Retold (February 2016)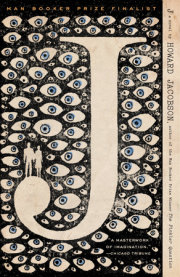 Howard Jacobson
Imprint: Hogarth
On sale: September 1, 2015
Price: $15.00
Pages: 352
ISBN: 9780553419566
Contact:
Lauren Kuhn
212-782-8637
lkuhn@penguinrandomhouse.com
Acclaim for J
A New York Times Book Review Editors' Choice
A Washington Post Top Fiction Book of 2014 
"Thrilling and enigmatic . . . [J's] subtle profundities and warm intelligence are Jacobson's own. . . . Its insistent vitality offers something more than horror: a vision of the world in which even the unsayable can, almost, be explained." —New York Times Book Review 
"A masterwork of imagination flavored with grief." —Chicago Tribune 
"A fascinating cautionary tale about the paradoxical dangers of assimilation and tranquility." —Wall Street Journal 
"Jacobson captures tenderness and love too, alongside a dissection of the feelings that lead to hatred." —Reuters 
"If you still read novels, Howard Jacobson's J is a novel you should read." —The Awl
"Jacobson's fusion of village comedy and dystopian sci-fi is a tour de force." —Publishers Weekly 
"A pleasure, as reading Jacobson always is." —Kirkus Reviews (starred review) 
Hailed by critics as in company with George Orwell's 1984 and Aldous Huxley's Brave New World, Howard Jacobson's J was published in 2014 to tremendous acclaim. Now to be published in paperback on September 1, his latest novel offers a chilling and provocative exploration of the power of denial and a poignant commentary on the importance of historical memory, made all the more disturbing by the recent violence in the Middle East and rise in anti-Semitism in Europe.
In a world where the past is a dangerous country not to be talked about or visited, J is a love story of incomparable strangeness, both tender and terrifying. After an unspeakable atrocity known only as "What Happened, If It Happened," collective memory has been all but erased. History books are hard to come by; diaries are hidden or destroyed; libraries put obstacles in the way of research; mournfulness, remembrance, and black clothes are forbidden. Men and women utter frequent catch-all apologies out of habit because "saying sorry," as a series of daily lectures for the national radio explains, "releases us all from a recriminatory past into an unimpeachable future." In a massive worldwide initiative called Operation Ishmael, all names have been changed so that tracing lineage and placing blame for the devastation of the past is as good as impossible. Yet beneath a mandated culture of forgiveness and forgetting lurk the reverberations of catastrophe, violence, and tragedy made all the more terrifying by the obfuscation of their origins.
It is in this world of lost histories and unease that we find Kevern Cohen and Ailinn Solomons, who were introduced by a mysterious stranger at a church festival. Kevern kisses the bruises under Ailinn's eyes on their first date, but doesn't ask who has hurt her. Brutality has become commonplace. As the two fall in love and into ever-increasing danger, they wonder whether their meeting was fated or orchestrated, and it soon becomes clear their love affair could have shattering consequences for the human race. 
As much a heartbreaking romance as it is a deeply unsettling work of dystopian fiction, J is a truly striking look at what happens when we lose our determination to "never forget."
ABOUT THE AUTHOR: Howard Jacobson is the author of four works of nonfiction and several novels, including The Finkler Question, which won the Man Booker Prize; The Mighty Walzer, which won the Bollinger Everyman Wodehouse Prize for comic writing; and Who's Sorry Now?, which was long-listed for the Man Booker Prize. He is also the author of the forthcoming novel Shylock Is My Name (February 2016),the second title of the Hogarth Shakespeare series, an international project that sees the Bard's most renowned plays retold for a twenty-first-century audience. He has a weekly column in the Independent and regularly reviews and writes forthe Guardian, the Times, andthe London Evening Standard. Jacobson has also done several specials for British television. He lives in London.
Related Posts: