Press Releases
Now in paperback: THE FIX by Jonathan Tepperman
How Countries Use Crises to Solve the World's Worst Problems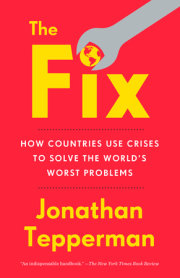 Jonathan Tepperman
Imprint: Tim Duggan Books
On sale: July 25, 2017
Price: $16.00
Pages: 320
ISBN: 9781101903001
Contact:
Penny Simon
865-675-1705
psimon@penguinrandomhouse.com
New book by Foreign Affairs managing editor Jonathan Tepperman 
refutes the belief that the world's problems are too big to be fixed, and explores the solutions hiding in plain sight
• •
THE FIX identifies ten pervasive problems facing the world, 
and details successfully-implemented answer to each
 • • •
"Smart and agile . . . The timing of this book could not be better."
—New York Times Book Review

"Readers looking for good news will love this book. Tepperman makes a compelling case, in lively and personal prose, that strong leaders willing to forsake political orthodoxy for good ideas can actually solve the toughest problems the world faces."
—Anne-Marie Slaughter, author of Unfinished Business
"We hear every day about all the perils and problems we face. Along comes this wonderful, intelligent, well-written book that tells us about all the solutions. Traveling around the world, Tepperman has found countries that took on big challenges, from inequality to immigration, and found innovative solutions. This book will inform and enlighten you—and cheer you up."
—Fareed Zakaria, author of The Post-American World
—Longlisted for the 2016 Financial Times Business Book of the Year—
• • •
We're living through an era of unprecedented global decline—or so it often feels these days, as each grim news flash follows hard on the heels of the next. All these dark tidings have produced a broadly shared culture of hopelessness and foreboding. Yet this pessimistic fog obscures a critical truth about our world: the solutions are already out there. In THE FIX: How Countries Use Crises to Solve the World's Worst Problems (paperback reprint on sale July 25), journalist and policy expert Jonathan Tepperman explores some of the toughest and most persistent challenges nations have faced in the modern era, shows how they have overcome them—and argues that, by applying the right lessons, the rest of the world can, too. The TED Talk that Tepperman gave on the topic, posted last fall, has thus far garnered nearly a million views and inspired conversations all over the world.
Most analysts, politicians, and regular citizens assume that today's big problems—from inequality to political gridlock, Islamic extremism to immigration, energy policy to corruption to civil war—can't be solved, since so few countries have managed to. THE FIX shows that this conventional wisdom is wrong, and offers proof that as bad as things may look today, the answers are out there. "Each of these problems has a solution, and not just a theoretical one," writes Tepperman. "They've all been tried, and they work. Now it's up to us to elect more women and men brave enough to find them, to steal them, and to make them work."
To discover the overlooked success stories, Tepperman traveled the world, visiting some very unexpected places and conducting more than one hundred interviews, including with numerous heads of state. Each chapter in THE FIX tells the tale of how each of these places—Mexico, Botswana, Brazil, South Korea, Singapore, Rwanda, Indonesia, the United States, Canada, and New York City—has, against all odds, figured out how to tackle one of these great problems. Drawing on extensive research and on-the-ground reporting, Tepperman takes readers around the planet, into the local villages, cabinet rooms, universities, and presidential palaces: the policy-making laboratories where a few innovative leaders have unlocked some of the key riddles of our age. In the process, THE FIX offers leadership lessons, great storytelling, and sometimes shockingly simple practical advice, making a data-driven case for optimism in a time of crushing gloom.
"Abandoning hope certainly is tempting, especially at a moment when so many things seem to be going wrong with the world," Tepperman writes. "Fortunately, for us, it's also unnecessary." THE FIX is a testament to the power of people to get things done.
Related Posts: