Press Releases
Now in paperback: EVICTED by Matthew Desmond
Poverty and Profit in The American City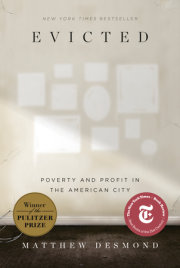 Matthew Desmond
Imprint: Broadway Books
On sale: February 28, 2017
Price: $17.00
Pages: 448
ISBN: 9780553447453
Contact:
Penny Simon
865-675-1705
psimon@penguinrandomhouse.com
NEW YORK TIMES BESTSELLER
WIDELY LAUDED AS 2016's
BEST WORK OF NONFICTION
NOW AVAILABLE IN PAPERBACK
NEW YORK TIMES BOOK REVIEW'S 10 BEST BOOKS OF 2016 | WINNER, PULITZER PRIZE FOR NONFICTION | WINNER, PEN/JOHN KENNETH GALBRAITH AWARD FOR NONFICTION | WINNER, ANDREW CARNEGIE MEDAL FOR EXCELLENCE IN NONFICTION | WINNER, NBCC AWARD | WINNER, HILLMAN PRIZE FOR BOOK JOURNALISM | WINNER, BARNES AND NOBLE DISCOVER GREAT NEW WRITERS AWARD | WINNER, PEN NEW ENGLAND AWARD | FINALIST, KIRKUS PRIZE FOR NONFICTION | FINALIST, LOS ANGELES TIMES BOOK PRIZE | A NEW YORK TIMES EDITORS' CHOICE  
Also named one of the best books of the year by:
Boston Globe • Washington Post • Entertainment Weekly • NPR • The New Yorker • Bloomberg • Esquire • Buzzfeed • Fortune • San Francisco Chronicle • Milwaukee Journal Sentinel • St. Louis Post-Dispatch • Politico • The Week • Bookpage • Amazon • Barnes and Noble Review • Apple • Library Journal • Chicago Public Library • Publishers Weekly • Booklist • Shelf Awareness
–and more–
For decades, conversations about poverty have focused on jobs, public assistance, parenting, and mass incarceration. After years of intense fieldwork and study, Harvard sociologist and 2015 MacArthur "Genius" grant winner Matthew Desmond has come to believe that something fundamental is missing from that picture: how deeply housing is implicated in the creation of poverty. "Not everyone living in a distressed neighborhood is associated with gang members, parole officers, employers, social workers, or pastors," Desmond says. "But nearly all of them have a landlord."
The result was the New York Times bestseller EVICTED: Poverty and Profit in the American City, available in paperback on February 28. Since its publication, EVICTED—widely lauded as 2016's best work of nonfiction—has left a deep mark across America. Zadie Smith deemed it the one book she'd recommend to the President; Washington Post book critic Carlos Lozada named EVICTED the best book of 2016, saying, "This pick was not close"; Barbara Ehrenreich said it "set a new standard for reporting on poverty." Already being taught in hundreds of colleges and universities across the country, EVICTED has also made a real impact on national and local policy. Desmond has presented his findings at the White House and the Department of Housing and Urban Development, met with a number of U.S. Senators and Congresspeople on both sides of the aisle, and at the local level has worked with several large-city mayors. Because of his research and policy work on housing and poverty in America, last year Desmond was named by Politico Magazine as one of "fifty people across the country who are most influencing the national political debate."
Combining storytelling power with intellectual heft, EVICTED is an extraordinarily beautiful, novelistic work that provides intimate portraits of eight families enduring life at the bottom. To research it, Desmond embedded himself in Milwaukee for over a year, living with and among his subjects in a white, hardscrabble trailer park and then in a rooming house in the black inner city. He sat beside tenants in eviction court, helped them move, followed them into shelters and abandoned houses, babysat their children, argued with them, attended church with them, went to funerals with them. He also got just as close to the landlords, observing firsthand their acts of both kindness and callousness toward their tenants. Every night, exhausted, he would transcribe his day's recordings. When all was said and done, he had over 5,000 single-spaced pages of notes and transcripts.
As Desmond spent more time with these families, he found himself needing answers to basic questions about the prevalence, causes, and consequences of eviction that were beyond the reach of his fieldwork. He was stunned to find neither a study nor any readily available statistical data that provided that information. In a state of frustrated disbelief, he set out to gather the data himself. What began as a small-scale endeavor turned into a massive data-gathering effort. Interviewers went door to door, asking more than a thousand renters questions about housing conditions, evictions, and rents. And Desmond himself analyzed hundreds of thousands of court-ordered evictions, millions of police call logs, and numerous public property records. The result is the most comprehensive, detailed data on American urban poverty, housing, and eviction in existence.
Most of us spend about 30 percent of our income on housing, but today, the majority of poor renting families devote at least 50 percent of their income to rent and utilities, and more than a quarter devote over 70 percent. The problem of affordable housing has become so entrenched in our low-income communities that eviction, instead of being rare, has become ordinary—especially for women and children. "In poor black neighborhoods, what incarceration is to men, eviction is to women: a common yet consequential event that pushes families deeper below the poverty line," Desmond says. "Poor black men are locked up; poor black women are locked out." And when one is evicted, a vicious spiral can ensue: your children are taken out of school; you lose your belongings; the next landlord won't rent to you; you're denied housing assistance and other social services; you lose your job because you can no longer get to work; you become sick, depressed, and unable to cope. Desmond catalogues eviction's fallout with both hard data and intimate portraits of displaced families, convincingly showing that eviction is not just a result of poverty but a cause of it.
With proceeds from EVICTED, Desmond has established two foundations: Just Shelter (www.justshelter.org), which raises awareness of the human costs of the affordable housing crisis and amplifies the work of community organizations working to combat it; and The Evicted Book Foundation, which directly benefits the families featured in the book.
"I've come to believe that decent, affordable housing should be a basic right for everybody in this country," says Desmond. "Without stable shelter, everything else falls apart." EVICTED provides fresh and pragmatic ideas for solving this uniquely American problem.
Related Posts: