Press Releases
Now in paperback: ELEANOR by Jason Gurley
A world-crossing dive into the fragile dynamics of a grieving family in the wake of tragedy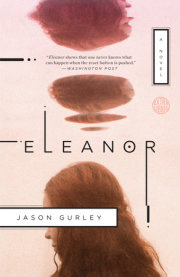 Jason Gurley
Imprint: Broadway Books
On sale: March 7, 2017
Price: $16.00
Pages: 416
ISBN: 9781101903537
Contact:
Liz Wetzel
212-572-6049
lwetzel@penguinrandomhouse.com
*Now in Paperback*
Praise for Eleanor by Jason Gurley
"In the end, Eleanor shows that one never knows what can happen when the reset button is pushed."—Washington Post
"A painful but beautiful coming-of-age tale of a teenager bound by guilt to raise herself while taking care of her alcoholic mother."—A.V. Club
"A smart, beautiful story . . . the kind of novel you can read over again and will want to recommend to others."—San Francisco Book Review
---
Jason Gurley's ELEANOR (Broadway Books; on sale March 7, 2017), now in paperback, is a time-bending, world-crossing dive into the fragile dynamics of a grieving family in the wake of tragedy. Gurley's novel, written over the course of more than ten years and originally self-published to incredible praise, is sure to draw comparisons to writers such as Neil Gaiman and Audrey Niffenegger.
Eleanor is at school, the first time it happens, rushing through the cafeteria doors so her peers don't see her break down. The pain of her twin Esmerelda's tragic death, her mother's anger and alcoholism, her father's distance, is too much to bear. As she passes through the doors something changes: a magnetic force, a sharp smell, and a sizzle in the air. She is no longer in the cafeteria but somewhere else entirely. How did she end up in the middle of a green meadow? Her clothes are different and her hair is longer, and the two children joyously playing in the distance look awfully familiar. Why can't they hear her as she approaches? Do they see her? Is she even there? Before she can make sense of her surroundings, she finds herself back in school, its halls now empty in the dead of night.
The next time Eleanor is pulled out of her reality, it is not so pleasant, nor is the next time. Soon she disappears for longer and longer periods of time, leaving behind frightened loved ones and returning bruised and battered. It isn't until one fateful day, when she is torn from her world altogether, that she learns where it is she is being pulled to and why. Now, unless Eleanor can master her extraordinary new abilities, Esmerelda's death will not be the only tragedy to stain her family history.
Much more than a touching family drama, Gurley's novel transports readers as it follows Eleanor on a unique and poignant journey that crosses worlds and dimensions. Amid her heartache, Eleanor discovers something powerful within herself and must learn how to use her new abilities to fix her broken family. Gurley's fantastical novel shows that healing can come in unique and unexpected ways.
ELEANOR is at once a delicately woven meditation on the depth of damage wrought by grief, a beautiful coming-of-age tale, and a heartening exploration of the healing power of family and friendship. Gurley's is indeed a striking novel.
****
ABOUT THE AUTHOR:
JASON GURLEY is the author of Greatfall, The Man Who Ended the World, and the fiction collection Deep Breath Hold Tight, among other works. His stories have appeared in the anthologies Loosed Upon the World and Help Fund My Robot Army!!! He was raised in Alaska and Texas and now lives and writes in Scappoose, Oregon. Visit his website at www.jasongurley.com or follow him on Twitter at @jgurley.
Related Posts: