Press Releases
Now in paperback: The Divorce Papers by Susan Rieger
One of Entertainment Weekly's 14 Rising Stars to Watch in 2014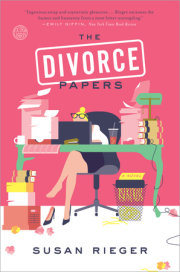 Susan Rieger
Imprint: Broadway Books
On sale: October 28, 2014
Price: $15.00
Pages: 496
ISBN: 9780804137461
Contact:
Rebecca Welbourn
212-782-9634
rwelbourn@penguinrandomhouse.com
"Fresh and lively . . . smart and wonderfully entertaining . . . The power and canniness of this bittersweet work of epistolary fiction pulls you along. . . . This portrait of a divorce makes for serious, yet charming, entertainment. . . . A dramatic intertwining of the law and human feelings." —Alan Cheuse, NPR's All Things Considered
"Ingenious setup and voyeuristic pleasures . . . Rieger excavates the humor and humanity from a most bitter uncoupling." —Emily Giffin, New York Times Book Review
"Brims with brio and wit. It's the appealingly oddball Sophie who gives this novel its soul." —Tina Jordan, Entertainment Weekly
"A witty first novel . . . The engaging tale . . . provid[es] all the voyeuristic pleasure of snooping through someone else's inbox." —Laurie Muchnick, People
"This comedy of manners . . . unfolds through e-mails, legal briefs, handwritten notes, and interoffice memos, along with a child-evaluation form and custody recommendations. . . . The texts offer a provocative glimpse of how intimately our documents reveal us." —New Yorker
"Susan Rieger brings her real-life experience as a lawyer to the table in this debut romantic comedy that's written, refreshingly, in the epistolary style." —Cosmopolitan.com
"Rieger . . . uses office politics and legal clashes to brilliant and scathingly funny effect. Think The Good Wife but funnier and, in the end, more poignant." —Christian Science Monitor
"Rieger writes with such facility and humor in so many voices . . . An excellent yarn about the nature of love, insecurity, and commitment." —Minneapolis Star Tribune
---
Some years ago, SUSAN RIEGER, a freshly minted lawyer, taught a law school course on legal writing. As a classroom assignment, she asked the students to create moot court arguments. Rieger made up the law cases, with supporting statement of facts, statutes, and legal decisions. She was surprised by how much she enjoyed the entire exercise. Fast forward five years. Rieger was getting divorced and, despite her legal training, found herself at sea: "How do I get a lawyer? What can I expect in the way of child support or alimony? Could I lose custody? What does 'equitable distribution' mean? Will I end up a bag lady?" Post-divorce, she drew on her classroom experience to write the enclosed wonderfully smart and entertaining debut novel, The Divorce Papers (Broadway Books; October 28, 2014), a modern-day epistolary work that tells the story of a contentious divorce entirely through friendly and hostile e-mails, scorching and confessional letters, brisk memoranda, New Year's cards, newspaper articles, interviews, cases, and laws. The reader gets pulled into a fascinating thicket of relationships, fights, and love affairs, much of it governed by money as well as emotion.
Twenty-nine-year-old criminal law associate Sophie Diehl works at a prestigious New England firm. She's happy that most of her clients are behind bars; she dislikes face-to-face client contact. But one week, with all the firm's divorce attorneys unavailable, Sophie must handle the intake interview for the daughter of one of its biggest clients. After eighteen years of marriage, Mayflower descendant Mia Meiklejohn Durkheim has just been served divorce papers in a humiliating episode at a popular local restaurant. Witty and combative, she is furious at her ambitious doctor husband—who is having an affair—and worried he may fight her for custody of their ten-year-old daughter. Sophie informs Mia that she's never handled a divorce before and is there for just the interview, but Mia insists on Sophie's representation, saying she finds it reassuring—it's her first divorce, too. The novel is Sophie's story as well as Mia's, and through them we meet the men in their lives: attractive, intelligent, successful, and often difficult boyfriends, husbands, colleagues, and fathers. THE DIVORCE PAPERS reveals these characters at their most articulate and scathing, impulsive and thoughtful, and honest and endearing.
What begins as an account of a snarling divorce case opens up to a full, astonishingly rich portrait of moneyed life. With Balzacian relish, the novel exposes the financial affairs of a couple at war—the way they use children, bank accounts, houses, cars, pets, and even television sets as weapons. As she pursues her unwanted task, Sophie learns how to weather the rough-and-tumble of a first-class law firm, juggling her cases and maneuvering her way through office politics as well as the perils of her own romantic and family life.
SUSAN RIEGER was trained as a lawyer and has been a teacher of law, a college dean at Yale, an associate provost at Columbia, and a freelance journalist. She lives in New York City with her husband, New Yorker writer David Denby. She has a daughter, the novelist Maggie Pouncey, and three stepsons—Christian Pouncey, a construction engineer, Max Denby, a television writer and app developer, and Thomas Denby, a graduate student in linguistics.
Related Posts: