Press Releases
Now in paperback: IN A DIFFERENT KEY by John Donvan and Caren Zucker
The definitive history of autism, a New York Times bestseller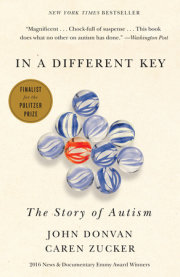 John Donvan and Caren Zucker
Imprint: Broadway Books
On sale: January 17, 2017
Price: $18.00
Pages: 688
ISBN: 9780307985705
Contact:
Sarah Breivogel
212-572-2722
sbreivogel@penguinrandomhouse.com
Praise for In a Different Key
A New York Times Book Review Editors' Choice
"Spellbinding…Chock-full of suspense and hairpin turns…A story of violence, avarice, politics
and valor…Donvan and Zucker paint the story in sweeping, cinematic bursts."—Ann Bauer, Washington Post
"Remarkable…Tells a riveting tale about how a seemingly rare childhood disorder became a salient fixture
in our cultural landscape…Gripping personal stories give the book tremendous narrative drive."—Richard J. McNally, Wall Street Journal 
"The book probes a difficult subject with intelligence and compassion….Its insights and quiet wisdom demand our attention, and gratitude."—Amy Bloom, O, The Oprah Magazine 
"Their book is crafted like a tightly edited news special: The prose is vivid, the tempo rapid and the perspective intimate, as if each character has been filmed with a hand-held camera."—Jerome Groopman, New York Times Book Review
---
Two Emmy Award–winning journalists bring us the definitive history of autism—weaving together stories of human ingenuity and perseverance and offering a profound look at how we understand disability.
Eighty-two years ago, in Forest, Mississippi, a boy named Donald Triplett was born. He was destined to become the first child in history diagnosed with autism. But that was only after his mysterious behaviors led his parents on a journey to understand why their son was different from other children and how he could be helped. It would take years of patient determination, and one extraordinary clinician, before the diagnosis of autism was even conceived. Since then, our understanding of autism has grown exponentially—and the way we treat those different from ourselves has undergone a sea change. In this profoundly humane and beautifully rendered history, John Donvan and Caren Zucker tell the decades-long story of autism as a series of powerful dramatic episodes. Some are dark: children in institutions who were shocked with electricity or fed LSD; mothers told that they were the cause of their children's autism; and even a father killing his autistic son in the desperate belief that he'd be better off dead. But there are many heroic moments as well: autism parents campaigning for their children's civil rights; dedicated scientists exploring new treatments; people with autism advocating for themselves. Setting out from that Mississippi town where Donald still lives today, this is an unforgettable portrait of science, parenthood, empowerment, and the meaning of "being different" in the twenty-first century.
More than seven years in the making, IN A DIFFERENT KEY: The Story of Autism (Broadway Books, on sale January 17, 2017) by Emmy Award–winning correspondent John Donvan and Peabody and Emmy Award–winning television news producer Caren Zucker offers new insight into some of the seminal moments of the past century: the rise of the disability rights movement, deinstitutionalization, the effort to mainstream those on the spectrum, breakthroughs in neuroscience and our understanding of the mind, and the birth of the neurodiversity movement. Donvan and Zucker, whose own families have been affected by autism, have been on the front lines of reporting on the social, medical, and legal aspects of autism since 1999, even before it became a national topic of conversation. Their groundbreaking ABC News series, Echoes of Autism, launched in the early 2000s, was the first regular coverage of autism on network television. Their article "Autism's First Child," which planted the seed for this book, was a finalist for the 2011 National Magazine Award in Profile Writing. As Donvan and Zucker explain, it is striking to see how ordinary people—so often parents who were merely following an instinct to do right by their children—were at the forefront of creating major social change and a realignment in the priorities of scientific research. Equally fascinating is how, in time, autistic people became full participants, even leaders, in this civil rights movement. IN A DIFFERENT KEY, now in paperback, presents autism as a revealing lens on society's too gradual, and still-evolving, acceptance and celebration of those who are different.
Written by two journalists personally committed to increasing respect, understanding, and support for the loved ones in their families—and in every family touched by autism—IN A DIFFERENT KEY shows that, no matter how we are wired, all of us are part of "the fabric of humanity." With a cast of characters as complex and indelible as those in The Immortal Life of Henrietta Lacks and Far from the Tree; the power and sweep of The Emperor of All Maladies; and the compelling portrait of a culture and community found in And the Band Played On, IN A DIFFERENT KEY has already been hailed as a landmark book.
ABOUT THE AUTHORS: John Donvan is a correspondent for ABC News, and host/moderator of the Intelligence Squared U.S. Debates. Caren Zucker is a twenty-five-year veteran of ABC News, and producer and co-writer of the PBS series Autism Now. They most recently won an Emmy Award for Outstanding Feature Story in a Regularly Scheduled Newscast for the autism-focused story "A Different Kind of Boyhood," which aired on Nightline.
Related Posts: