Press Releases
Now in paperback: DEMOCRACY IN BLACK by Eddie S. Glaude, Jr.
How Race Still Enslaves the American Soul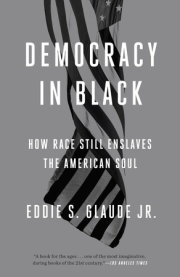 Eddie S. Glaude, Jr.
Imprint: Broadway Books
On sale: January 10, 2017
Price: $16.00
Pages: 304
ISBN: 9780804137430
Contact:
Liz Wetzel
212-572-6049
lwetzel@penguinrandomhouse.com
*Now in Paperback, Including an Updated Afterword*
A POWERFUL POLEMIC ON THE STATE OF BLACK AMERICA THAT CHALLENGES THE IDEA OF A POST-RACIAL SOCIETY, FROM A BRILLIANT PUBLIC VOICE AT PRINCETON UNIVERSITY
Praise for Democracy in Black
"A book for the ages . . . Glaude's Democracy in Black: How Race Still Enslaves the American Soul is as narratively unrelenting as it is thematically percussive, calling for black Americans to take dramatic action in our lives, voting booths and on the streets to contend with a 'value gap' that has left African Americans behind socially and economically. . . . One of the most imaginative, daring books of the twenty-first century . . . every chapter in Democracy in Black is a revelation, and every paragraph a ripe possibility"—Los Angeles Times 
"The pages come to life with the voices of real people struggling to creatively engage each other and those in power. . . . Perhaps what the book conveys most strongly is Glaude's defiant sense of optimism. . . . If you spend a little time with Glaude, you will be immensely challenged. I recommend you read in a quiet room where no one can here you if you curse, cry or say 'Amen.'"—Charleston Post and Courier
"Democracy in Black is rich in history and bold in opinion, and inconvenient truths leap from every page."—Bill Moyers, Moyers & Company 
I don't believe a more radical but sensible book about America's post–civil rights politics has ever been written. Eddie Glaude's Democracy in Black has the rhetorical fire of Malcolm X and the spiritual integrity of MLK. It is a withering critique of black politics that is at times humorous as well as heartbreaking. You can't get through this book without underlining something on every page. Essential reading."—Pittsburgh Post-Gazette
---
Among the many things obliterated in the startling election of Donald Trump was the idea that we live in a post-racial society. Published last year, Eddie Glaude's acclaimed DEMOCRACY IN BLACK has proven prophetic in its dead-on analysis of the deep conflict over race in America, one that could never be resolved by the mere elevation of a black president. Perhaps more than anything else, the election has brought to the surface what Glaude has warned all along: The deep, persistent presence of a value gap—the belief that white people are valued more than others—has always organized every aspect of American life, standing in the way of true equality. Now, in the face of what may prove to be a relentless government assault on everything from affirmative action to voting rights, this book's argument about our need to transform society is more relevant—and urgent—than ever.
Race relations, or a lack thereof, have not disappeared from front-page news since the death of Trayvon Martin over seven years ago, underscoring a deeper truth: For most black Americans, the promise of equality rings hollow and false. This feeling has been made palpable by the deaths of countless individuals at the hands of the police and was made unmistakable by the recent election of a president who has repeatedly denigrated their neighborhoods as "war zones." Inequality is painfully apparent in every aspect of American life today, from housing and employment to education and government assistance, and could get dangerously worse if we fail to see the heart of the problem.
With DEMOCRACY IN BLACK: How Race Still Enslaves the American Soul (Broadway Books; January 10, 2017), Eddie S. Glaude Jr., the William S. Tod Professor of Religion and African American Studies and the chair of the Department of African American Studies at Princeton University, delivers a stirring reflection on the state of black America, making a grand argument as to how we've reached such an impossible place—and how we can change it.
With the idea that the election of the nation's first black president signaled a turning point in the country's legacy of racism and discrimination now clearly debunked, Glaude's starkly different view feels terrifyingly aligned with reality—he cites increased police brutality, the Supreme Court's dismantling of the Voting Rights Act, and the disaster visited upon middle-class black families by the Great Recession among the indicators that black America is in a state of dire emergency. The value gap is just as apparent today as it was upon the founding of this country, no matter our stated principles or how much progress we think we have made.
With DEMOCRACY IN BLACK, Glaude emerged as a voice of authority on race. Part manifesto, part history, part memoir, it makes the case that multiple forces have conspired to deepen the impoverishment of black communities. In a new afterword, Glaude revisits activist involved in Black Lives Matters as well as women affected by the Great Black Depression and subsequent housing crisis. In the year that has passed since the hardcover publication, the position of black Americans has not improved. Black lives have still been lost to increased police violence, the housing crisis continues to affect much of black America, and now President-Elect Trump has thrown the country into racial unrest the likes of which have not been seen since the civil rights movement.
Glaude offers a way forward through a revolution of value that involves three basic components:
—A change in how we view the government
—A change in how we view black people
—A change in how we view what ultimately matters to us as Americans
These components, along with other important grassroots movements, will give Americans the power to set a new course for the nation.
Whether discussing the disproportionate wealth lost by blacks after the bursting of the housing bubble, the complacency of black leaders who make much noise but little progress, or the vicious cycle in which white fear limits black political expressions, Glaude crystallizes the untenable position of black America.
About the Author: Eddie S. Glaude Jr. is the William S. Tod Professor of Religion and African American Studies and the chair of the Department of African American Studies at Princeton University. He is the recipient of numerous fellowships and awards, including the 2002 Modern Language Association William Sanders Scarborough Prize for his book Exodus!: Religion, Race, and Nation in Early Nineteenth–Century Black America. Glaude is on the editorial board of the Journal of the American Academy of Religion, African American National Biography, and Contemporary Pragmatism. Professor Glaude's work also includes African American Religious Thought: An Anthology (2004), coedited with Cornel West.
Related Posts: