Press Releases
Now in paperback: CHRONICLE OF A LAST SUMMER by Yasmine El Rashidi
Longlisted for the 2017 PEN/Open Book Award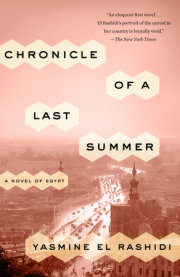 Yasmine El Rashidi
Imprint: Tim Duggan Books
On sale: June 13, 2017
Price: $15.00
Pages: 192
ISBN: 9780770437312
Contact:
Rebecca Welbourn
212-782-9634
rwelbourn@penguinrandomhouse.com
Praise for Chronicle of a Last Summer
"An eloquent first novel . . . El Rashidi's portrait of the unrest in her country is brutally vivid." —The New York Times
"A wonderfully observed novel of personal awakening and politics in Cairo." —The Washington Post
"El Rashidi offers a sharply perceptive and judiciously accurate portrait of Egypt's complex culture." —The New York Times Book Review
"El Rashidi finely conjures the world through a child's eyes, with the abruptness and surreality of that perspective. . . . The novel is rich in its quiet implications. . . . An entire nuanced world emanates from these apparently offhand recollections. . . . Chronicle of a Last Summer wastes no words. Every sentence has meaning. . . . In El Rashidi's novel, as in life, the familial and the societal are ultimately inseparable." —Claire Messud, The New York Review of Books
---
With her transcendent debut novel, CHRONICLE OF A LAST SUMMER (June 13, 2017; Tim Duggan Books), now in paperback, Egyptian writer and New York Review of Books contributor Yasmine El Rashidi tells the story of a young Egyptian woman's personal and political coming-of-age. Narrated during three pivotal summers in Cairo, the novel poignantly captures the pulse of a city changing before our eyes, while also exploring how we come to terms with our own past. El Rashidi, who was born, raised, and lives in Cairo, is an editor of the Middle East arts and culture quarterly Bidoun.
Cairo, 1984: a blisteringly hot summer. Our protagonist, a young girl, drifts through her sprawling family house. Her days pass quietly: listening to her mother's phone conversations, looking at the Nile from her bedroom window, watching the three state-sanctioned TV channels with the volume turned off, daydreaming about other lives. Underlying this claustrophobic routine is mystery and loss. Relatives mutter darkly about the newly appointed President Mubarak. Everyone talks with melancholy about the past. People disappear overnight. Her own beloved father has left too—why, or to where, no one will say.
We meet her during three summers and across three decades, from youth to adulthood: as a six-year-old absorbing the world around her, filled with questions she can't ask; as a college student and aspiring filmmaker preoccupied with love, language, and the repression that surrounds her; and then later, in the turbulent aftermath of Mubarak's overthrow, as a writer exploring the silences that have marked and shaped her life.
Using spare prose that draws on the modernist history of Egyptian literature, El Rashidi conjures in captivating detail the tone and texture of the protagonist's daily life in Cairo—from conversations with fruit vendors and interactions in a record store, on a bus, in a government office, to intimate moments at home and with friends discussing politics, protests, and life. At once a mapping of a city and culture in transformation, and as well the story about the shifting fates of a single Egyptian family, CHRONICLE OF A LAST SUMMER traces the fine line between survival and complicity, exploring the conscience of a generation raised in silence.
Additional Praise for Chronicle of a Last Summer
"A remarkably clear, generous, and elegant reading of metropolitan life in Cairo. Yasmine El Rashidi has an extraordinary eye for detail: on the streets of Cairo, at school, at home, in the realm of politics, she captures everything and in the process gives one of the most uncannily clairvoyant and astute portrayals of today's Egypt. The streets are exceptionally dirty, life can be stultifying, cruel, and unsafe, the buildings couldn't be uglier, and the secret police lies in wait just about everywhere. Rashidi has always been unsparing in her frequent bulletins about the Arab Spring and its aftermath in The New York Review of Books. Here she is no less penetrating, though this also happens to be a moving and lyrical account of a young woman's maturation from early girlhood, through adolescence, and adulthood​." —André Aciman, author of Harvard Square
"Yasmine El Rashidi's debut is politically minded, but with a beating heart at its core—a beautiful alchemy between an achingly human coming-of-age story and a political examination of a country with a deep, nuanced history." —Elle.com
"A moving and memorable portrait of a girl growing up under a repressive regime, struggling with its imposed silences, and finding her voice. In clear and elegant prose, Chronicle of a Last Summer probes the space in which the personal and the political meet and, at times, collide." —Laila Lalami, author of The Moor's Account
"A moving novel about a woman's coming of age in a country that tried to silence her." —TravelandLeisure.com
"An elegant snapshot of how one life is lived within the historical storm." —Eimear McBride, author of A Girl Is a Half-formed Thing
"Original and provocative." —Los Angeles Review of Books 
"El Rashidi is a sculptor of language, using words and silence to examine some of our most profound questions about love, family, and the cost of freedom. Chronicle of a Last Summer is more than a story about a young woman's life, it is a testament to the stubborn endurance of hope. Read this beautiful book not to better understand a nation, but to discover a new vocabulary with which to comprehend our complicated human condition." —Maaza Mengiste, author of Beneath the Lion's Gaze

"El Rashidi paints a landscape of life growing up in Cairo that feels so vivid and all-consuming that the reader could simply melt into the narrator and be present. Any American reader who's felt that news stories, like those about Egypt's 2011 revolution and what's followed, seem distant and baffling will finish Chronicle of a Last Summer with a new depth of empathy and understanding." —The Huffington Post
"Chronicle of a Last Summer offers a window on ordinary Egyptian life—both personal and political—across the decades, haunted by the ghosts of the dead and the missing." —Newsday
"A shimmering, nuanced personal and political coming of age story." —BBC.com
"Chronicle of a Last Summer is an elegy for a city and a story of growing up submerged in other people's memories. There are novels that stay with you long after you turn the last page. This is one of them." —Daniel Alarcón
"Subtle, powerful . . . Chronicle of a Last Summer sets itself against any absolutism: it refuses to subsume individual details into grand narratives, especially those promised by the heroic language of revolution." —The Kenyon Review
Related Posts: