Press Releases
NOW IN PAPERBACK: The Book of Strange New Things by Michel Faber
The Critically Acclaimed Novel from the Author of the International Bestsellers The Crimson Petal and the White and Under the Skin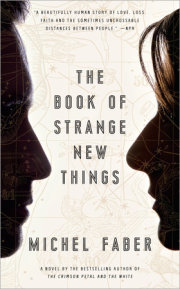 Michel Faber
Imprint: Hogarth
On sale: June 30, 2015
Price: $17.00
Pages: 528
ISBN: 9780553418866
Contact:
Dyana Messina
212-572-2098
dmessina@penguinrandomhouse.com
Praise for THE BOOK OF STRANGE NEW THINGS
"Defiantly unclassifiable . . . The Book of Strange New Things squeezes its genre ingredients to yield a meditation on suffering, love and the origins of religious faith. . . . Faber reminds us there is a literature of enchantment, which invites the reader to participate in the not-real in order to wake from a dream of reality to the ineffability, strangeness, and brevity of life on Earth." —Marcel Theroux, The New York Times Book Review (cover review)
"Faber's great strength, trotted out right from the opening pages—this ability to write believable, lovely, flawed and inept characters. To animate his creations by exposing their great loves and human frailties, and to make us want, somehow, to follow along behind them . . . Faber tells a beautifully human story of love, loss, faith and the sometimes uncrossable distances between people." —NPR.org, All Things Considered
"Fascinating . . . poignant . . . remarkable . . . Despite its bizarre setting and all the elements of an interplanetary opera, this is a novel of profound spiritual intimacy. . . . I relished every chance to cloister myself away with The Book of Strange New Things. . . . [It] offers exactly what I crave: a state of mingled familiarity and alienness that leaves us with questions we can't answer—or forget." —Ron Charles, Washington Post
"Eerie and ambitious . . . Faber is a genuinely gifted storyteller and his novel gains resonance and tidal force in its final third." —Dwight Garner, New York Times
"Profoundly moving . . . a vivid portrait of a distant galaxy, reinforced by a narrative that is deeply, emotionally evocative." —USA Today
"Elegant . . . a lovely, thought-provoking meditation on love and faith and the never-ending mysteries of the natural world." —Entertainment Weekly
"Provocative, unsettling." —People
A New York Times 100 Notable Books of 2014; New Yorker Best Book of 2014; NPR Great Read of 2014;
Barnes & Noble Fiction Selection, Top Books for the Holiday Season, and Indie Next Pick!
With his rapturously reviewed novel, The Crimson Petal and the White, and its celebrated predecessor, Under the Skin, Michel Faber had firmly solidified his reputation as a master storyteller, a literary craftsman of the highest order. Readers, however, would have to wait over a decade until his next novel, THE BOOK OF STRANGE NEW THINGS was published in the fall of 2014. Faber spent years honing his remarkable abilities into this genre-defying masterpiece, which was lauded by critics in the US and abroad. In a series of candid interviews at publication, Faber revealed that THE BOOK OF STRANGE NEW THINGS is in fact his last novel. Hogarth is honored to release this brilliant magnum opus in paperback on June 30, 2015.
A mesmerizing work of extraordinary imagination and emotional resonance, THE BOOK OF STRANGE NEW THINGS is an exploration of faith, love, and humanity's search for meaning in an unfathomable universe. In the character of Peter Leigh, Faber paints the portrait of a man of devout faith. A Christian minister, Peter is unwavering in two things: his belief in God and his love for his beloved wife, Bea. So when Peter is offered a remarkable opportunity—a chance to bring God's word to the native inhabitants of a distant planet known as Oasis—he accepts, determined to fulfill his responsibility to his religious faith, even though it means leaving Bea behind. On Oasis, Peter discovers a community of native beings desperate for God's word as found in the "book of strange new things," known as the Bible. The good shepherd ministering to his flock, Peter becomes more and more immersed in his new world full of hope and promise. For Bea, however, the universe is crumbling—food shortages, a series of cataclysmic natural disasters, and terrifying increases in violence, crime, and poverty around the globe have shaken her once-immutable faith. The more time Peter spends on Oasis, the further he drifts away from his own world and the woman he left behind. It is a separation measured in galaxies—a chasm that will challenge everything Peter believes and call into question what it truly means to be a man of love and faith.
Through this breathtaking story of a marriage stretched to an otherworldly degree, Faber offers an acutely poignant meditation on humanity, our responsibility to ourselves and to others, and what it means to truly have one's faith tested. THE BOOK OF STRANGE NEW THINGS mesmerizes in Faber's intricacy:powerful prose combined withdeep reflection to create a work that is profoundly affecting.
About the Author
Michel Faber has written seven other books, including the highly acclaimed The Crimson Petal and the White, The Fahrenheit Twins, and the Whitbread-shortlisted novel Under the Skin. The Apple, based on characters in The Crimson Petal and the White, was published in 2006. He has also written two novellas, The Hundred and Ninety-Nine Steps and The Courage Consort, and has won several short-story awards, including the Neil Gunn prize, the Ian St. James award, and the Macallan prize. Born in Holland and brought up in Australia, Faber lives in the Scottish Highlands.
Related Posts: