Press Releases
Now in Paperback: AMERICAN WOLF by Nate Blakeslee
A True Story of Survival and Obsession in the West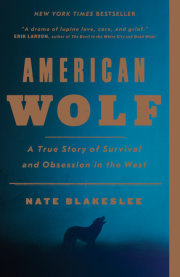 Nate Blakeslee
Imprint: Broadway Books
On sale: July 31, 2018
Price: $16.00
Pages: 320
ISBN: 9781101902806
Contact:
Sarah Breivogel
212-572-2722
sbreivogel@penguinrandomhouse.com
Now available in paperback, the intimate, enthralling story of the rise and reign of O-Six, the legendary Yellowstone wolf, and the people who loved or feared her
Accolades and Select Praise for Nate Blakeslee and American Wolf
An Amazon Best Science Book of the Year Selection
A Barnes & Noble Discover Great New Writers Selection
An IndieBound Bestseller
An NPR Science Friday Best Science Book of the Year Selection
An Outside Magazine Best Book of 2017 Selection
A LitHub Best Books of the Year Selection
A Read It Forward Best Books of the Year Selection
A Sigurd F. Olson Nature Writing Award Honoree
A J. Anthony Lukas Book Prize Finalist
An Audie Award Winner, Best Nonfiction Audiobook
"A masterful and elegant tale." —Associated Press
"American Wolf takes its place in a long lineage of wolf books.…[T]here are cherished, striking images here…testament to the ever-flowing life force that is the wolf."
—Rick Bass, New York Times Book Review
"In this vibrant work of nonfiction, a Texas Monthly writer goes into the mind—and heart—of a wolf. He tells the remarkable true story of O-Six, a wolf brought back to the Rockies by conservationists, as she fights hunters, cattle ranchers, and her own species for survival."
—Entertainment Weekly
"Blakeslee draws O-Six in novelistic…detail, using the conflicting insight and perspective of biologists, politicians, ranchers, environmentalists, lawyers, other animals, and hunters.…Seeing a wolf is exceptionally rare, and this book is as close as most readers will come." —The New Yorker
Before men ruled the earth, there were wolves. Once abundant in North America, these majestic creatures were hunted to near extinction by the 1920s. But in recent decades, conservationists have brought wolves back to the Rockies, igniting a battle over the very soul of the West. Award-winning author Nate Blakeslee tells the gripping story of one of these wolves, a charismatic alpha female named O-Six, in his poignant book, now in paperback, AMERICAN WOLF: A True Story of Survival and Obsession in the West (Broadway Books; July 31, 2018). The Associated Press called the book "a masterful and elegant tale" and The New Yorker noted, "Blakeslee draws O-Six in novelistic…detail, using the conflicting insight and perspective of biologists, politicians, ranchers, environmentalists, lawyers, other animals, and hunters." In addition to glowing reviews from the media, AMERICAN WOLF won an Audie Award for best nonfiction audiobook, was a Sigurd F. Olson Award honoree, a J. Anthony Lukas Book Prize finalist, and was selected as a best book of the year by a number of retailers, including Amazon and IndieBound, and by NPR "Science Friday," LitHub, and Outside magazine. Leonardo DiCaprio's Appian Way Productions picked up film rights, with Scott Cooper (Black Mass) set to direct.
More than four million people visit Yellowstone each year, and wolves are one of the main attractions. Wolf advocates would like to see them remain on the endangered species list; opponents, especially professional hunting guides (whose clients compete with wolves for the elk they both prize) and cattle ranchers (who have lost livestock to wolves), would like to see a wolf-hunting season so that their numbers can be reduced. AMERICAN WOLF is about these opposing forces, told through the lens of the life of one wolf, O-Six, whose own story became entangled in the political strife around her.
O-Six can arguably be called one of the most famous wild animals in our country. She was one of the most visible wolves in Yellowstone at a time when wolf-watching became a common pastime in the park. Beloved by wolf-watchers, particularly Yellowstone park ranger Rick McIntyre and former schoolteacher Laurie Lyman, both featured in the book, O-Six becomes something of a social media star, with followers around the world. But as she raises her pups and protects her pack, O-Six is challenged on all fronts: by hunters and their professional guides; by cattle ranchers who are losing livestock and have the ear of politicians; and by other Yellowstone wolves who challenge her dominance of the stunningly beautiful Lamar Valley in the park's mountainous Northern Range.
Nate Blakeslee became fascinated with wolves in the winter of 2008, after taking a wolf-watching class in Yellowstone. This is where he saw wolves in the wild for the first time. Drawing on interviews with McIntyre, and Lyman's extensive wolf-watching diary (over 800,000 words), Blakeslee has re-created the true life story of a wild animal in unprecedented detail.
Fans of Helen Macdonald's H Is for Hawk, John Vaillant's The Tiger, Jon Krakauer's Into the Wild, and anyone else who loves intimate, true stories of nature, obsession, and survival will be drawn to this riveting multigenerational wolf saga that tells a larger story about the clash of values in the West—and the nation as a whole.
About the Author: Nate Blakeslee is a writer-at-large for Texas Monthly. His first book, Tulia, was a finalist for the PEN/Martha Albrand Award and won the J. Anthony Lukas Book Prize, the Texas Institute of Letters nonfiction award, and was named a New York Times Notable Book of 2005. The Washington Post called it one of the most important books about wrongful convictions ever written. He lives in Austin, Texas, with his family.
AMERICAN WOLF: A True Story of Survival and Obsession in the West by Nate Blakeslee
Broadway Books • On Sale July 31, 2018 • $16.00 paperback • 320 Pages
ISBN 978-1-101-90280-6
Also available as an ebook and on audio from Penguin Random House
Visit crownpublishing.com
You can find the author on twitter @Nate_Blakeslee
Related Posts: