Press Releases
Now in Paperback: I ALMOST FORGOT ABOUT YOU by Terry McMillan
From #1 New York Times bestselling author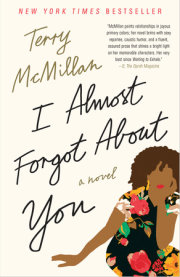 Terry McMillan
Imprint: Broadway Books
On sale: April 11, 2017
Price: $16.00
Pages: 384
ISBN: 9781101902592
Contact:
Dyana Messina
(212) 572-2098
dmessina@penguinrandomhouse.com
Select Praise for I ALMOST FORGOT ABOUT YOU
* An ABC News Must-Read Books for Summer selection *
* A USA Today Sizzling Summer Book *
* A Publishers Weekly Best Summer Books of 2016 selection *
* A Booklist Top 10 Women's Fiction title of 2016 *
"McMillan paints relationships in joyous primary colors; her novel brims with sexy repartee, caustic humor, and a fluent, assured prose that shines a bright light on her memorable characters. Her very best since Waiting to Exhale." —O, The Oprah Magazine
"McMillan's fans will delight in the strong female friendships, bawdy guy-talk, and soul-stirring revelations in this story." —People, a Summer's Best Book
"The novel is immensely companionable, and Georgia is as alive, complex, inquiring, motivated and sexy as any 25-year-old. Maybe more so." —New York Times Book Review
"Nobody does female reinvention better than McMillan . . . another winner for McMillan's groaning bookshelf of hits." —AARP
"McMillan is funny and frank about men, women and sex . . . powerful and poetic." —USA Today
"After almost three decades of success and celebrity, McMillan still knows how to please. . . . Self-discovery, second chances and the importance of family are thematic hallmarks of McMillan's novels, as is the rich and colorful dialogue that make her books so much fun to read. I Almost Forgot About You checks all the boxes. . . . By novel's end, you'll realize what a clever title McMillan has chosen. Georgia's choices will have readers of a certain age looking at their own lives and agreeing with her that 'sometimes you know in your heart it's time for a change.'" —Washington Post
"Reading a Terry McMillan book feels like catching up with an old friend. Her characters are complex, witty, relatable, and steeped in reality." —Ebony.com
---
For nearly thirty years, Terry McMillan has been entertaining readers with novels bursting with warmth, humor, and a fearless, tell-it-like-it-is honesty. Beginning with her acclaimed debut novel Mama, her New York Times bestselling books include Waiting to Exhale, A Day Late and a Dollar Short, The Interruption of Everything, How Stella Got Her Groove Back, Getting to Happy, Disappearing Acts, and Who Asked You? With millions of copies sold around the world, McMillan's work has transcended age, race, and class to make her one of the most beloved authors in publishing today. In June 2016, she gave readers I ALMOST FORGOT ABOUT YOU, a bold, inspiring story of second chances and next chapters. Lauded by critics and readers alike for its inspiring and empowering message—and McMillan's signature charm and candor—the novel was a summer must-read that would spend multiple weeks on the New York Times bestseller list. On April 11, 2017, Broadway Books will publish I ALMOST FORGOT ABOUT YOU in paperback.
While there have certainly been some ups and downs, life has been good to Dr. Georgia Young. An optometrist in San Francisco, she's built a thriving practice, raised two daughters, and settled into a comfortable routine surrounded by friends and family. She is also professionally bored. When tragedy befalls someone from the past, it causes Georgia to question what she really wants in the years ahead. She begins a process of reinvention that will touch every aspect of her life—career, home, health, and even love. Determined to reconnect with the best version of herself, Georgia also decides to make amends with the men she's loved—not lovers—who have been a part of her story. In reaching out to them, Georgia will discover things about herself she never knew—and in the process, might just find new love.
As readers will attest, I ALMOST FORGOT ABOUT YOU is McMillan at her best. Her signature style, acerbic wit, and spot-on depictions of modern life and culture are on full display, and Dr. Georgia Young finds her place among McMillan's best-loved characters. McMillan proves, once again, that she is one of the sharpest and most insightful voices in fiction today.
# # #
About the Author: #1 New York Times bestselling author Terry McMillan fel
l in love with books as a teenager while working at the local library. She studied journalism at UC Berkeley and screenwriting at Columbia before making her fiction debut with Mama, which won both the Doubleday New Voices in Fiction Award and the American Book Award. She lives in Pasadena, California.

Related Posts: