Press Releases
NOW IN PAPERBACK
HE WANTED THE MOON by Mimi Baird with Eve Claxton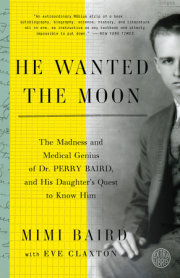 Mimi Baird with Eve Claxton
Imprint: Broadway Books
On sale: February 16, 2016
Price: $16.00
Pages: 288
ISBN: 9780804137492
Contact:
Hannah Frail
212-572-2247
hfrail@penguinrandomhouse.com
*A Washington Post 2015 Notable Nonfiction Selection*
Called "utterly impossible to put down" by the New York Times, deemed "a remarkably eloquent account of mental illness" by the Washington Post, Mimi Baird's debut memoir HE WANTED THE MOON (Broadway Books; February 16, 2016) received incredible attention and praise, with Pat Conroy hailing it "a classic in the literature of breakdown," and author Amity Shlaes suggesting the book will do for mental illness what The Immortal Life of Henrietta Lacks did for cancer. Brad Pitt's Plan B production company quickly optioned the film rights for HE WANTED THE MOON, which Pitt called "a gorgeous story" in a recent Vulture interview.
Mimi Baird was only six years old when her father, a Harvard-educated doctor and rising medical star in the late 1920s and 1930s, was hospitalized for manic depression. From that day on, Mimi's questions about him were met with vague explanations that he would forever be "ill" and "away." Five decades later, a serendipitous conversation prompted Mimi to reconnect with her uncle, who mentioned her father's unpublished manuscript.
Comprised of eleven inches of onionskin paper, the manuscript that soon arrived on Mimi's Vermont doorstep led her on a twenty-year journey to uncover his past and learn of his brilliant, tortured insights. Drawing on those writings as well as dozens of original medical records, photographs, letters, testimonies, and archival documents, Mimi finally brings her father's story and research to their rightful place in medical history through HE WANTED THE MOON.
When Perry Baird was diagnosed, the causes of manic depression remained largely unknown, and "treatment" for the disorder consisted of brutal and ineffective hospitalizations. Dr. Baird, well ahead of his time, suspected a biochemical cause for his illness, and during his medical career led several experiments investigating those roots. A few years later, other doctors focusing on the mentally ill pursued a similar conclusion, and in 1949, John Cade published the lithium study of mania that revolutionized the world's understanding—and treatment—of depression. By then, Dr. Baird had been institutionalized multiple times and his medical license revoked. At only fifty-five, he died from complications after receiving a lobotomy.
Both student and sufferer of manic depression, Dr. Baird recorded his observations, written in periods of extreme highs and devastating lows, which offer a deeply disturbing account of mid-century American mental institutions, as well as a truly rare first-hand perspective of an acute mind at war with itself. In uncovering his story and bringing his achievements to light, Mimi gives voice to the silent and forgotten who have suffered mental illness without any say in their treatment. But HE WANTED THE MOON is as much an essential window into bipolar disorder as it is a deeply inspiring account of Mimi's resilient quest to connect with the brilliant father she never really knew.
ABOUT THE AUTHORS:
MIMI BAIRD, a Bostonian, is a graduate of Colby-Sawyer College. While working as a manager at the Dartmouth-Hitchcock Medical Center, she met a surgeon who had once known her father, which prompted her quest to finally understand her father's life and legacy. Mimi has two children and four grandchildren. This is her first book.
EVE CLAXTON was born in London. She has been instrumental in creating six works of nonfiction as a cowriter or ghostwriter, and is the editor of The Book of Life, an anthology of memoir. Eve also has a career in radio and is a Peabody Award winner for her work with the oral history project, StoryCorps. She lives with her husband and three children in Brooklyn.
Related Posts: