Press Releases
Now in paperback featuring all-new Extra Libris materials, Gary Krist's bestselling City of Scoundrels: The 12 Days of Disaster That Gave Birth to Modern Chicago
The masterfully told story of 12 volatile days in the life of Chicago, when an aviation disaster, a race riot, a crippling transit strike, and a sensational child murder transfixed and roiled a city already on the brink of collapse.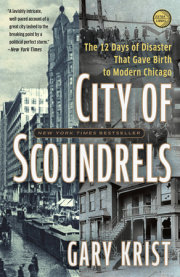 Gary Krist
Imprint: Broadway Paperbacks
On sale: April 16, 2013
Price: $14.95
Pages: 384
ISBN: 9780307454300
Contact:
Lauren Kuhn
212-782-8637
lkuhn@randomhouse.com
Praise for City of Scoundrels
"City of Scoundrels is a lavishly intricate, well-paced account of a great city lashed to the breaking point by a political perfect storm." —New York Times Book Review 
"A page-turner that offers resonant insights . . . City of Scoundrels hits with the force of Lake Michigan's winds." —Washington Post
"Riveting." —Chicago magazine 
"Utterly absorbing." —Chicago Tribune  
Twelve Days. That's all it took to bring the city of Chicago, the great burgeoning metropolis, to the brink of collapse in the summer of 1919. It all began on a balmy Monday afternoon as the Wingfoot Express, one of Goodyear's fabled new blimps, soared above downtown Chicago on a promotional tour. While crowds below gazed in amazement at this aeronautical wonder, their awe quickly turned into horror as the blimp ignited and plummeted to the ground. It crashed directly into the Illinois Trust and Savings Bank in a massive ball of flames, killing thirteen people inside. But the Wingfoot debacle—the first major aviation disaster in American history—would prove to be only the first in a tumultuous string of events that would eventually plunge Chicago into total chaos. In CITY OF SCOUNDRELS: The 12 Days of Disaster That Gave Birth to Modern Chicago (Broadway Paperbacks; April 16, 2013)—called "utterly absorbing" (Chicago Tribune), "vividly written" (The Weekly Standard), and "historical reporting at its very best" (King Features Syndicate)—acclaimed author Gary Krist examines those fateful days, providing a meticulously researched and expertly paced exploration of the events and characters that helped shape Chicago into the city it is today. Now in paperback, Krist's latest edition is all the more immersive and engrossing, including an all-new conversation with the author and extensive bibliography of Chicago novels.
When Chicago rang in the New Year in January of 1919, the city was on the verge of transformation. Modernizers had an audacious, visionary plan to turn it from a brawling, grimy, unglamorous city into a cosmopolitan "Metropolis of the World." By summer, however, sheer pandemonium would break loose. Between July 21 and August 1, the city would be roiled by an aviation disaster, a race riot, a crippling transit strike, and a sensational child murder, all in rapid succession. The unbridled energy and ambition that had been fueling Chicago's transformation turned into a frenzy of violence and destruction, leaving dozens dead, hundreds injured, neighborhoods destroyed, and a city scarred by crime, corruption, and racial and ethnic hatred. CITY OF SCOUNDRELS takes readers through those twelve days in an enthralling, hour-by-hour narrative, vividly retelling the story of the summer of 1919 while providing a historian's view of what the crisis would mean for Chicago as it mushroomed into one of the great world cities.
In CITY OF SCOUNDRELS, Krist captures the essence of urban America in the early twentieth century. He expertly winds the story around an amazing cast of characters, both those directly involved in the events—such as infamous mayor William "Big Bill" Thompson, reformer Jane Addams, poet-journalist Carl Sandburg, and lawyer Clarence Darrow—as well as the ordinary citizens who watched helplessly as their city fell into collapse. Gary Krist, who was recently designated a "Historian to Watch in 2012" by Smithsonian.com for CITY OF SCOUNDRELS, has crafted a colorful, character-rich nonfiction narrative of the very first order.
About the Author
GARY KRIST has written for the New York Times, Esquire, Salon, the Washington Post Book World, and elsewhere. He is the author of the acclaimed The White Cascade, as well as several works of fiction.
Related Posts: