Press Releases
Now Available in Paperback: TUNE IN
The New York Times Bestselling Beatles Biography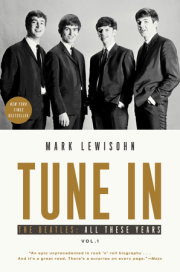 Mark Lewisohn
Imprint: Three Rivers Press
On sale: 10/11/16
Price: 20.00
Pages: 944
ISBN: 9781101903292
Contact:
Rebecca Marsh
212-572-2544
rmarsh@prh.com
The world's leading authority on the Beatles—author of the bestselling Beatles Recording Sessions—has completed the first volume in his groundbreaking biographical trilogy about the band that changed the face of pop culture.
"An epic that is unprecedented in rock 'n' roll biography, and a great read… there's a surprise on every page."
—Mojo
"Beyond essential . . . a wildly evocative portrait . . . The saga is clearer and richer here than it's ever been. Lewisohn writes in novelistic detail and with the obvious conviction that none of the previous Beatles biographies have ever been good enough."
—Entertainment Weekly
"A radical event and a joy to read… Lewisohn's work stands as a monumental triumph, a challenge not merely to other Beatles biographers but to the discipline of biography itself. If only all important subjects had their Lewisohn."
—Washington Post
"The biggest, deepest Beatles book ever."
—Rolling Stone
The Beatles' enduring fame and celebrated exploits have generated many biographies, but each has only ever scratched the surface and compounded the myths. With TUNE IN (Three Rivers Press; On Sale October 11, 2016, $20.00, 944 pages), the New York Times bestseller now available in paperback, the most popular band of all time finally gets the biography they so richly deserve—a book to show exactly who these people were and how they scaled such extraordinary and enduring artistic heights.
TUNE IN is the product of ten years' labor from the world's leading authority on the Beatles, author Mark Lewisohn. The first book in All These Years, his genre-defining trilogy, it's the ultimate independent portrait of the Beatles from their ancestral roots up to the final night of 1962, when they stand on the brink of a new kind of success and celebrity.
TUNE IN is the lesser-known Beatles story, detailing their years in Liverpool and Hamburg—in many respects, the most absorbing, extraordinary and incredible period of all. Chronicling their family backgrounds, childhoods and their infatuation with American music, TUNE IN takes six full, rich, balanced biographies—of John Lennon, Paul McCartney, George Harrison, Ringo Starr, Brian Epstein, and George Martin—and weaves them into one unforgettable narrative.
Working well beyond the obvious sources, Lewisohn casts his net wide to conduct hundreds of interviews with people who speak of their involvement with the Beatles for the first time. He also draws extensively on his unrivaled access to documents in private and personal archives, and uses their accuracy to underpin a story breathtakingly alive with content, context and color. The combination of never-before-told material with a dramatic refreshing of previously reported stories is astounding, representing nothing less than a wholesale retelling of a story squashed flat for far too long. Lewisohn's text is anti-myth, tight and commanding, like the Beatles themselves. It's the story as it really was, for the first time—the ultimate biography.
Illustrated with many never-before-seen photographs, TUNE IN is easily the most ambitious and convincing book about the most beloved and influential band in history. It isn't "just another rock book," it's a new-style contextual history about the times we've lived through, a Beatles biography written from the inside out and the outside in, told with panache, wit, candor and an alluring, authoritative style.
So forget what you've read about John, Paul, George and Ringo: it's time to TUNE IN and start afresh.
ABOUT THE AUTHOR
MARK LEWISOHN is the acknowledged world authority on the Beatles. Before embarking on The Beatles: All These Years his books included the bestselling and influential The Beatles Recording Sessions and The Complete Beatles Chronicle. He was a consultant and researcher on all aspects—TV, DVDs, CDs and book—of the Beatles own Anthology and has been involved in numerous additional projects for them. Married with two children, he lives in England.
A NOTE FROM MARK LEWISOHN
"'We know everything there is to know about the Beatles, so what else can possibly be said?' People say that all the time—and I don't agree with it for a second. I wouldn't argue the Beatles' story has been told very often, but I would argue any suggestion that it can't be told differently, and better. It's been related the same old way for so long and it's also dying under the suffocating blanket of 'celebrity.' I want to start again, I want to press the Refresh button.
This is a comprehensive biography, three volumes, a sequential history in which I set out to relate everything that happened, and do it with integrity, attention to detail, accuracy and, I believe, a fair understanding of where the story needs to be told and how to tell it. I'm writing it so the story unfolds as if in real time—there's no hindsight cleverness, just a vivid sense of the forward movement. The Beatles' story always had tremendous energy, speed, vitality—and this must be tangible to the reader.
It all boils down to this. They were four war babies from Liverpool who really did change the world, and whose music and impact still lives on in so many ways, after all these years. I say, let's scrub what we know, or think we know, and start over: Who really were these people, and how did it all happen?"
For more information, please visit:
PRAISE FOR TUNE IN
"The widest possible angle on an extensive and engrossing group biography built on a well-raked mountain of exacting new research . . . expertly controlled and propelling."
—New York Times
"Lewisohn manages to fill in blanks that no one knew were empty."
—The New Yorker
"A triumph. Not only an enthralling account of the Beatles group's origins, far superior to anything that has gone before, but also an essential piece of social history… Lewisohn has set out to do the Beatles justice and write the definitive history. I think he is succeeding."
—The Times (UK)
"A book with a difference, one that ensures all previous rock tomes will gather dust on high cobwebbed shelves… Lewisohn has set the benchmark in popular music history that he alone can match."
—Huffington Post
"Every single page brings the Beatles back into focus and moves them away from legend. Common myths fall apart under Mr. Lewisohn's research."
—New York Journal of Books
"In its close focus and historical ambition, the trilogy may be compared to Robert Caro's biography of Lyndon Johnson or John Richardson's A Life of Picasso; it is unlikely to be surpassed."
—Daily Telegraph (UK)
"A game-changing study which raises the bar in a genre characterised by pap or pretension. A meticulous piece of work – I can't wait for volume two."
—The Independent (UK)
"I can think of no greater praise for Tune In than to say that it gives the Beatles the beginnings of the biography they deserve. It is hard to imagine the subsequent volumes, covering more familiar ground, matching the gripping quality of this constantly surprising work."
—Financial Times
"This is the story told in Proustian detail, told so definitively that, after this, that really should be it."
—The Guardian (UK)
"With imagination, energy and a gripping plotline, Lewisohn manages to put flesh and blood on the story as never before."
—The Sunday Times (UK)
"Packed with revelations and demystifications."
—The Economist
"A major event in music publishing . . . the definitive account of the Beatles."
—GQ
"Lewisohn treats his subjects seriously, as historical, if ultimately remarkable, figures, and eschews the myriad myths that have grown up around the band in favor of the sorts of details and minutiae, wrapped in a serious but breezy narrative, that give us the fullest picture of who John Lennon, Paul McCartney, George Harrison, and, eventually, Ringo Starr were."
—Esquire
"A fast-moving page-turner overflowing with warm humor, passion, and (of course) music. Likely to become a principle text in 20th-century studies, a sort of Complete Shakespeare with a much better soundtrack."
—VH1.com
"As a Beatles scholar, Mark Lewisohn has no serious rivals. [This is] nothing less than a lifetime's work embracing the cultural and personal history of the Fab Four, a multi-volume epic written on a scale unprecedented in its genre."
—Irish Times
Related Posts: