Press Releases
Nourishing Meals
365 whole foods, allergy-free recipes for healing your family one meal at a time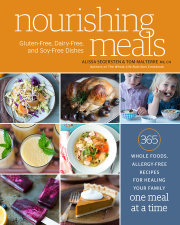 Alissa Segersten & Tom Malterre
Imprint: Harmony Books
On sale: October 11, 2016
Price: $26.99
Pages: 528
ISBN: 9780451495921
Contact:
Maya Lane
212-782-9164
MALane@penguinrandomhouse.com
From acclaimed bloggers and leaders in the functional medicine movement comes the ultimate guide to eating healthfully with 365 delicious, whole foods, allergy-free recipes for the entire family
---
It can be daunting to live a whole foods lifestyle in today's busy world—even more so to prepare plant-rich, allergen-free meals that'll make the entire family happy. But popular blogger Alissa Segersten and functional medicine expert Tom Malterre are devoted to teaching their children—and readers—the importance of eating healthfully. With their new cookbook, NOURISHING MEALS: 365 Whole Foods, Allergy-Free Recipes for Healing Your Family One Meal at a Time (Harmony Books; $26.99; On Sale October 11, 2016), they have created the ultimate guide to ditching processed foods and raising a family on healthy, whole foods-based meals. This simple, practical cookbook makes nutritious eating easy and fun, with steps to help you improve your family's health over the course of a year.
NOURISHING MEALS features 365 accessible, family-friendly, and delicious recipes, all free of the most common allergens: gluten, soy, dairy, and refined sugar. It is designed to ease families into a whole foods lifestyle by offering a recipe for every day of the year, making it simple to swap one meal a day for a healthy and healing option. One meal a day is enough to make a difference, and will help fill your toolkit with favorite go-to recipes designed to appeal to everyone, from meat eaters and pescatarians to vegans and vegetarians—and especially kids!
Originally self-published to great consumer acclaim, this updated edition features more than thirty new recipes and sixty beautiful photographs. The flavorful recipes include everything from breakfast (Orange Creamsicle Smoothie, Date Glazed Banana Donuts) to dinner (Roasted Chicken with Root Vegetables), snacks (Ginger-Macadamia Nut Energy Bars), dessert (Frozen Banana Coconut Cream Pie), and more. Segersten and Malterre also provide tips on how to pack a healthy school lunch, recommendations for essential kitchen equipment, and a food map for every stage of having a family, from preconception and pregnancy through each year of your child's life.
It's no secret that our bodies are subjected to more environmental chemicals than ever before, and consumption of processed foods is on the rise. It is changing the way our genes are being expressed, causing damage to our guts, creating chronic inflammation, and contributing to the rise in food and environmental allergies such as we have never seen before. For this reason, Segersten and Malterre combined their influential platforms, extensive knowledge, and passion for whole foods to create a cookbook that will help transform your family's health one meal at a time.
They encourage readers not to fear the rise in food sensitivities, but to embrace the reminder to get back to the basics: to eat whole foods, to cook from scratch, and to consume more vegetables. In accessible terms, they explain what makes the recipes in NOURISHING MEALS so effective for achieving optimal health. Some of these tremendous benefits include:
Phytochemicals from fruits and vegetables that signal our cells to produce more natural antioxidants
Healthy fats that provide our cell membranes the compounds needed to communicate with each other and keep inflammation in check
Complex carbohydrates from starchy vegetables and whole grains that provide clean-burning energy that won't raise blood sugar levels too quickly
Protein from grass-fed animals, beans, nuts, and seeds that will repair and build new cells
NOURISHING MEALS is an invaluable resource in achieving optimal health for you and your family without sacrificing time or taste.
Related Posts:
You Might Also Like