Press Releases
News from Crown Forum
A Torch Kept Lit: Great Lives of the Twentieth Century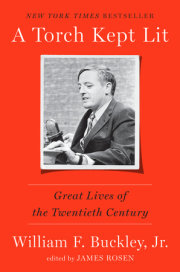 William F. Buckley, Jr., Edited by James Rosen
Imprint: Crown Forum
On sale: 10/04/2016
Price: $22.00
Pages: 336
ISBN: 9781101906217
Contact:
Owen Haney
212-572-2076
ohaney@penguinrandomhouse.com
A TORCH KEPT LIT:
Great Lives of the Twentieth Century
Crown Forum is proud to publish on October 4th, 2016, A TORCH KEPT LIT: GREAT LIVES OF THE TWENTIETH CENTURY.  This exquisite collection of remembrances from conservative icon and National Review founder, William F. Buckley, Jr., is curated by chief Washington correspondent for Fox News, James Rosen, a Buckley protégé and frequent contributor to the National Review.
In a half century on the national stage, William F. Buckley, Jr., achieved unique stature as a writer, a celebrity, and the undisputed godfather of modern American conservatism. He kept company with the best and brightest, the sultry and powerful. Ronald Reagan pronounced Buckley "perhaps the most influential journalist and intellectual in our era," and his jet-setting life was a who's who of high society, fame, and fortune.
Among all his distinctions, which include founding the conservative magazine National Review and hosting the long-running talk show Firing Line, Buckley was also a master of that most elusive art form: the eulogy. Buckley drew on his unrivaled gifts to mourn, celebrate, or seek mercy for the men and women who touched his life and impacted the nation.
Now, for the first time, Buckley's sweeping judgments on the great figures of his time—presidents and prime ministers, celebrities and scoundrels, intellectuals and guitar gods—are collected in one place. A TORCH KEPT LIT presents more than fifty of Buckley's best eulogies, drawing on his personal memories and private correspondence and using a novelist's touch to conjure his subjects as he knew them. We are reintroduced, through Buckley's eyes, to the likes of Winston Churchill and Ronald Reagan, Elvis Presley and John Lennon, Truman Capote and Martin Luther King, Jr.
These writings shed as much light on Buckley—his personality and extraordinary life—as on the tumultuous times in which he flourished. A TORCH KEPT LIT is not only a touching collection commemorating the greatest figures of the twentieth century, but a tribute to William F. Buckley, Jr.'s distinct voice and legacy.
ABOUT THE AUTHOR
JAMES ROSEN is the chief Washington correspondent for Fox News, where he has been a reporter since 1999. He has covered the White House and State department beats and reported from Capitol Hill, the Pentagon, the Supreme Court, nearly all fifty states, and forty foreign countries across five continents. Rosen's exclusive reporting made him a target of the Obama administration and a rallying point for civil liberties groups and champions of the First Amendment. Rosen's articles and essays have appeared in the New York Times, the Wall Street Journal, the Washington Post, Harper's, The Atlantic, National Review, and Playboy, among other periodicals. He is the author of The Strong Man: John Mitchell and the Secrets of Watergate and Cheney One on One. He lives in Washington with his wife and their two sons.
JAMES ROSEN IS CURRENTLY AVAILABLE FOR INTERVIEWS
A TORCH KEPT LIT
By William F. Buckley, Jr., Edited by James Rosen
Crown Business; On-Sale Date: October 20th, 2016
ISBN 978-1-101- 90621-7
ADVANCE PRAISE FOR A TORCH KEPT LIT
"William F. Buckley, Jr. was a master of many things.  This collection of obituaries and eulogies that he wrote over the course of his extraordinary career, admirably curated and eloquently introduced by James Rosen, may well establish WFB as themodern master of this literary form.  I have read every single one of my father's 60-odd books.  I do not exaggerate to propose that this may prove to be William F. Buckley's finest book ever."
—Christopher Buckley
"William F. Buckley, Jr. was both an ideological warrior and a bon vivant with a talent for friendship. He understood that a well-lived life should be simultaneously serious and fun, and that a death calls for a summing up, both measured and elegant. This volume gathers some of Buckley's best eulogies, deftly placed in context by James Rosen. It is a timely gift to a nation much in need of a reminder that one can be fervently engaged in public controversies without being coarse or unforgiving."
—George F. Will
"Compiling the best eulogies written by William F. Buckley, Jr. is so inspired a concept that many political writers, myself included, will kick ourselves for not having thought of it first. But the idea was James Rosen's, and he has executed it with skill and affection—and a great reporter's nose for the story. The result is a work of literary art."
—Carl M. Cannon, Executive Editor, RealClearPolitics
"Acclaimed journalist, author, and Buckleyphile James Rosen has done a masterful job collecting, and contextualizing, these testaments to epic lives of the Twentieth Century by William F. Buckley, Jr. – a figure who indisputably deserves to be counted among them."
—Jonah Goldberg, author, columnist and senior editor, National Review 
"William F. Buckley, Jr.'s sketches and vignettes of the prominent people of his time are absolute gems, and so are the introductions by James Rosen. A book to own, to read – and read again."
—Brit Hume, Senior Political Analyst, Fox News Channel
A TORCH KEPT LIT
By William F. Buckley, Jr., Edited by James Rosen
Crown Business; On-Sale Date: October 20th, 2016
ISBN 978-1-101- 90621-7
For more information, please visit:
You Might Also Like