Press Releases
The New York Times presents Footsteps
Literary Pilgrimages around the world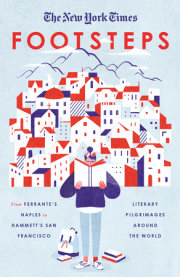 New York Times
Imprint: Three Rivers Press
On sale: May 9, 2017
Price: $16.00
Pages: 304
ISBN: 9780804189842
Contact:
Maya Lane
212-782-9164
malane@penguinrandomhouse.com
Based on the critically acclaimed New York Times travel feature, FOOTSTEPS is a curated collection of essays exploring iconic authors' relationships to landmarks and cities around the world.
Based on the popular New York Times travel feature, FOOTSTEPS: From Ferrante's Naples to Hammett's San Francisco, Literary Pilgrimages Around the World (Three Rivers Press; $16.00; On Sale May 9, 2017) is a collection of essays that explores the geographic muses behind some of history's greatest writers.
Before Nick Carraway was drawn into Daisy and Gatsby's sparkling, champagne-fueled world in The Great Gatsby, F. Scott Fitzgerald vacationed on the French Riviera, where a small light-house winked its green light at the horizon. Before the nameless lovers began their illicit affair in The Lover, Marguerite Duras embarked upon her own scandalous relationship in the urban streets of Saigon. And before readers were terrified by a tentacled dragon-man called Cthulhu, H. P. Lovecraft was enthralled by the Industrial Trust Tower that defines the skyline of Providence, Rhode Island.
From Mary Oliver's meditative walks through the ponds and forests of Cape Cod to James Baldwin's refuge in Paris from racial persecution in America, FOOTSTEPS chronicles the connections forged between artist and destination, and how their excursions to an exotic land, the familiar streets from their childhood, or the urgent need for sanctuary informed some of the most beloved and powerful works of all time. Some other notable essays from the collection include:
On the Trail of Nabokov in the American West
Blood, Sand, Sherry: Hemingway's Madrid
Jamaica Kincaid's Antigua
Elena Ferrante's Naples, Then and Now
With sweeping, detailed depictions of lands near and far, as well as intimate portraits of writers old and new, FOOTSTEPS is a timeless gift for wanderers and bibliophiles eager to escape to far-flung places, even, if it's just from the comfort of their own couch.
Related Posts: