Press Releases
New York Times columnist and bestselling author Mark Bittman's VB6 diet plan comes to life in this beautifully photographed cookbook with healthy recipes for people who love to eat
The VB6 Cookbook by Mark Bittman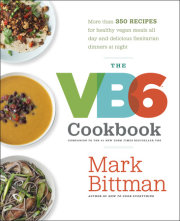 Mark Bittman
Imprint: Clarkson Potter
On sale: May 6, 2014
Price: $29.95
Pages: 272
ISBN: 9780385344821
Contact:
Anna Mintz
212-572-6186
amintz@randomhouse.com
With his 2013 instant #1 bestseller VB6, New York Times columnist Mark Bittman popularized his easy-to-follow diet plan that helps you to live better, lose weight, and get healthy by eating strictly vegan meals before 6:00 p.m. and enjoying a wide array of foods for dinner. In this companion cookbook, The VB6 Cookbook: More Than 350 Recipes for Healthy Vegan Meals All Day and Delicious Flexitarian Dinners at Night (Clarkson Potter/Publishers; on sale May 6, 2014; $29.95; hardcover), Bittman presents a beautifully photographed volume and an endlessly adaptable menu of recipes designed to help you eat vegan every day before 6:00 p.m.—and deliciously all of the time.
The VB6 Cookbook expands on VB6 and puts a collection of tasty, easy-to-make recipes into the context of a primarily plant-based diet. The result is a prescriptive guide to changing and sustaining a lifetime of healthy and pleasurable eating. Eating VB6, or "Vegan Before Six," turned Mark Bittman's life around for good, and with this cookbook, readers can take control of their health in the very same way with hundreds of flexible, vegetable-forward recipes that make eating better easier than ever.
Sample recipes featured in the cookbook include:
BREAKFAST: Walnut Banana Bread, Pita Pizza with Fresh Jam, Scrambled Sweet and Hot Peppers, Blueberry Oatmeal Pancakes
LUNCH: Peanutty Chopped Salad, Tofu Ceviche, Eggplant Meatballs, Fully Loaded Bean Burritos
SNACKS: Carrots with Chipotle "Mayo," Endive with Mushroom-Olive Tapenade, Radishes with Avocado Dip, Raspberry Sorbet on a Stick
DINNER: Fish with Vegetable Gratin, Sweet Potato Shepherd's Pie, Crisp Pork on Green Papaya Salad, Steak au Poivre with Mushrooms
DESSERTS: Peanut Butter Bonbons, Avocado Chocolate Mousse, Decadent Oatmeal Cookies, Cherry Clafoutis
Bittman's thoughtful approach to the partially vegan lifestyle that has allowed him to maintain his 35-pound weight loss for over seven years is enhanced by these flexible recipes, which showcase his reliably simple and straightforward manner of cooking. Most are accompanied by simple swaps and variations as well as countless ideas for tweaking them to your taste and the season, showing how simple it is to avoid repetition and boredom on the VB6 plan. With helpful tools like a month's worth of meal plans, tips on stocking the VB6 pantry, and practical VB6 building blocks, The VB6 Cookbook presents a comprehensive diet plan that will give readers both the tools and the motivation to lose weight and cook, eat, and live healthier.
# # #
ABOUT THE AUTHOR:
MARK BITTMAN is one of the country's best-known and most widely respected food writers. His How to Cook Everything books, with well over one million copies in print, are mainstays of the modern kitchen. His most recent book, VB6, debuted at #1 on the New York Times bestseller list. Bittman writes on food policy and cooking for the New York Times Magazine and the newspaper's Opinion and Dining sections, where his "Flexitarian" column appears regularly. He's hosted four food and cooking shows, and he is currently a correspondent in Years of Living Dangerously, a groundbreaking documentary event series exploring the human impact of climate change.
Related Posts:
You Might Also Like