Press Releases
The New World by Andrew Motion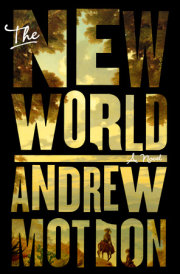 Andrew Motion
Imprint: Crown Publishers
On sale: July 14, 2015
Price: $25.00
Pages: 368
ISBN: 9780804138451
Contact:
Rebecca Welbourn
(212) 782-9634
rwelbourn@penguinrandomhouse.com
Praise for THE NEW WORLD
"Motion, poet laureate of the UK from 1999 to 2009, provides a strong dose of swashbuckling, adventure-driven historical
fiction. . . . [A] good, page-turning yarn." —Publishers Weekly
"Beautifully written—Motion is the former poet laureate of the UK—The New World is a thoughtful story of adventure underlay by guilt and the uncertainties of love." —Booklist
"Thrilling . . . You don't have to have read Treasure Island or Silver to delight in this engaging tale, but fans of the earlier works will be especially pleased at the return of these two likable young adventurers." —Library Journal
"Full of big themes such as courage, greed, loyalty, and obsession, The New World is still an adventure story first and foremost. . . . An entertaining homage that is deeply felt and sincere." —The Guardian (UK)
"Riveting . . . I love The New World. . . . I look forward, hopefully, to more." —John Sutherland, The Times (UK)
"Motion paints an alluring portrait of a land that is in turns bountiful and beautiful, barren and savage." —Independent (UK) 
"[The New World] leaves one keen for more, and soon." —The Herald (Scotland)
"It's written with such gusto and passion that it's impossible not to enjoy it." —Irish Independent
"Motion's narrative is both more lyrical and more gruesome than Robert Louis Stevenson's." —Mail on Sunday (UK)
Praise for Andrew Motion's SILVER
"With Silver, Andrew Motion [points] the way to literary treasure." —New York Times Book Review 
"Crammed with incident, intrigue, and peril . . . One gets easily swept up by the suspenseful story Silver tells, and the excitement, dread, and courage of its young narrator and his companions." —Seattle Times
"Deft, wildly imaginative . . . Every chapter crackles with energy and action. . . . A page-turner that thoughtfully questions its own world—and makes you long for a sequel to the sequel." —Oprah.com 
---
Andrew Motion, former poet laureate of the United Kingdom, first introduced readers to Natty Silver and Jim Hawkins in Silver,his acclaimed sequel to Treasure Island that was hailed as "literary treasure" (New York Times Book Review), "crammed with incident, intrigue, and peril" (Seattle Times), and "wildly imaginative" (Oprah.com). Now, Motion brings to life Jim and Natty's continued adventures in THE NEW WORLD (Crown; July 14, 2015), an epic novel that takes them across the unruly American South of the early 1800s on their quest to find a way back home.
Washed ashore after escaping Treasure Island in Silver, Jim and Natty find themselves stranded on the Gulf Coast of Texas. Their ship, the Nightingale, has been destroyed, leaving them no way of returning home. Almost immediately, a band of Native Americans storms the beach, ransacking the remains of the Nightingale and taking Jim and Natty back to their village as hostages. Eventually they pull off a daring escape—taking the chief's silver necklace with them—and embark on an adventure that takes them first to a friendlier Native American community, then through the uncharted wilds of Texas and down the Mississippi River, and finally to the thriving and dangerous port of New Orleans, all in search of a ship to take them home again. Along the way they encounter alligators, bears, a traveling troupe of entertainers—and make one very powerful enemy.
Drawing on his own extensive research into Native American culture and the early history of Texas, Motion charts the progression of Jim and Natty's journey in exquisitely rendered detail and breathtaking descriptions of the natural world. In the tradition of the classic American epic, THE NEW WORLD transports the reader to a time when the frontier was unexplored and full of possibilities. "Isn't home what you want?" Jim asks Natty toward the beginning of their journey. "And adventure as well," she replies. Just as he did in Silver, Andrew Motion has spun a fantastic yarn that will win the hearts of adventure lovers everywhere.
ABOUT THE AUTHOR
Andrew Motion is a poet, critic, novelist, biographer, and for many years has been a professor and poetry editor. He served as poet laureate of the UK for ten years and was knighted for his services to literature in 2009. He is now a professor of creative writing at the University of London and a fellow of the Royal Society of Literature. Currently a resident of London, he will be moving to Baltimore in July to become a Homewood Professor in the Arts at Johns Hopkins University.
Related Posts: