Press Releases
New in paperback: New York Times bestseller THE LITTLE PARIS BOOKSHOP by Nina George
*With additional material including an excerpt from Nina George's next book, The Little Breton Bistro*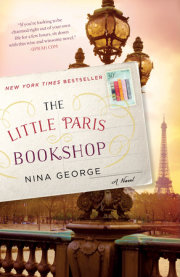 Nina George
Imprint: Broadway Books
On sale: March 22, 2016
Price: $16.00
Pages: 416
ISBN: 9780553418798
Contact:
Rebecca Welbourn
212-782-9634
rwelbourn@penguinrandomhouse.com
Praise for The Little Paris Bookshop
A Barnes and Noble Best of 2015 Selection
A LibraryReads Favorite of Favorites Selection
 "If you're looking to be charmed right out of your own life for a few hours, sit down with this wise and winsome novel. . . . Everything happens just as you want it to . . . from poignant moments to crystalline insights in exactly the right measure." —Oprah.com
"[A] bona fide international hit." —New York Times Book Review
"The settings are ideal for a summer-romance read . . . Who can resist floating on a barge through France surrounded by books, wine, love, and great conversation?"—Christian Science Monitor
"Warmhearted . . . a charming novel that believes in the healing properties of fiction, romance, and a summer in the South of France." —Kirkus Reviews
"Engaging . . . [George's] sumptuous descriptions of both food and literature will leave readers unsure whether to run to the nearest library or the nearest bistro." —Publishers Weekly
"Uplifting . . . an international best seller, this one will make you happy." —The Independent (UK)
"The Little Paris Bookshop is an enchantment. Set in a floating barge along the Seine, this love letter to books—and to the complicated, sometimes broken people who are healed by them—is the next best thing to booking a trip to France." —Sarah Pekkanen, author of Catching Air
"Simultaneously heartbreaking and heartwarming, Nina George's impressionistic prose takes the reader on a journey not just through the glories of France and the wonders of books, but through the encyclopedic panoply of human emotions. The Little Paris Bookshop is a book whose palette, textures, and aromas will draw you in and cradle you in the redemptive power of love." —Charlie Lovett, author of The Bookman's Tale
---
Monsieur Jean Perdu is not your average bookseller. He may look unassuming—tall, French, fiftyish, and graying—but he possesses a rare talent: He can sense his customers' troubles and prescribe exactly the right books to heal their pain. Aboard the Literary Apothecary, his floating bookstore on the Seine, he gives out something more than recommendations—he gives balms for the soul.
This is the story at the heart of Nina George's New York Times bestselling U.S. debut, THE LITTLE PARIS BOOKSHOP, now in paperback (Broadway Books; March 22, 2016). An international hit that has now been translated into thirty languages, it spent more than a year on bestseller lists in Germany, and was a bestseller in Italy, Poland, and the Netherlands.
The proprietor of THE LITTLE PARIS BOOKSHOP, Monsieur Perdu, believes that "a book is both medic and medicine at once." He mostly keeps to himself, but book lovers know they can find him on the deck of La Pharmacie Littéraire. Perdu knows which books are good for broken hearts or wanderlust or new beginnings and which will lift the reader up or allow them to wallow in tears. The only person he can't seem to heal through literature is himself; he is still haunted by the memory of his great love, Manon, who disappeared two decades ago, leaving only a letter that he has never dared to open.
But when an intriguing new neighbor moves into his apartment building, Perdu is jolted suddenly from his quiet existence. He finally gives into curiosity and reads the letter, and its contents inspire an unforgettable journey into his past and back to life. Perdu unmoors the book barge and sets sail for the South of France, joined by a lovelorn Italian chef and a bestselling novelist battling writer's block and sudden fame. Along the way he dispenses wisdom and books, solves a literary mystery, and meets a host of quirky characters who help him on his way. And the farther Perdu gets from home, the more he comes back to himself—until he is finally able to close a painful chapter of his life and begin anew.
THE LITTLE PARIS BOOKSHOP is a heartwarming love story and a memorable tribute to the therapeutic power of literature. Nina George's lush descriptions of food and landscapes create a vivid world worth getting lost in, as she takes readers on a whirlwind adventure from Parisian cafés to Provençal vineyards. It's the perfect book for romantics, Francophiles, and anyone who's ever been comforted by reading the right book at the right time.
ABOUT THE AUTHOR: Nina George works as a journalist, writer, and storytelling teacher. She writes science thrillers, novels, feature articles, short stories, and columns. George is married to the writer Jens J. Kramer and lives in Berlin, Germany and in Brittany, France.
Related Posts: