Press Releases
New in paperback! Eric Blehm's LEGEND
The Incredible Story of Green Beret Sergeant Roy Benavidez's Heroic Mission to Rescue a Special Forces Team Caught Behind Enemy Lines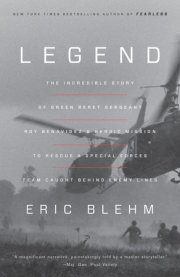 Eric Blehm
Imprint: Broadway Books
On sale: April 26, 2016
Price: $16.00
Pages: 304
ISBN: 9780804139533
Contact:
Sarah Jean Grimm
212-782-8637
sgrimm@penguinrandomhouse.com
In 2012, journalist Eric Blehm riveted readers with his New York Times bestseller Fearless, which tells the deeply moving story of Navy SEAL Team Six warrior Adam Brown. Nearly three years after publication it continues to sell thousands of copies each month, with nearly 400,000 copies sold to date, and is being adapted for film as a major Hollywood release. Since Fearless's publication, readers were eagerly anticipating his next endeavor, and he delivered the riveting, masterfully told LEGEND. Available in paperback on April 26, 2016 (Broadway Books), LEGEND recounts the harrowing, true story of Sergeant Roy P. Benavidez, the legendary Green Beret who fought through more than thirty bullet, bayonet, and shrapnel wounds to rescue his fellow soldiers in a now-declassified battle that continues to inspire new generations of heroes.
From the start, Roy's life was filled with challenges that would have broken someone less determined. Orphaned at the age of seven, he was raised by his aunt and uncle in the tiny Texas town of El Campo. He was pulled from school early and spent entire summers in the fields as a migrant worker, the white sacks used to harvest cotton reminding him of parachutes he'd seen in newsreels of the troops fighting in World War II. His Grandfather Salvador, known for courageous acts as a vaquero, was always telling Roy, "If someone needs help, you help them." It would become a defining philosophy of Roy's life. He was proud of his mother's Yaqui Indian ancestry, which he equated with being a fierce warrior, and his Mexican ancestors who had fought against Mexico in the Texas Revolution.
In pursuit of his dream to become a paratrooper, Roy joined the Texas National Guard at seventeen; three years later, he went into the Army. LEGEND recounts Roy's life-changing disciplinary encounter with an Army captain, during which his eyes fell on the West Point honor code—"I do not lie, cheat or steal nor tolerate those that do"—and the West Point motto, "Duty, Honor, Country." It was the same lesson he'd been hearing his entire life from his grandfather and uncle, and it struck him like a hammer. He made a personal vow that day: even though he was a noncommissioned officer, he was going to adopt West Point's code—an officer's code—as his own.
In October 1964, Roy deployed to Vietnam. While on that tour he stepped on a land mine that paralyzed him from the waist down and jolted his brain so violently that he wasn't expected to regain his senses. But after months in the hospital Roy defied the odds, recovering almost fully. He fought the recommended medical discharge from the Army, resolving instead to return to the 82nd Airborne and get on with his life as a soldier in the field. Applying himself relentlessly to the task, he qualified to be a Green Beret two years later. In April 1968, he was shipped back to Vietnam.
LEGEND then shifts scenes to follow a twelve-man Special Forces team that, on May 2, 1968, was covertly inserted into a small clearing in the jungles of neutral Cambodia—where U.S. forces were forbidden to operate. Their objective, miles over the Vietnam/Cambodian border, was to collect evidence that proved the North Vietnamese Army (NVA) was using the Cambodian sanctuary as a major conduit for supplying troops and materiel to the south via the Ho Chi Minh Trail. What the team didn't know was that they had infiltrated a section of jungle that concealed a major enemy base. Soon they found themselves surrounded by hundreds of NVA soldiers, under attack, low on ammunition, stacking the bodies of the dead as cover in a desperate attempt to survive the onslaught.
Sergeant Benavidez was on his way to breakfast at Loc Ninh Special Forces Camp, where his unit was stationed in South Vietnam, when he saw badly damaged helicopters returning from the north, the crews describing ground fire like nothing they had seen before. After one wounded crewman died in Roy's arms, and overhearing urgent pleas and muffled explosions coming in on a nearby radio, Roy volunteered to join the rescue effort. Without hesitation, he jumped into a departing helicopter, carrying only a medical bag, an eight-inch knife, and a bottle of Tabasco sauce. What followed would become legend in the Special Operations community, earning Roy that very moniker. Flown into the foray of battle by the courageous pilots and crew of the 240th Assault Helicopter Company, Roy jumped from the hovering aircraft and ran nearly 100 yards through withering enemy fire. Despite being immediately and severely wounded, he reached the perimeter of the decimated team, provided medical care and encouragement, and proceeded to organize an extraordinary defense and rescue. During the hours-long battle, he was shot and hit by grenade shrapnel dozens of times, yet he refused to abandon his efforts until every survivor was out of harm's way. Carrying the last wounded man to the helicopter for evacuation, Roy was attacked one last time, by an NVA soldier wielding a bayonet. Intestines spilling out, Roy was pulled aboard the chopper, still firing his weapon. He'd saved the lives of eight men, but ended the day laid out with the dead on the landing pad at Loc Ninh. Roy was being zipped up in a body bag when a friend encouraged a medic to double check that the torn up and bloody Benavidez was indeed dead. This shocking moment in the story is just one of many twists and turns in a masterfully-crafted re-creation of a defining battle from the war in Southeast Asia.
Written with extensive access to family members, surviving members of the 240th Assault Helicopter Company, on-the-ground eyewitness accounts never before published, as well as recently discovered archival and declassified military records, LEGEND is at its heart the riveting story of Roy Benavidez's life. But in so many respects, it is also a microcosm of the Vietnam War—the often-heroic efforts of our soldiers under fire, the ways in which they were constrained by the politics of the region, and the brotherhood of the air and ground warriors. Roy's self-sacrificing actions on May 2 were scrutinized for more than a decade in a battle for a long overdue, and what many believed was an unjustly denied, Medal of Honor. Thirteen years later, the case was reopened when a long-lost and believed dead eyewitness, a Green Beret Roy had rescued that day, offered a detailed statement revealing once and for all the depths of Roy's heroics. Decades later, Roy's name lives on in a number of ways—among them, on a U.S. naval ship and West Point conference room, as well as elementary schools, army facilities, and a city park.
The story of one extraordinary life and one extraordinary mission, LEGEND is also a testament and tribute to the courage and commitment of those who fought in Vietnam in service to their country.
Related Posts: