Press Releases
New Book by CASSEY HO, YouTube's #1 Fitness Instructor — CASSEY HO'S HOT BODY YEAR-ROUND
The POP Pilates Plan to Get Slim, Eat Clean, and Live Happy Through Every Season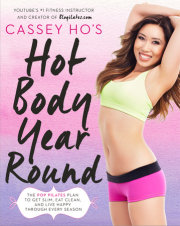 Cassey Ho
Imprint: Harmony Books
On sale: 4/7/15
Price: $18.00
Pages: 256
ISBN: 9780804139045
Contact:
Rebecca Marsh
212-572-2544
rmarsh@penguinrandomhouse.com
Blogilates founder Cassey Ho is an international fitness sensation, known for inspiring millions with her creative and exuberant exercises. Now the twenty-eight-year-old dynamo, who is also YouTube's #1 exercise instructor, is putting her workouts on the page for the first time with her brand new book, CASSEY HO'S HOT BODY YEAR-ROUND: The POP Pilates Plan to Get Slim, Eat Clean, and Live Happy Through Every Season (Harmony Books; On Sale April 7, 2015; Trade Paperback Original).
CASSEY HO'S HOT BODY YEAR-ROUND will help you meet the challenges of each new season, from meal planning to motivation to fitness. It may be easy to get inspired to fit into your summer bikini, but what about the months when you just want to curl up under the covers and eat comfort food? Your body's needs and goals differ throughout the year, and so should the way you eat and move.
This beautiful four-color guide features seasonal workouts drawn from Cassey's signature POP Pilates routines. It also includes recipes and meal plans, all organized by season and infused with the unique energy and enthusiasm that have earned Cassey over two million YouTube subscribers.
Cassey developed POP Pilates as a fresh, fun, and upbeat fusion of classical Pilates mixed with intense core-based mat exercises. The routines featured in CASSEY HO'S HOT BODY YEAR-ROUND are designed to quickly tone your muscles, heighten your posture, and leave you sore—but stronger. POP Pilates is also now an official certification taught in 24-Hour Fitness locations all over the United States.
Among the great resources in CASSEY HO'S HOT BODY YEAR-ROUND:
20 full-length workouts and more than 120 body sculpting moves that are never repeated—to keep your muscles guessing
Foods for beautiful hair, skin, and nails
Cassey's favorite seasonal recipes and amazing slim-down meals
Inspiration and tips for staying motivated year-round
Staying active shouldn't have to be a chore or a bore—CASSEY HO'S HOT BODY YEAR-ROUND is perfect for budget-conscious women looking for a fresh and exciting way to exercise. Her plan guides you through the best foods to eat as the temperature changes, so you can shop smart and eat healthy while saving money. Her workouts can all be done at home with no equipment, so you don't have to worry about dragging yourself to the gym.
When Cassey posted her first simple, unedited Blogilates video back in 2009, she never expected what followed. Now she is an award-winning online fitness personality with hundreds of millions of viewers. Blogilates was named the Best Healthy Living Blog of 2012 by Fitness, and Forbes called Cassey one of YouTube's Rising Women of Power. She was on Sharecare's list of Top 100 Online Fitness Influencers, second only to Jillian Michaels.
Cassey's program has inspired millions, boosted their energy, and kept them happy and healthy all year long. With CASSEY HO'S HOT BODY YEAR-ROUND, you'll tone your body to sculpted perfection and come out the other side stronger, leaner, and ready to take on the next challenge.
ABOUT THE AUTHOR
Cassey Ho is an internationally renowned award-winning fitness guru and online personality. As a certified Pilates and group fitness instructor, she is the creator of the POP Pilates format and certification program, a DVD star, the founder/writer of Blogilates.com, and the designer of BODYPOP Activewear, her own line of high-fashion, high-intensity workout wear.
Find out more about the book at www.hotbodybook.com
Facebook: Blogilates
Instagram: @Blogilates
Twitter: @Blogilates
Youtube: Blogilates
Related Posts: