Press Releases
The New American Heart Association Cookbook, 9th Edition
Revised and Updated with More Than 100 All-New Recipes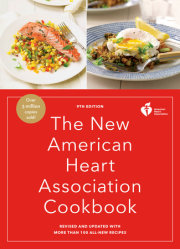 American Heart Association
Imprint: Harmony Books
On sale: May 7, 2019
Price: $22.00
Pages: 544
ISBN: 9780553447200
Contact:
Molly
2127829164
mbreitbart@penguinrandomhouse.com
The most recognized and respected name in heart health is back with an incomparable resource for millions of Americans. Meet The New American Heart Association Cookbook, 9th Edition, (Harmony Books, On Sale May 7, 2019; $22.00; Trade Paperback): a one-stop shop for recipes, cooking techniques, nutrition recommendations, and tips for maintaining a healthy diet and lifestyle. Whether you're looking to improve your cardiac health or overall wellness, choose from 800 nutritious and satisfying recipes, sure to delight with their variety and depth of flavor. Unlike fad diets, the American Heart Association relies on wholesome ingredients as the building blocks for satiating meals. With 100 brand new recipes, you're sure to find dishes that delight everyone, from the pickiest children to gourmet guests.
With the flip of a page, you'll find this updated edition is:
♥ PERFECT FOR THE MODERN PALETTE: The American Heart Association has compiled a blend of classic family favorites, vegetarian options, and global flavors, using popular ingredients that guarantee to satisfy contemporary cravings. The cookbook also includes a special slow-cooker recipe section.
♥ THE CORNERSTONE COOKBOOK YOU'LL REACH FOR AGAIN AND AGAIN: Whether you're trying to reduce your blood pressure, manage your cholesterol, or simply eat smart to be well, you can trust recipes from this book to support the overall healthy eating pattern recommended by the American Heart Association
♥ FROM THE TRUSTED AUTHORITY ON HEART HEALTH: The American Heart Association is the leading voluntary health organization devoted to a world of longer, healthier lives.
Improving your health through your diet has never been easier—or more delicious! The American Heart Association Cookbook, 9th Edition, is the perfect addition to your life, inside and outside of the kitchen.
###
ABOUT THE AMERICAN HEART ASSOCIATION
The American Heart Association is a leading force for a world of longer, healthier lives. With nearly a century of lifesaving work, the Dallas-based association is dedicated to ensuring equitable health for all. We are a trustworthy source empowering people to improve their heart health, brain health, and well-being. We collaborate with numerous organizations and millions of volunteers to fund innovative research, advocate for stronger public health policies, and share lifesaving resources and information. Connect with us on heart.org, Facebook, Twitter, or by calling 1-800-AHA-USA1.
Related Posts:
You Might Also Like