Press Releases
The Never-Open Desert Diner by James Anderson
A truck driver, a desolate highway, and a love affair cloaked in mystery.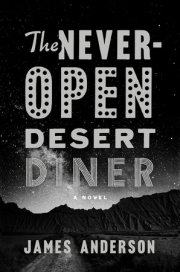 James Anderson
Imprint: Crown
On sale: 3/22/2016
Price: $26
Pages: 304
ISBN: 9781101906521
Contact:
Liz Esman
212-572-6049
lesman@penguinrandomhouse.com
A haunting, funny, and masterfully written debut crime novel, about a remote region of the Utah desert where people go to escape their past, and a truck driver who finds himself at risk when he falls in love with a mysterious woman.
The beautiful and desolate Utah desert serves as the backdrop for James Anderson's uniquely literary debut crime novel, THE NEVER-OPEN DESERT DINER (Crown; on sale March 22, 2016). Originally published with a limited release by Caravel Books, THE NEVER-OPEN DESERT DINER was well received by readers and reviewers alike. This spring, Crown is thrilled to publish Anderson's debut novel to an even wider audience as part of an exciting two-book deal. Haunting, funny, and masterfully written, Anderson has created a singular blend of literary mystery and noir fiction that powerfully evokes an unforgettable setting and introduces readers to a cast of characters who will linger long after the last page.
Ben Jones lives a life of quiet and relative solitude, working as a trucker in one of the most isolated areas of the Utah desert, which has become a haven for fugitives and others looking to hide from the world. A preacher who carries a huge cross up and down the highway, brothers living in abandoned train cars, and Walt—the owner of The Well-Known Desert Diner, which hasn't been open since 1987—are among Ben's clients on that desolate strip of Highway 117.  When Ben meets Claire, a mysterious woman he finds playing a cello in an abandoned housing development, he is drawn into a love affair that has serious and life-threatening consequences not only for them both but for the others who have made this desert their sanctuary. Ultimately, a conflict erupts among Claire, her ex-husband, and a suspicious third party over a precious cello. Ben winds up helpless in the middle of this dispute, which reignites a decades-old tragedy at The Well-Known Desert Diner, referred to by the locals as The Never-Open Desert Diner. In this unforgettable story of love and loss, Ben must learn the enduring truth that some violent crimes renew themselves across generations.
Readers will agree with the Huffington Post, who said, "James Anderson and his premier novel are a serendipity that will make a mark on your brain in the most positive way."
About the Author: James Anderson was born in Seattle, Washington, and grew up in the Pacific Northwest. He is a graduate of Reed College and received his MFA in creative writing from Pine Manor College. His short fiction, poetry, essays, and reviews have appeared in many magazines, including The Bloomsbury Review, New Letters, Solstice Magazine, Northwest Review, Southern Humanities Review, and others, and he previously served as the publisher and editor in chief of Breitenbush Books. The Never-Open Desert Diner is his first novel. He currently divides his time between Colorado and Oregon.
Author Site: http://jamesandersonauthor.com/ Social: https://twitter.com/jandersonauthor
____________________________________________________________________________________________________________________________________
Praise for THE NEVER-OPEN DESERT DINER by James Anderson
(Originally published by Caravel Books, February 2015)
"A wondrously strange first novel . . . high, dry, and severely beautiful . . . Anderson is one fine storyteller."
—Marilyn Stasio, The New York Times Book Review
"James Anderson's first novel works on elements of mirage—a mystery novel with literary shimmers. In the end, it is all there, apparent in the high heat of the desert: a great story, well told, funny, daring, smart, and deeply affecting."
—Colum McCann, National Book Award–winning author of Let the Great World Spin
"James Anderson has written a striking debut novel—lyrical, whimsical, atmospheric, and skillfully rendered."
—C. J. Box, New York Times bestselling author of Badland
"The great tradition of hard-boiled crime novels finds new and promising territory in the Utah desert. Carrying its own cult following after having been published independently last year, this debut novel is a stirring, atmospheric, and even mildly surreal variation on the ʻmean streets' detective fiction of Raymond Chandler . . . a witty, rollicking, and somewhat bent mystery/romance . . . the beginning of a beautiful series."
—Kirkus Reviews
"Like a flash flood . . . once the action begins, it's nonstop. . . .  [Anderson] writes with a lyrical style and allows the plot to unfold in a manner as seductive as the desert itself. Readers who revel in fiction set in the Southwest will want to join his protagonist for the ride."
—Library Journal
"Anderson distills the heat and shimmering haze of the Utah desert into his fine first novel."
—Publishers Weekly
"You have not read a book like The Never-Open Desert Diner in a long time, if ever. Once you open its pages, you will know you are in for something surprisingly enjoyable. James Anderson and his premier novel are a serendipity that will make a mark on your brain in the most positive way."
—Huffington Post
Related Posts:
You Might Also Like