Press Releases
Neil Patrick Harris: Choose Your Own Autobiography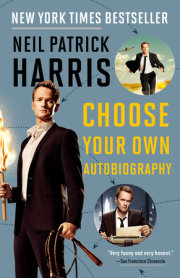 Neil Patrick Harris
Imprint: Three Rivers Press
On sale: 9/15/2015
Price: 16.00
Pages: 304
ISBN: 9780385347013
Contact:
Tammy Blake
212-572-2542
TBlake@penguinrandomhouse.com
NOW AVAILABLE IN PAPERBACK!
The beloved star of How I Met Your Mother, Hedwig and the Angry Inch, Doogie Howser, M.D., and host of the new NBC primetime variety series, Best Time Ever with Neil Patrick Harris, takes readers on an entertaining and original adventure through his life and career.
"Harris's [Choose Your Own]Autobiography ends up being clever, heartfelt, smutty, hilarious, cheesier than a ten-ton block of gouda and maybe even a sort of profound meta-statement on the uselessness of any attempt at writing [a] memoir at all."  —Paste
Life has been an endless series of adventures for Neil Patrick Harris. He has enthralled fans for nearly three decades in more than 100 wildly varied roles, ranging from the iconic Doogie Howser, M.D. and Barney Stinson to Joss Whedon's Dr. Horrible and his recent, Tony award-winning turn as Hedwig in Hedwig and the Angry Inch. Never one to limit himself, Harris is also an Academy Award host, two-time Emmy host, four-time Tony host, an accomplished amateur magician, and a licensed taxidermist (one of those is not true). Exhausted yet? Neil's not! In addition to his busy work life, Neil is also raising very energetic twin four-year-olds with his husband, David Burtka. But how did an aspiring child actor from a tiny mountain town in New Mexico turn into an award-winning, jet-setting, A-list performer who is also the most prominent example of gay family life in America? By chance or by choice? Not only does NEIL PATRICK HARRIS: CHOOSEYOUR OWN AUTOBIOGRAPHY (Three Rivers Press; on sale September 15, 2015) tell readers the whole story, Neil invites them to step into his shoes and roll the dice for him at decisive turning points throughout his life. In this affectionate homage to the Choose Your Own Adventure books he loved as a kid, he offers dozens of paths to choose from, some of which lead to the NPH we know and love, and others that end in the type of tragic demise that will be very familiar to fans of the original series. This one-of-a-kind memoir features:
A coast-to-coast tour from Hollywood to Broadway, plus Costa Rica, the Côte d'Azur, and much more.  As the reader, you will grow up in Ruidoso and, at age 15, make your silver screen debut in Clara's Heart (1988). You will begin your life in Los Angeles, where you undergo four years of faux medical training on the Steven Bochco–produced Doogie Howser, M.D. (don't miss Doogie's rejected journal entries, recently unearthed, or the step-by-step instructions on how to deliver a TV baby). You will come of age in a club scene defined by Shannen Doherty and you will decide whether or not you get beaten to a pulp by celebrity son Scott Caan. If you're tired of LA, you can take the path to Broadway, where you launch another stellar career as a stage actor in shows like Proof (costarring Anne Heche) and Company (where you get dressed down by Patti LuPone). If theater isn't your thing, you can skip to a death-defying Central American vacation with David Burtka or bask in the opulence of your friend Sir Elton John at his stunning home on the French Riviera. (Yes, this is your life. In the book, anyway.)
A celebration of childhood and parenthood. Offering a rare glimpse at Harris's family life, the memoir traces his journey to fatherhood with Burtka, from the search for a surrogate to the birth of heir twins—Gideon and Harper—who serve up a daily dose of real-world joy.
The gay thing: answers to every burning question you weren't rude enough to ask. So many turning points. One final destiny, orchestrated by Penn Jillette. Harris shares poignant insight on what it is like to go from a sexually confused teenager to finding true love and becoming one of the most prominent gay families in America and the responsibility that comes with it.
Chapters written by guest authors. Lest he present a one-sided view of himself to the world, Harris includes insight from such luminaries as Whoopi Goldberg, Seth MacFarlane, Perez Hilton, Amy Sedaris, Sarah Silverman, and others to deliver the full story. Even Barney Stinson gets a chance to chime in.
Recipes. From Chef Burtka's delectable Fresh Pasta with Bolognese Sauce (mastered when he worked for Mario Batali) to bespoke cocktails (such as Dr. Pourable's Drink-Along Grog, commemorating Harris's starring role in Dr. Horrible's Sing-Along Blog), this is a book you truly can savor.
Magic tricks. Anyone who knows Harris knows about his devotion to magic. Readers will be treated to lessons from the master, but he will not reveal how he pulled off a Thanksgiving cornucopia trick that still haunts Kelly Ripa's family.
Sound too action-packed for the typical fan? Not to worry. The perfect host, Harris provides ample opportunities for you to stop the storyline and mix yourself a drink or even go on a virtual vacation. The final reward? A closing number, of course, with dancing, rhyming, and other splendid highlights of a life lived to the hilt.
About the Author:
NEIL PATRICK HARRIS is a Tony and Emmy award-winning stage and screen performer, famous for his roles as Barney Stinson in the popular CBS sitcom How I Met Your Mother and as the iconic and beloved Doogie Howser, M.D. He's been in many movies, hosted the Tonys, the Emmys, and the Oscars, performed in several Broadway shows, and enjoys the Twitter (follow him at @actuallyNPH). Oh, and he is an accomplished amateur magician on the side. And the father of twins. And he's Dr. Horrible.
Related Posts: