Press Releases
Nature photographers of all skill levels will love world-renowned photographer Art Wolfe's updated classic
An Updated Guide to Composing Stunning Images of Animals, Nature, and Landscapes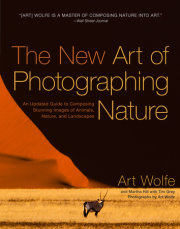 Art Wolfe, Martha Hill, and Tim Grey
Imprint: Amphoto Books
On sale: April 2, 2013
Price: $29.99
Pages: 224
ISBN: 9780770433154
Contact:
Kim Small
212-572-6067
ksmall@randomhouse.com
Photographers of all levels interested in capturing better images of nature will love THE NEW ART OF PHOTOGRAPHING NATURE: An Updated Guide to Composing Stunning Images of Animals, Nature, and Landscapes (Amphoto Books, on sale April 2, 2013, $29.99) from world-renowned photographer Art Wolfe and writer and photo editor Martha Hill, with Tim Grey. In this revised edition, the text has been updated throughout to reflect the dramatic changes in photography since this classic was first released in 1993. More than 50% of the beautiful images are all-new, and a new contributor, digital imaging expert Tim Grey, shares sidebars throughout offering tips on digital imaging and processing.
Continuing the lively dialogue that made the original edition a bestseller, Art Wolfe and former Audubon photo editor Martha Hill share insights and techniques about composing better nature images. Art discusses the creative process behind his compositions, while Martha talks about the images from a photo editor's perspective. The two compare photos that work well with some that don't, and they discuss why. The result is an engaging read that is informative, inspiring, and entertaining. Combined with Tim Grey's expert tips on digital imaging, the book touches on all aspects of technology and artistry for nature photography enthusiasts.
Art Wolfe is one of today's most successful and visible nature photographers. His popular television series, Art Wolfe's Travels to the Edge, reaches 33 million weekly viewers, and his books have sold more than 500,000 copies. Wolfe has received a number of major photography awards, including the Photographic Society's Progress Medal for contribution to the art and science of photography, the Alfred Eisenstaedt Magazine Photography Award, the National Audubon Society's Rachel Carson Award, a Lifetime Achievement award from the North American Nature Photography Association, and many more.
Featuring 250 of Art Wolfe's gorgeous images of nature and wildlife, THE NEW ART OF PHOTOGRAPHING NATURE is sure to inspire photographers to see more creatively, enhance their compositions, and take the most stunning nature shots possible.
About the Authors
ART WOLFE's stunning images are recognized throughout the world for their mastery of color, composition, and perspective. Wolfe's television series, Art Wolfe's Travels to the Edge, airs on PBS stations throughout the country. He is also a popular speaker for such companies as Microsoft, IBM, and Sheraton Hotels. He can be found at artwolfe.com as well as on Facebook and Twitter.
MARTHA HILL is a freelance writer and the former photo editor of Audubon magazine.
TIM GREY is regarded as one of the top educators in digital imaging, having written more than a dozen books and hundreds of articles. He can be found at timgrey.com.
Related Posts: