Press Releases
THE NATURALIST by Darrin Lunde
Theodore Roosevelt, a Lifetime of Exploration, and the Triumph of American Natural History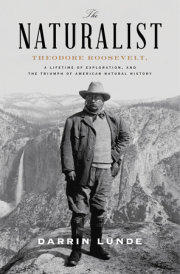 Darrin Lunde
Imprint: Crown Publishers
On sale: April 12, 2016
Price: $28.00
Pages: 352
ISBN: 9780307464309
Contact:
Rebecca Welbourn
(212) 782-9634
rwelbourn@penguinrandomhouse.com
Early Praise for THE NATURALIST
"[The Naturalist] impressively narrates how Roosevelt was able to pursue his passions during a contentious political career." —Publishers Weekly
"Scores of books already have written about Theodore Roosevelt's life and legacy as the 26th U.S. president, but until now none have been written focusing on his role as a respected museum naturalist. . . . Both natural history and Roosevelt buffs will welcome this absorbing addition to Teddy Roosevelt lore." —Booklist
"This book offers well-considered interpretations of the brainy naturalist and muscular adventurer." —Kirkus Reviews

"Accessible to the lay reader and authenticated for the historian." —Library Journal

"Darrin Lunde has captured Teddy's restless voice and explored the depths of his curiosity, from Yellowstone to the trails of Africa. This well-documented book reminds us of Roosevelt's great gift of making us aware of the splendors of natural history." —Thomas Maier, author of When Lions Roar: The Churchills and the Kennedys
"Theodore Roosevelt comes alive in this vivid, textured portrait by Darrin Lunde, himself one of our premier museum naturalists. I can think of no one more qualified than Lunde to write about Roosevelt's love for trekking into nature, observing animal behavior, and collecting specimens for scientific study." —Dr. Bill Schutt, zoologist and author of Hell's Gate

"The Naturalist follows TR's lifelong love of the outdoors and of all wild things, illustrating how his dedication to the scientific study of animals large and small both stimulated and made sense of his love of hunting. In so doing, the book also tells the important history of the country's first naturalists, how they came to understand the country's wildlife and built our great natural-history museums. Understanding TR and American naturalism in this way gives us new insight and, perhaps most important, explains why all of these elements remain so vital to the continued success of American conservation today." —Simon Roosevelt, founder of the Conservation Roundtable, member of the Boone and Crockett Club
---
2016 is the 100th anniversary of the founding of our National Park Service, and no U.S. president is more popularly associated with nature and wildlife than is Theodore Roosevelt—prodigious hunter, tireless adventurer, and ardent conservationist. Even today, we think of him as a larger-than-life original, yet in THE NATURALIST: Theodore Roosevelt, a Lifetime of Exploration, and the Triumph of American Natural History (April 12, 2016; Crown), Darrin Lunde has located Roosevelt in the proud tradition of museum naturalism.
Lunde—who currently works at the Smithsonian—brings his singular experience to bear on Roosevelt's life through the lens of his passion for the natural world. From his earliest days, when he first collected specimens and proudly displayed them in his childhood bedroom, Roosevelt actively modeled himself on the men who pioneered a key branch of biology by developing a taxonomy of the natural world—each of whom based his work on the visceral, experiential study of nature. The impact these scientists had on Roosevelt would shape not only his audacious personality but his entire career, informing his work as a statesman and ultimately affecting generations of Americans' relationships with this country's wilderness. Today, this vital influence lives on in our national parks and at some of our most valued institutions, including the Smithsonian's National Museum of Natural History in Washington, D.C., and the American Museum of Natural History in New York.
Drawing upon Roosevelt's diaries and expedition journals, along with his own experience as a leading figure in museum naturalism today, Lunde constructs a thoughtfully researched history that tracks Roosevelt's maturation from an exuberant boyhood hunter, who embraced outdoor activity as a strategy for overcoming his physical limitations, to a champion of serious scientific inquiry, who was engaged in dialogue with many of his era's most renowned naturalists. From Roosevelt's teenage pursuits to his years at Harvard, from the White House to his triumphant collecting expedition in Africa (a trip that Roosevelt himself considered to be the high point of his lifelong passion), THE NATURALIST keenly demonstrates how one of America's most beloved historical figures was, in his own words, "fond of politics, but fonder still of a little big-game hunting."
ABOUT THE AUTHOR
Darrin Lunde is a Supervisory Museum Specialist in the Division of Mammals at the Smithsonian's National Museum of Natural History. Previously, he worked at the American Museum of Natural History, and he has led field expeditions throughout the world, collecting specimens in South America, Africa, and Southeast Asia. Lunde has named more than a dozen new species of mammals and shed light on hundreds of others. He lives in Maryland.
Related Posts:
You Might Also Like