Press Releases
National Book Award winner Jonathan Kozol offers a poignant memoir of his father in The Theft of Memory
Kozol tells the story of his father's valiant fight for his dignity following his Alzheimer's diagnosis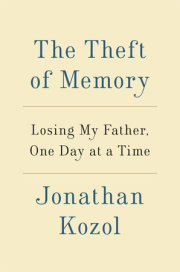 Jonathan Kozol
Imprint: Crown Publishers
On sale: June 2, 2015
Price: $26.00
Pages: 320
ISBN: 9780804140973
Contact:
Lauren Kuhn
212-782-8637
lkuhn@penguinrandomhouse.com
Advance Praise for The Theft of Memory
"The author's approach is shrewd yet warmly empathetic; he is curious about how the mind's gradual breakdown exposes its machinery, and raptly attuned to the emotional effects of these changes on his parents and himself. The result is a clear-eyed and deeply felt meditation on the aspects of family that age does not ravage." —Publishers Weekly (starred) 
"A beautifully written love letter." —Booklist (starred)
"Readers familiar with the emotional toll exacted by a loved one with Alzheimer's will embrace Kozol's nostalgic, often heart-wrenching narrative as an important addition to the genre. A compassionate, cathartic, and searingly intimate chronicle of a crippling condition." —Kirkus Reviews (starred)
"Straight from the heart of one of our most thoughtful writers, this book is a revelation, offering both a celebration of the bond between a father and son and an insightful glimpse into the workings of our memories and the legacies we leave behind." —Gay Talese, author of A Writer's Life
"Jonathan Kozol accomplishes something remarkable in The Theft of Memory: He preserves the essence of his father in the one place disease cannot touch him—on paper. As his father, a brilliant, Harvard-trained neurologist, falls deeper and deeper into the darkness of dementia, Kozol illuminates his father's past in jigsaw: through stories, research papers, patient histories, love letters, old stethoscopes—creating a soulful collage of a great man by his supremely gifted son." —Susannah Cahalan, author of Brain on Fire
"For a number of reasons, many of us avoid thinking about old age, fading health, and death. Kozol's plainly and powerfully written book about his remarkable father is a notable and compassionate exception. It deserves to live on a small shelf with John Mortimer on Mortimer senior, Didion on Dunne, Bayley on Iris Murdoch, and Gawande on Gawande.…A fine and often eloquent book about holding on while letting go." —Lawrence Hartmann, M.D., Past President, American Psychiatric Association
In September of 2008, a month after his father Harry died, Jonathan Kozol began a memoir of his father's life. He wrote throughout the winter and finished the book in the summer of 2009. But, then, he set it aside to continue with his work, visiting public schools, interviewing teachers and writing about inner-city children, as he had done for most of his career. "In this way, I kept myself preoccupied as the aftermath of mourning dwindled down," writes Kozol. Now the National Book Award winner shares his "plainly and powerfully written book" (Lawrence Hartmann, M.D., Past President, American Psychiatric Association) THE THEFT OF MEMORY: Losing My Father, One Day at a Time (Crown; June 2, 2015), which tells the story of his father's valiant fight for his dignity following his Alzheimer's diagnosis.
For five decades, Dr. Harry Kozol was enormously respected by his patients for his work in neurology and psychiatry. In addition to his private practice, Kozol also directed a state treatment center in Massachusetts for the criminally insane, where he treated and evaluated violent offenders, including Albert H. DeSalvo, the confessed Boston Strangler. He also interviewed Patty Hearst five times before she went to trial, in order to assess her mental state while she committed her crimes. One of his closest medical relationships was with the playwright Eugene O'Neill. He was with O'Neill continuously in the days and hours before he died. In his final medical report, he wrote, "I held his wrist within my hand as his pulse was failing. I didn't want to let him go…."
As his father's health declines, Jonathan begins to open memories contained in his father's patient summations, notebooks, and case histories. The unearthing of Harry's past in THE THEFT OF MEMORY juxtaposes the image of a brilliant and devoted doctor in the prime of his career against that of the patient he becomes as his lucidity and cogency begin to fail him. Still, his fascination with the mystery of thinking in itself does not totally abandon him. "It was," says the author, "a continuation of his lifelong fascination with the workings of the mind; so, even while he recognized (and I'm sure he did) that he was a patient, he was also drawing on his long career as an experienced clinician. I think it helped him to sustain his dignity."
In addition to exploring his relationship with his father, Jonathan also lovingly portrays the caregivers and companions—affectionate, unusual, and interesting people—who advocated fiercely on Harry's behalf and two of whom stayed with him right up to the very end.
"[THE THEFT OF MEMORY] is a revelation, offering both a celebration of the bond between a father and son and an insightful glimpse into the workings of our memories and the legacies we leave behind," writes Gay Talese. It's a book for anyone who has had to take care of a loved one in decline, holding on to the memories from the past.
ABOUT THE AUTHOR:
Jonathan Kozol received the National Book Award for Death at an Early Age, the Robert F. Kennedy Book Award for Rachel and Her Children, and countless other honors for Savage Inequalities and Amazing Grace, and his most recent writings about poverty and justice. He continues working with young children and their teachers.
Related Posts:
You Might Also Like