Press Releases
My Pizza by Jim Lahey with Rick Flaste
The Easy No-Knead Way to Make Spectacular Pizza at Home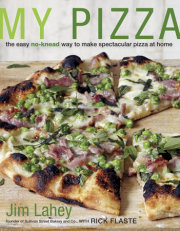 Jim Lahey
Imprint: Clarkson Potter
On sale: March 20, 2012
Price: $29.99
Pages: 192
ISBN: 9780307886156
Contact:
Jill Browning
212-572-6182
jibrowning@randomhouse.com
"This fantastic book truly delivers on the promise of crusty, artisan breads with minimal effort. Essential for pizza lovers." —Library Journal, starred review  
Jim Lahey, the baking genius behind New York's celebrated Sullivan Street Bakery and Co. pizza restaurant, shares his secret to incredible pizza in MY PIZZA: The Easy No-Knead Way to Make Spectacular Pizza at Home (Clarkson Potter; on sale March 20, 2012), written with Rick Flaste. 
The mastermind behind the foolproof no-knead bread-making technique that was first featured by the New York Times in 2006 (and subsequently e-mailed around the world) now applies his groundbreaking no-knead dough to pizza, with brilliant results. For Lahey, a great pizza starts with a superb crust. The slow fermenting method of his simple dough recipe results in a rich, chewy, crisp crust that chars nicely in any home oven—gas or electric—in about five minutes. Building upon this foundation, Lahey shares his delicious, and sometimes surprising, topping combinations.
MY PIZZA features all of the recipes that have put Co. on the map, including:
–RED SAUCE PIZZAS: Margherita Pie; Stracciatella Pie; Spicy Eggplant Pie; Fennel and Sausage Pie; Zucchini Pie; Veal Meatball Pie; Amatriciana Pie; Pepperoni Pie
–WHITE SAUCE PIZZAS: Ham and Peas Pie; Leek and Sausage Pie; Charcuterie Pie; Honshimeji and Guanciale Pie; Three-Mushroom Pie; Corn and Tomato Pie; Coppa and Fennel Pie; Brussels Sprouts and Chestnut Pie; Broccoli Rabe Pie
–NO SAUCE PIZZAS: Bird's Nest Pie; Ham and Cheese Pie; Popeye Pie; Squash with Pumpkin Seeds Pie; Poached Artichoke with Walnut Puree Pie; Pizza Bianca
–TOASTS, SOUPS, AND SALADS: Homemade Ricotta Cheese; Chicken Liver Toasts; Japanese Eggplant Toasts; Garlic Scape and Lovage Pesto Toasts; Gazpacho; Pea Soup; Asparagus and Avocado Salad; Escarole Salad; Baby Octopus Salad; Kale and Brown Rice Vinegar Salad; Pea Shoot Salad
–DESSERTS: Vanilla Gelato; Summer Berry Sundae; My Chocolate Chip Cookies; Olive–Olive Oil Cake; Banoffee Pie
With 75 color photographs, MY PIZZA unlocks the secrets of great, easy pizza at home, taking home bread-baking to the next level, and is destined to become an instant classic.
 # # #
 JIM LAHEY studied sculpture before learning the art of bread baking in Italy. In New York City, he opened the Sullivan Street Bakery in 1994 and Co., a pizza restaurant, in 2009. Lahey and his businesses have been featured in Vogue, Bon Appétit, and the New York Times, and he has appeared on the Martha Stewart Show and NBC's Today show. His innovative no-knead bread recipe, first published in an article by Mark Bittman in the New York Times in 2006, became the basis of Lahey's cookbook My Bread, which was a Gourmet Cookbook Club selection.
RICK FLASTE, the first editor of the Dining section of the New York Times, has collaborated on several books.
Related Posts:
You Might Also Like