Press Releases
My Gentle Barn by Ellie Laks
Creating a sanctuary where animals heal and children learn to hope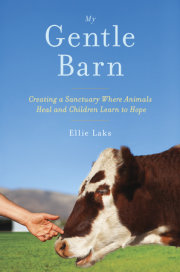 Ellie Laks
Imprint: Harmony Books
On sale: March 25, 2014
Price: $25.00
Pages: 288
ISBN: 9780385347662
Contact:
Lauren Cook
212-782-9486
LCook@randomhouse.com
"My Gentle Barn is a wonderful book. You'll love Ellie Laks and the animals she rescued—and who rescued her back. This is a book full of promise and hope, a story that shows how animals can pull us from despair and inspire the kindness and courage we need to transform ourselves and the world."
—Sy Montgomery, author of THE GOOD GOOD PIG
Ellie Laks has always had an intensely strong connection to the animal kingdom. From the wounded birds she would care for as a little girl to the thousands of farm animals she has rescued as an adult, Ellie finds a comfort and peace with animals unlike anything she has ever felt with humans.
In 1999, Ellie founded the Gentle Barn in Southern California, a nonprofit organization that rescues, rehabilitates, and offers sanctuary to abused animals. In her moving new memoir, MY GENTLE BARN (Harmony Books; On Sale March 25, 2014), Laks tells the incredible story of how she healed the animals at the Gentle Barn—and how they have healed her in return.
MY GENTLE BARN weaves together the story of how the Gentle Barn came to be what it is today with Ellie's own tumultuous journey to find herself. As a child, Ellie never felt like she belonged—not in her strict family and not with her peers at school. When she experienced a trauma as a young girl, Ellie looked to her Australian Shepherd, Simon, for comfort and companionship. Later, she pulled herself out of a downward spiral in her twenties by throwing herself into working with animals, finding strength and healing in their company.
Eventually Ellie learned to fully embrace her special connection to animals. Feeling that they had saved her life over and over again, she now sought ways to repay the beings that had saved her. With this gratitude and self-acceptance came the start of something amazing, the Gentle Barn.
Since its inception, the Gentle Barn has rescued and been home to thousands of animals (including cows who give hugs, pigs who befriend chickens, and horses who have forged deep bonds with special-needs children). The Gentle Barn has also hosted more than 400,000 visitors and has become an extraordinary nonprofit that brings together a volunteer staff of community members and at-risk teens to rehabilitate abandoned and abused animals. Thousands of at-risk and special-needs children who have participated in their youth program—as well as the adults who have come to volunteer—have been touched by the animal residents of the Gentle Barn. As Ellie teaches the volunteers to care for the animals, they learn a new language of healing that works wonders on the humans as much as it does on the animals.
Filled with tales of daring rescues, love, unforgettable animal hijinks, inspiring recoveries, and the achieving of dreams, MY GENTLE BARN is a feel-good account that will touch animal lovers and memoir readers alike.
###
About the author:  Ellie Laks has always loved animals and from the time she could walk she headed into the woods daily to be with them, sometimes bringing them home—much to her parents' chagrin. In 1999, Ellie founded the Gentle Barn, an animal sanctuary that rescues and rehabilitates severely abused and neglected farm animals. Once the animals are healthy, they help Ellie heal at-risk inner-city and special-needs children. Ellie lives on the property outside of Los Angeles with her husband, Jay Weiner, who runs the Gentle Barn with her, and their three children. Learn more at www.gentlebarn.org.
Related Posts:
You Might Also Like