Press Releases
Too Much Is Not Enough
A Memoir of Fumbling Toward Adulthood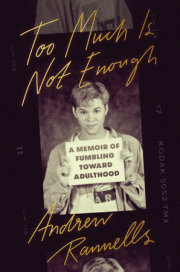 Andrew Rannells
Imprint: Crown Archetype
On sale: March 12, 2019
Price: $26.00
Pages: 272
ISBN: 9780525574859
Contact:
Ellen Folan
(212) 782-8944
efolan@penguinrandomhouse.com
From the star of Broadway's The Book of Mormon and HBO's Girls, a heartfelt and hilarious coming-of-age memoir of a Midwestern boy surviving bad auditions, bad relationships, and some really bad highlights as he chases his big city dreams.
Advance Praise for TOO MUCH IS NOT ENOUGH
"[A] spirited debut saturated with personality and frank humor. . . . [Rannells] is a natural raconteur who engages readers with self-effacing honesty about his life's great expectations and fumbles. . . . An inspiring and consistently witty entertainment memoir."
—Kirkus Reviews
"From Omaha to Broadway, this funny, big-hearted book follows a boy just crazy enough with ambition and love to bend the world to his dreams. Andrew Rannells has written a wise and
moving story about struggle and success, the intoxication of the stage and the home that, if we're very lucky, we can make for ourselves in art."
—Garth Greenwell, author of What Belongs to You
 "Perfectly capturing the years of self-doubt as we transition from the teenagers we were to the adults we want to be, this remarkable book transcends entertainment memoir and tells a
story of becoming—painful, pure, and true. Andrew Rannells is a singer and an actor and a dancer, and guess what? It turns out he's a writer."
—Lena Dunham, author of Not That Kind of Girl
"Raw and sweet and real and laugh-out-loud funny, Too Much Is Not Enough is destined to be required reading for anyone trying to make it through the highs and lows of chasing a dream."
—Jessi Klein, author of You'll Grow Out of It
"Andrew's coming-of-age, coming-of-fame story is hilarious, touching, and relatable. I devoured  it in a day and I already can't wait to read his next book!" 
—Andy Cohen, author of Most Talkative
"Some of us need to chart our own path from a place where we feel completely alone to the place where we make sense to ourselves. If you're at the start of that trip right now, you're lucky to have Too Much Is Not Enough as a joyous, generous roadmap. If you've made it there, you'll see yourself reflected in some hilarious and heartbreaking stories. Either way, you will laugh and think and look for other people who've read this book so you can talk about it all night long. Andrew Rannells nails the triumph, the turmoil, and the absolute necessity of following your gut, even—especially—when it scares you." 
—Dave Holmes, author of Party of One
If you were to read Andrew Rannells's professional bio—in Playbill or an announcement for a TV show—you'd encounter all of his career highs but none of his lows, bullet points of the good stuff but none of the details of the in-between. And his entire résumé would begin at age thirty-two, when he was already starring in his third Broadway show. According to Andrew, these missing years might have been "messy and confusing and filled with questionable choices," but he realizes now how much happened in that period of his life—a time when he was excited, and terrified, on a daily basis about what the future held for him. His full story is so much more.
When Andrew arrived in New York City from Omaha in 1997, he, like many, saw the city as a chance to break free. Nineteen years old and just out of the closet, he was armed with dreams: for love, for new beginnings, and for the chance to transform from the fiercely ambitious teenager he saw in the mirror into a Broadway leading man. Not to mention the most New York dream of them all—finding a decent apartment.
In TOO MUCH IS NOT ENOUGH: A Memoir of Fumbling Toward Adulthood (Crown Archetype, March 12, 2019), Andrew takes readers on the deeply personal but utterly relatable journey of a twentysomething hungry to experience everything: new friends, wild nights, great art, standing ovations. And at the heart of this hunger lies a powerful drive to reconcile the boy he was—and who he might have become had he remained in Nebraska—with the man he wants to be. He reveals how he merged these Andrews into the one who made his Broadway debut at 26, while recounting all the highest highs and most crushing lows on his path to the Great White Way. From horrible auditions and behind-the-curtain romances, from periods of darkest self-doubt to the exhilaration of landing his first gig in Hairspray, to the heartbreaking death of his father at the height of his ascent, Andrew brilliantly captures what it takes to pursue your passion, no shortcuts provided. Along the way he learns that you never really leave your past—or your family—behind; that the most painful and perversely motivating jobs are the ones you almost get; and that the most unforgettable nights are marked not by the hot clubs you danced at, but by the recap over diner food with your best friend after.
Hilarious, poignant, and bighearted, TOO MUCH IS NOT ENOUGH is an intimate and uproarious look at love, loss, and the powerful forces that determine the people we become. For anyone who has chased a dream against all odds (and occasionally, all reason), Andrew's stories will resonate like an Irene Cara belt. And his insightful take on the pasts we carry with us, the families we create, and the passions we won't let anyone extinguish will linger with readers long after this book ends. TOO MUCH IS NOT ENOUGH is a remarkable debut—one that proves that Andrew's ability to capture an audience extends beyond the stage and on to the page.
#   #   #
About the Author
Andrew Rannells is an actor, singer, and performer best known for originating the role of Elder Price in The Book of Mormon and playing Elijah Krantz in HBO's Girls. A Tony and Drama Desk nominee and Grammy winner, he has also played Hedwig in Hedwig and the Angry Inch, King George III in Hamilton, and Whizzer in Falsettos, and most recently starred in the 2018 Broadway revival of The Boys in the Band. On the small screen, he has appeared in Girls, The New Normal, The Knick, The Romanoffs, and Black Monday. Rannells's film credits include Why Him?, The Intern, Bachelorette, and A Simple Favor. His writing has been published in the New York Times' "Modern Love" column. This is his first book.
Related Posts:
You Might Also Like