Press Releases
The Mountain Between Us by Charles Martin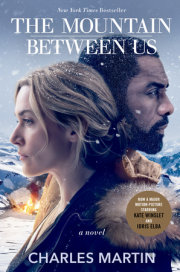 Charles Martin
Imprint: Broadway Books
On sale: August 15, 2017
Price: $16.00
Pages: 336
ISBN: 9781524762476
Contact:
Rebecca Welbourn
2127829634
rwelbourn@penguinrandomhouse.com
Soon to be a Major Motion Picture Starring Academy Award Winner Kate Winslet and Golden Globe Winner Idris Elba
In U.S. Theaters October 6th
---
In THE MOUNTAIN BETWEEN US, bestselling author Charles Martin captivated readers with his powerful story of love, loss, and survival. On October 6, 2017, 20th Century FOX brings Martin's harrowing story of a man and a woman facing the impossible to theatergoers around the country in a major motion picture starring Academy Award winner Kate Winslet and Golden Globe winner Idris Elba. For readers who have not yet met Dr. Ben Payne and Ashley Knox, or for those who wish to revisit these beloved characters, Broadway Books offers a movie tie-in edition of THE MOUNTAIN BETWEEN US, on sale August 15, 2017.
THE MOUNTAIN BETWEEN US opens on a stormy winter night at the Salt Lake City airport where two strangers wait for a flight home. Ashley Knox is an attractive, successful writer, flying east for her wedding. Dr. Ben Payne is a prominent surgeon who has just wrapped up a medical conference and is eager to get back to his patients. When their flight is canceled due to a broken deicer, a desperate Ben charters a plane to try and beat out the oncoming storm. Though they've only traded pleasantries while waiting at their gate, when the pilot says the single engine prop plane can fit one more, Ben offers the seat to Ashley knowing that she needs to get back home just as urgently. As the trio flies high above the High Uintas Wilderness—one of the largest and harshest stretches of land in the United States—the unthinkable happens. Their pilot suffers a heart attack and crashes the plane into the snowy, remote wilderness.
Ben, who has broken ribs, and Ashley, who suffers a terrible leg fracture, along with the pilot's dog, find themselves in an incredibly harrowing battle to survive. Faced with freezing temperatures, no food, and limited supplies, Ben must nurse Ashley back to health and figure out a way off the mountain if they are to have any chance. As the two strangers join together in a fight for their lives, Ashley soon realizes that the very private Ben has some serious emotional wounds to heal. Accused by his wife of being emotionally distant and uncommunicative, Ben faithfully records messages to her in a voice recorder reflecting on their love. As Ashley eavesdrops on Ben's tender words to his estranged wife she fears that when it comes to her own love story, she's simply settling. And what's more, she begins to realize that the man she is attracted to, and the man she may love, is Ben.
A compelling page-turner, THE MOUNTAIN BETWEEN US will reaffirm your belief in the power of love to sustain us.
About the Author
Charles Martin is a New York Times bestselling author of eleven previous novels. He lives in Jacksonville, Florida, with his wife and their three sons.
Related Posts: