Press Releases
Mother of Eden by Chris Beckett
Arthur C. Clarke Award winner Chris Beckett returns to the world of Dark Eden to tell a new story—of a headstrong girl whose actions may change her planet forever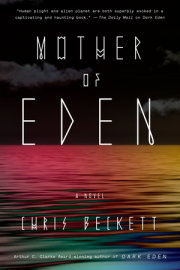 Chris Beckett
Imprint: Broadway Books
On sale: May 12, 2015
Price: $15.00
Pages: 480
ISBN: 9780804138703
Contact:
Rebecca Welbourn
(212) 782-9634
rwelbourn@penguinrandomhouse.com
Early Praise for Mother of Eden
"Beckett introduces some intriguing new ideas. . . . Readers delighted by the first book will certainly wish to renew their acquaintance." —Kirkus Reviews
Praise for Dark Eden
"Poetic . . . Beckett renders the terror of the darkness beyond the forests with a riveting deftness that evokes all primordial fears of the unknown. . . . There's plenty here to intrigue and entrance." —New York Times Book Review
"A linguistic and imaginative tour de force." —Guardian
 "A fantastic novel . . . Beckett has created a bizarre world of astounding imaginative vision, grounded by fundamental human conflicts." —Shelf Awareness

"Riveting . . . a keenly imagined vision of the interaction between human nature and a truly alien world."—BookPage
"Pure astonishment and pleasure, a storytelling ride full of brio and wonder." —Locus

"Dazzlingly inventive . . . superbly well paced and well written . . . packed with ideas."  —Reader's Digest

"Captivating and haunting . . . human plight and alien planet are both superbly evoked." —Daily Mail

"A stunning novel and a beautiful evocation of a truly alien world."  —Sunday Times

---
In his internationally praised and Arthur C. Clarke Award–winning novel Dark Eden, British writer Chris Beckett told a powerfully human story—of a primitive society's loss of innocence—in a masterfully evoked alien setting, that of a sunless planet far away from Earth. Beckett now brings us MOTHER OF EDEN (Broadway Books; May 12, 2015). Set in the same haunting world as Dark Eden, 200 years later, MOTHER OF EDEN tells an entirely new story—that of a headstrong young heroine whose actions may change her world forever.
Daring, determined Starlight Brooking lives with her family in an isolated fishing community that has remained blissfully untouched by the wars that have gripped the planet in the two centuries since the events of Dark Eden. But a quiet, peaceful existence has never been enough for Starlight. Instead, she feels trapped by the sameness of her daily routine and yearns for a life that's bigger and more fulfilling than the one she knows.
Her chance comes when she meets a handsome man named Greenstone from a place called New Earth, a powerful and sophisticated society established by the followers of John Redlantern on the other side of Eden. When Greenstone persuades Starlight to return there with him, she has very little idea of what she's getting herself into, and is shocked and then excited to learn that she is expected to assume the title of Ringwearer—a position that makes her the symbolic "Mother of Eden" to all the inhabitants of New Earth. But as Starlight learns more about her new home, she begins to realize that the role of Ringwearer is one that she's not prepared to play—and that the wonders of New Earth have been built at a terrible human cost. In her desire to leave her old existence behind, Starlight now finds herself faced with a choice: accept her allotted place as a woman in New Earth or challenge the entire structure of society—and put herself and Greenstone in great danger while doing so.
With MOTHER OF EDEN, Beckett has crafted a mesmerizing and chilling novel that again makes masterful use of an otherworldly setting to cast a powerful lens on our ownsociety, making us wonder at the hidden prices we pay for the marvel we call civilization.
About the Author: CHRIS BECKETT is a university lecturer living in Cambridge, England. His short stories have appeared in such publications as Interzone and Asimov's Science Fiction and in numerous "year's best" anthologies.
Related Posts: