Press Releases
MOTHER AMERICAN NIGHT
My Life in Crazy Times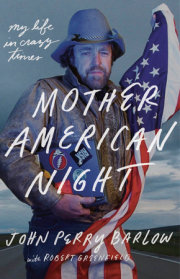 John Perry Barlow with Robert Greenfield
Imprint: Crown Archetype
On sale: June 5, 2018
Price: $27.00
Pages: 288
ISBN: 9781524760182
Contact:
Ellen Folan
212.782.8944
efolan@prh.com
Praise for Mother American Night
"Wondrous tales of the hippie highway by Grateful Dead lyricist and internet pioneer Barlow….[Barlow] writes with rough grace and considerable poetic power… [Mother American Night] is a yarn to read, with pleasure, alongside Ringolevio and The Electric Kool-Aid Acid Test."
—KIRKUS REVIEWS
"John Perry Barlow was the dawn of digital rights for so many—including me. Mother American Night leaves no doubt why he is remembered as the first 'Poet Laureate of Cyberspace.' Optimistic, beautiful, and often hilarious, this memoir not only recounts some of the most important battles in the first two decades of the internet, but also Barlow's indelible footprint on American art, politics, and culture over the last fifty years."
—EDWARD SNOWDEN
"It is a privilege to read the story of John Perry Barlow's life in his own words. The topology of his tropology was utterly unique; the man was part Socrates, part John Wayne, part Loki, part Lord Byron, part Tesla, part Kennedy, part Reagan, part Internet Guru and bonafide Acidhead. That his diminutive frame managed to contain the vast infinity of his being is its own kind of miracle."
—SEAN ONO LENNON
"Mother American Night is one of those books where you sit down to read the opening chapter, but then can't put it down until you finished it cover-to-cover. The colorful and (almost) unbelievable stories that John Perry tells, weaved together with his trademark prose, make you feel like you were there with him at the center of so many cultural touchstones since the 1960s. However, it's his tales of fighting against injustice and fighting for free speech and privacy that I cherished the most. Reading Mother American Night reminds me of everything that made him such an American Original in the first place."
—DANIEL ELLSBERG
"Imagine you are hitchhiking and an ancient Mustang pulls up and the most interesting guy in the world beckons you to hop in. He's driving 100 miles per hour all night long and for the next three days he's telling you tales, each one bigger and badder and more profound than the one before it. This is a hilarious, rhetorical, and soul-prodding book. I never feel so alive as when Barlow is telling me a story, and here are a life's worth."
—KEVIN KELLY

Frequently described as "The Most Interesting Man in the World," John Perry Barlow lived enough lives for ten men. A brilliant thinker and constant seeker, he managed to be at the cutting edge of popular culture for half a century; his predictions regarding technology and net neutrality, made over twenty-five years ago, are still at the forefront of the conversation today. With Mother American Night: My Life in Crazy Times (Crown Archetype, June 5, 2018), written with Robert Greenfield, Barlow shared the colorful, captivating story of his journey from cattle rancher to Grateful Dead lyricist to world-renowned internet guru.
Blessed with an incredible sense of humor and a unique voice that jumps off the page, Barlow was a born raconteur, and his dramatic life reads like the story of a generation writ large. In MOTHER AMERICAN NIGHT, he recounts his unlikely path from Wyoming to Wesleyan, where he hung out with Timothy Leary and first began experimenting with LSD; to San Francisco during the Summer of Love, where he lived with the Dead and befriended Neal Cassady; to New York, where he spent time with Andy Warhol and the denizens of The Factory. And that only takes us to 1970.
For some people, taking over the family cattle ranch would be a cue to settle down. But for Barlow, it would provide a launching pad for a brilliant multifaceted career at the intersection of politics, technology, and celebrity. Despite being a freely self-confessed acidhead, Barlow served as campaign manager for Dick Cheney during his first run for Congress and hosted an 18-year-old JFK Jr. at his ranch for some summer seasoning. And, after befriending a legendary group of computer hackers known as the Legion of Doom, he co-founded the Electronic Frontier Foundation, a groundbreaking organization dedicated to protecting civil liberties in the digital world. With the EFF, Barlow became not only one of the great advocates of the open internet, but an early supporter of WikiLeaks and a critical part in the story of Edward Snowden.
In MOTHER AMERICAN NIGHT, Barlow reveals the inspirations behind some of his notable contributions to the Dead, including "Mexicali Blues," "Black-Throated Wind," "Looks Like Rain," and "Cassidy"; takes us behind the scenes of his friendships with such diverse cultural figures as Jerry Garcia, Jacqueline Kennedy Onassis, Steve Jobs, and Gilberto Gil; and offers eloquent ruminations on death and love.
Heartrendingly sad, hysterically funny, often unbelievable, yet always completely true, MOTHER AMERICAN NIGHT is the engrossing story of an American icon.
# # #
JOHN PERRY BARLOW was a cattle rancher, a former lyricist for the Grateful Dead, and cofounder of the Electronic Frontier Foundation. He was a regular contributor to Wired magazine for many years and one of the founding directors of the Freedom of the Press Foundation.
Robert Greenfield is the award-winning author of biographies of Jerry Garcia, Timothy Leary, and Augustus Owsley Stanley III.
Related Posts:
You Might Also Like