Press Releases
The Moth Presents All These Wonders
True Stories About Facing the Unknown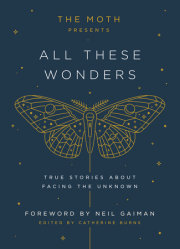 Edited by Catherine Burns
Imprint: Crown Archetype
On sale: March 21, 2017
Price: $25.00
Pages: 352
ISBN: 9781101904404
Contact:
Maya Lane
212-782-9164
MALane@penguinrandomhouse.com
In honor of the 20th anniversary of storytelling phenomenon The Moth, ALL THESE WONDERS is an unforgettable collection about risk, courage, and facing the unknown, featuring contributors like Louis C.K., Tig Notaro, John Turturro, and Meg Wolitzer.
---
THE MOTH PRESENTS
TRUE STORIES ABOUT FACING THE UNKNOWN
Foreword by Neil Gaiman
Edited by Catherine Burns
This year marks the 20th anniversary of The Moth, the beloved non-profit organization dedicated to the art and craft of storytelling. Inspired by friends swapping tales on a small-town Georgia porch, The Moth gained a cult following in New York City and then rose to international acclaim with the wildly popular podcast and Peabody Award–winning public radio show. Since its launch in 1997, The Moth has presented tens of thousands of stories, told live and without notes, to standing-room-only crowds across the world.
For the extraordinary new collection, THE MOTH PRESENTS ALL THESE WONDERS: True Stories About Facing the Unknown (Crown Archetype; Hardcover; $25.00; On Sale March 21, 2017), the creative minds at The Moth have carefully selected some of the best stories ever told on its stages, adapting them to the page while preserving the courage and raw energy of live storytelling. Edited by The Moth's artistic director Catherine Burns and featuring a foreword by Neil Gaiman, ALL THESE WONDERS is a spellbinding celebration of twenty years of Moth storytellers who have stepped up to the microphone and bared their souls to a crowd of strangers.
ALL THESE WONDERS features 45 stories, told on stages around the world, from voices both familiar and new. Along with performers like Louis C.K., John Turturro, Tig Notaro, and Hasan Minhaj, and authors like Meg Wolitzer (The Interestings), Adam Mansbach (Go the %&# to Sleep), Jessi Klein (You'll Grow Out of It), and Nadia Bolz-Weber (Accidental Saints), readers will encounter musicians, doctors, pastors, high school students, journalists, NASA scientists, and The Moth's own founder, George Dawes Green. Among the many fascinating and moving stories:
a hairdresser creating David Bowie's signature "Ziggy Stardust" look
an astronomer gazing at the surface of Pluto for the first time
an Afghan refugee learning how much her father sacrificed to bring his family to America
a hip-hop star coming to terms with being a "one-hit wonder"
a young female spy risking everything in Churchill's "secret army" during World War II
a working-class girl from Queens getting to know her mom's new millionaire boyfriend
As diverse as these stories are, they all have something in common: they are tales of stepping into uncharted territory—and how what you find there can change your life. They are honest, vulnerable, funny, and sad. Most important, they are a window into someone else's world, taking us into a moment of turmoil, transformation, fear, or grace. As Neil Gaiman writes in the foreword, "The Moth connects us, as humans. Because we all have stories . . . And once we hear each other's stories we realize that the things we see as dividing us are, all too often, illusions, falsehoods: that the walls between us are in truth no thicker than scenery."
Filled with humor, passion, and surprises, this beautiful book will make for a timeless gift for anyone on the brink of change, as well as Moth fans and story lovers everywhere. ALL THESE WONDERS is a reminder of the power of stories to connect us to each other, give us a fresh perspective, and encourage us to be more open, vulnerable, and alive.
Related Posts:
You Might Also Like