Press Releases
Monster and goblins and ghouls abound in Anna Hrachovec's new book, Super-Scary Mochimochi
20+ Cute & Creepy Creatures to Knit from the author of Knitting Mochimochi and Teeny-Tiny Mochimochi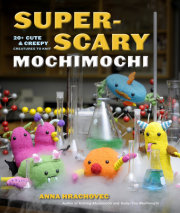 Anna Kathleen Hrachovec
Imprint: Potter Craft
On sale: 9/18/12
Price: $19.99
ISBN: 9780307965769
Contact:
Kimberly Small
212.572.6067
ksmall@randomhouse.comcra
Anna Hrachovec introduced America to her witty, whimsical, and slightly strange character designs in her first two books, Knitting Mochimochi and Teeny-Tiny Mochimochi, that bewitched and beguiled knitters everywhere. Now, her third book, SUPER-SCARY MOCHIMOCHI: 20+ Cute & Creepy Creatures to Knit (Potter Craft; $19.99; on sale September 18, 2012), takes Mochis to the dark side—just in time for Halloween!
Super-Scary Mochimochi features 20 patterns for knitted toys designed to scare you silly. Make any variety of Old-School Ghouls (zombies, vampires, and werewolves), Backyard Beasties (spiders, rats, killer bees), Creepy New Species (creatures with—ahem—unusual characteristics), or Mix-n'-Match Monsters (various body shapes, noses, arms, and more, so you can play Dr. Frankenstein and make your own customized Mochimochi).
The book also includes all the "gory details" on the materials and techniques used to make the toys, as well as a refresher section covering basic knitting information. These beasties take only a small amount of yarn to create, so they are inexpensive, quick, and portable projects.
Anna proves that nothing is more dangerous than a clever, creative knitter wielding yarn and pointy needles! With this guide in hand, knitters can whip up an army of creatures that will go bump in the night, eat your iPad alive, or might just stare back at you in a deeply unsettling way. This adorable assortment may be more cute than scary, but try not to bruise their egos. These toys think they're terrifying!
#    #    #
 About the Author:
Anna Hrachovec launchedMochimochiLand(mochimochiland.com), a website and brand of knitted toy patterns, in early 2007. In addition to her website, Anna maintains a blog (mochimochiland.com/weblog) and a Flickr group (Mochimochi Land's Photostream), and a Ravelry group has been founded in honor of her knitted toys (Mochimochi Land Lovers). Her original knitted creations have been exhibited in galleries inNew York,Seattle,San Francisco,Berlin, andTokyo.
Related Posts: