Press Releases
Miranda Richmond Mouillot uncovers the truth about her grandparents
An important meditation on the inheritance of historical memory, a poignant coming-of-age tale, and an enchanting romance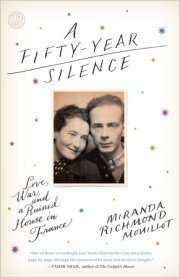 Miranda Richmond Mouillot
Imprint: Crown Publishers
On sale: January 20, 2015
Price: $26.00
Pages: 288
ISBN: 9780804140645
Contact:
Lauren Kuhn
212-782-8637
lkuhn@penguinrandomhouse.com
Early Praise for A FIFTY-YEAR SILENCE
"Charming, understated . . . A wonderful evocation of the way that the Holocaust has haunted many generations." —Publishers Weekly
"A moving family history researched with dedication and completed with a granddaughter's love." —Kirkus Reviews 
"Vibrant, earnest, and profound."—Booklist 
"Richmond Mouillot draws a powerful portrait of her beloved grandparents, long estranged from each other yet both in love with their only granddaughter, whose own lives are a microcosm of the impact of the Holocaust. In discovering what drove them apart, she unfolds a captivating, intensely moving tale of family, love, war, loss, and finding oneself in the tea leaves of the past." —Sarah Wildman, author of Paper Love
"A Fifty-Year Silence is one of those exceedingly rare books that touches you deep down—page by page—through the rawness of its story and its sheer insight. . . . It is a memoir that sings to us all." —Tahir Shah, author of The Caliph's House
"A Fifty-Year Silence is an existential detective story, a family chronicle, a journey of self-discovery, a meditation on memory, a reckoning with ghosts of a tragic past—and, miraculously, this luminous book succeeds on all levels." —Anya von Bremzen, author of Mastering the Art of Soviet Cooking
"A Fifty-Year Silence bravely confronts a truth that most memoirs deny: even the most thorough investigation of family history cannot elucidate the heart of the past. Richmond Mouillot's voice—shaped by stories yet resisting any single story—does the profound work of using imagination, place, love, and art to transform the unknowable past into a rooted, liberating spring of identity." —Anouk Markovits, author of I Am Forbidden
"Miranda Richmond Mouillot's loving, suspenseful, and determined quest to uncover the mysterious wound that divides her family holds us fascinated in the intimate spaces where generations seek each other. She beautifully explores how time and memory challenge us all." —Leslie Maitland, author of Crossing the Borders of Time
"Richmond Mouillot is a writer of extraordinary grace whose love of her subjects illuminates nearly every page." —Marianne Szegedy-Maszák, author of I Kiss Your Hands Many Times
"A keenly observed and poignant memoir of one young woman's journey from North Carolina to the South of France, and from the present day into the dark spaces in the history of her family and of Europe." —Matti Friedman, author of The Aleppo Codex and winner of the Sami Rohr Prize for Jewish Literature
After surviving World War II by escaping Nazi-occupied France for refugee camps in Switzerland, Anna Münster and Armand Jacoubovitch bought an old stone house in a remote, picturesque village in the South of France. Five years later, Anna packed her bags and walked out on Armand, taking the typewriter and their children. Aside from one brief encounter, the two never saw or spoke to each other again, never remarried, and never revealed what had divided them forever.
Their granddaughter Miranda Richmond Mouillot, author of A Fifty-Year Silence: Love, War, and a Ruined House in France (Crown: January 20, 2015), grew up haunted by her grandparents' past. Unable to fully understand the nameless fears that plagued her and entranced by Anna and Armand's forceful and divergent characters, she began wondering why her grandfather refused to attend any kind of family gathering for fear of encountering his former wife. What had happened between these two people, who together had endured one of the most devastating periods of human history, then separated completely and irrevocably, each unwilling to acknowledge each other's existence? Had they ever loved each other? Did they still? 
A Fifty-Year Silence is Richmond Mouillot's deeply moving account of her efforts to make sense of their heartrending story and, in the process, to figure out her own. Powerfully drawn to her grandparents' old house after a single, fleeting visit to it, she abandons her plans for the future and moves to the South of France to pursue the truth about the ruin of their romance. Yet even as Richmond Mouillot discovers how the knowledge Armand acquired as an interpreter at the Nuremberg Trials destroyed her grandparents' marriage, she moves beyond their past and into a life – and a love story – of her own.
As much an important meditation on the inheritance of historical memory as a poignant coming-of-age tale and an enchanting romance, A Fifty-Year Silence is a striking exploration of our need to understand the past in order to embrace the future. 
ABOUT THE AUTHOR: 
MIRANDA RICHMOND MOUILLOT was born in Asheville, North Carolina. She lives in the South of France with her husband, daughter, and cat.
Related Posts:
You Might Also Like