Press Releases
Why Not Me? by Mindy Kaling
From the author of national bestseller Is Everyone Hanging Out Without Me? and creator and star of The Mindy Project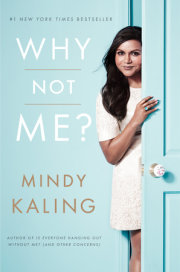 Mindy Kaling
Imprint: Crown Archetype
On sale: September 15, 2015
Price: $25.00
Pages: 240
ISBN: 9780804138147
Contact:
Tammy Blake
212-572-2542
tblake@penguinrandomhouse.com
Since the publication of her beloved and bestselling first book, Is Everyone Hanging Out Without Me? Mindy Kaling's life has changed significantly. Back then, she played Kelly Kapoor, a supporting character on the popular series The Office. Now Mindy is the creator, producer, writer, and star of her own TV show, The Mindy Project. She's graced magazine covers, appears on the red carpet and is, as she puts it, "a tiny bit famous." And she's gone through some other major changes as well—she's watched friends get married and start their families, and she's struggled with her own balance of work and private life. Now in her new book, WHY NOT ME? (Crown Archetype, on sale September 15, 2015), Mindy turns the anxieties, the glamour, the heartache, and the celebrations of her second coming of age into a laugh-out-loud-funny collection of essays that anyone who's ever been at a turning point in their life or career can relate to.
While Mindy's first book focused on the insecurities of her youth, WHY NOT ME? brings to light the even more profound concerns of being a single thirty-something—and the joy of not caring what people say about your outfits. In this witty, wise, and wickedly funny memoir, Mindy delivers an up-close-and-personal tour of her life. Topics include:
• A day in the life, featuring never-before-seen pictures of Mindy at work. Ride along on her predawn commute from West Hollywood. Discover what she eats throughout the day (hint: it's terrible). Find out what she looks like before, during, and after a session in the hair and makeup trailer. Watch her tirelessly create another episode of The Mindy Project, surrounded by her beloved cast and crew.
• Guys. From casual dating to intense long-distance relationships, Mindy shares private moments from her love life (not necessarily successful, but always funny)—including how to check up on a guy after you've abandoned your Facebook account.
• Dinner with the Obamas. OK, it was a State Dinner attended by many other people, but she looked gorgeous, and it brought her that much closer to Bradley Cooper.
• Keys to looking good, even in high-def, no matter your skin tone (that's the magic of spray tans!) or the thickness of your hair (learn Mindy's secret to achieving cascading, My Little Pony tresses) or your dress size (she's a perfect 10).
• Managing best friends. True, "best" means there's no one better, but if you're like Mindy, it's hard to find new friends in your thirties. From her Dartmouth days as a sorority pledge to the mean-girl streets of stardom, Mindy reveals the meaning of true friendship.
• What if Mindy Kaling had become a Latin teacher instead? In this startling chapter of hypotheticals, Mindy shares emails and texts from her road not taken, imagining the inappropriate behavior that would have transpired if she had become a Latin teacher at a fancy Manhattan private school.
• The singular business of show business. Whether your goal is to strike a deal with entertainment executives (get a blowout and down a few shots before the meeting to boost your confidence) or to understand how awards ceremonies work, Mindy's insight can jump-start any career.
By turns humble, hilarious, and deeply personal, WHY NOT ME? is a refreshing take on modern life—from the fast lane to the drive-thru lane, and every tantalizing turning point in between.
-# # #-
ABOUT THE AUTHOR: Mindy Kaling is the creator and star of the critically acclaimed series The Mindy Project. Her first book, Is Everyone Hanging Out With Me? (And Other Concerns), was featured on the New York Times Best Sellers list. She also starred as Kelly Kapoor on the
Emmy-winning series The Office and wrote twenty-four episodes of the series, including "Niagara," which scored her an Emmy nomination. She has been named one of Time magazine's 100 Most Influential People. Kaling starred as Disgust in Pixar's Inside Out and made her film debut in Judd Apatow's The 40-Year-Old Virgin. She lives in New Hampshire and doesn't own a television.
Related Posts:
You Might Also Like