Press Releases
From the minds behind Marbles: The Brain Store– Bend Your Brain!
151 Puzzles, Tips, and Tricks to Blow (and Grow) Your Mind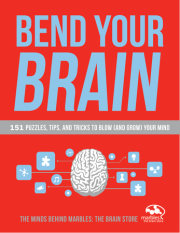 Marbles: The Brain Store
Imprint: Three Rivers Press
On sale: August 19, 2014
Price: $14.00
Pages: 192
ISBN: 9780804140096
Contact:
Allison Judd
212-782-9164
ajudd@penguinrandomhouse.com
Since Marbles started helping people play their way to a healthier brain, they've sold, solved, and been stumped by more than their fair share of puzzles. Along the way, they've learned which puzzles tie people in knots (not in a good way) and which ones make the neurons downright giddy. Now, bringing all of that knowledge to bear, as well as their access to the latest developments in neuroscience, Marbles: Brain Workshop has designed this series of logic puzzles and brain teasers (including acrostics and number puzzles) to keep your mind flexible and fit.
The first of a two-book series, BEND YOUR BRAIN:151 Puzzles, Tips, and Tricks to Blow (and Grow) Your Mind (Three Rivers Press; Trade Paperback Original; August 19, 2014) offers a variety of puzzles from mind-warming (easy) to mind-blowing (hard!), all specially formulated and curated to help strengthen readers' brains by engaging with the following five key brain categories:
 Visual Perception—Visual perception allows you to see images as a whole rather than broken down into individual visual elements. Puzzles in this section combine pictures and words to help with visual recall, peripheral vision, and focusing your attention.
Word Skills—Exercises in this category will engage all your senses to help you learn new words and see patterns in word scrambles, word searches, and crosswords with a Marbles twist. Improve your vocabulary, stimulate your creativity, and make it easier to learn new languages!
 Critical Thinking—Strengthens neural pathways in the brain that help you plan, take action, problem solve, and learn from and correct your mistakes. Brainteasers in this section build up readers' reasoning and analysis skills.
Coordination—In this section, puzzles will strengthen your balance, rhythm, and spatial intelligence.  By strengthening this area of your brain, you can build your gross and fine motor skills.
Memory—Puzzles in the memory section play off the various stimuli we encounter every day (maps, keyboards, logos) and test how much we can actually recall. By improving your memory and your ability to learn information, you can improve your focus and attention rate.
With BEND YOUR BRAIN, you can train your brain to reach its maximum potential.
 ###
About the Author:
Marbles: The Brain Store is a national chain with more than 27 brick-and-mortar retail stores across the country, offering games, puzzles, books, and software to strengthen the brain. Marbles's handpicked and expert-tested products are also available online. Marbles: Brain Workshop is a division of Marbles dedicated to the development of an exclusive product line, featuring select products that have been showcased in Good Housekeeping, Real Simple, Parents, and Wired as well as on the Today show and Martha Stewart Living. For more information about Marbles, visit www.marblesthebrainstore.com
Related Posts: