Press Releases
A mid-century doctor's raw, unvarnished account of his own descent into madness, and his daughter's attempt to piece his life back together in Mimi Baird's HE WANTED THE MOON
An extraordinary contribution to our understanding of bipolar disorder, an essential account of medical history, and the powerful story of a daughter's quest to know the father she lost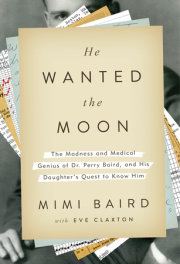 Mimi Baird with Eve Claxton
Imprint: Crown Publishers
On sale: February 17, 2015
Price: $25.00
Pages: 272
ISBN: 9780804137478
Contact:
Lauren Kuhn
212-782-8637
lkuhn@penguinrandomhouse.com
Advance Praise for He Wanted the Moon 
"He Wanted the Moon is one of the most disturbing and profoundly moving books I've read in years, and one of the great father-daughter books of our time. It will take its place as a classic in the literature of breakdown, alongside Kay Redfield Jamison's An Unquiet Mind and William Styron's Darkness Visible. The brilliant Dr. Perry Baird's memoir lets you see up close what it is like to go through the most manic phases of bipolar disorder—it is a nightmare, but this book is a damn wonder." —Pat Conroy, author of The Prince of Tides and The Death of Santini 
"Powerful, fascinating, and completely unique. This heartbreaking book is a one-of-a-kind first-person window into the world of psychiatric illness before the era of drug therapies in this country. Reading He Wanted the Moon is a bit like discovering the Dead Sea Scrolls—it is one of the most eloquent, powerful, and important accounts of mental illness ever put to paper." —David Isay, founder of StoryCorps and author of Listening Is an Act of Love and Ties that Bind 
"Thanks to a daughter's brave determination to excavate her absentee father's life, we are gifted with deep personal insight into a brilliant but sick mind that could have been lost forever. This is a truly important book—a devastatingly honest account of mental illness that provides personal insight into long-ranging travesties of psychiatric care in the U.S. Unforgettable."—Susannah Cahalan, author of Brain on Fire 
"Dr. Perry Baird's vivid account of his own madness, and the treatment he received, is as remarkable as it is disturbing. By sharing her family's story, Mimi Baird has certainly done a great service to her father's memory. But she's also made a significant contribution to the literature of mental health. He Wanted the Moon is a poignant book, and, I believe, an important one." —Alexandra Styron, author of Reading My Father 
"Here is how you know you have just read a wonderful book: You immediately begin telling everybody you know about it, which is exactly what I did when I finished He Wanted the Moon." —Robert Whitaker, author of Anatomy of an Epidemic and Mad in America
"He Wanted the Moon does for mental illness what The Immortal Life of Henrietta Lacks did the science of cancer: at once reveal suffering and heal it through knowledge. . . . A miraculous story told in a miracle of a book." —Amity Shlaes, author of Coolidge and The Forgotten Man
"He Wanted the Moon details the horrendous treatment commonly given to patients at a time when there was no known way ameliorating the dangerous and self-destructive behavior that often characterizes manic-depression. This is a fascinating and informative book, which I would highly recommend." —Dr. Elliot Valenstein, author of Blaming the Brain and professor emeritus of psychology and neuroscience at the University of Michigan 
"Mimi Baird's short book about her father's long struggle with mental illness is a tale within a tale. She longed to know why he had simply disappeared one day from her life, and what she found was his own vivid account of watching himself slide into darkness. Mimi has performed a quiet miracle, giving life back to a man everyone wanted to forget." —Thomas Powers, Pulitzer-Prize winner and author of The Killing of Crazy Horse 
"Astonishing in its illuminations . . . This striking and poignant family story evokes compassion for everyone affected by this cruel malady." —Booklist
"Moving . . . [Baird] sketches the life of a man who had done brilliantly in college and medical school—even coauthoring a paper with the eminent physiologist Walter Cannon—but who would be felled by psychosis. . . . A sobering account of how little we knew and how much we still have to learn about mental illness—especially how not to treat it." —Kirkus Reviews
"Perry Baird was a pioneer in attempting to understand the workings of manic depression. . . . In bringing her father's harrowing, tragic, and moving story to life, Mimi Baird celebrates him and gives voice to the terrible suffering the mentally ill once endured, and still do today, and challenges the prejudices and misperceptions the public continues to have about the disease." —Publishers Weekly
Called "astonishing in its illuminations" (Booklist), "a sobering account of how little we knew and how much we still have to learn about mental illness" (Kirkus), and a work that "gives voice to the terrible suffering the mentally ill once endured, and still do today" (Publishers Weekly), Mimi Baird's debut memoir HE WANTED THE MOON (Crown; February 17, 2015) has already received incredible early praise, with Pat Conroy hailing it "a classic in the literature of breakdown," and author Amity Shlaes suggesting the book will do for mental illness what The Immortal Life of Henrietta Lacks did for cancer.
Mimi was only six years old when her father, a Harvard-educated doctor and rising medical star in the late 1920s and 1930s, was hospitalized for manic depression. From that day on, Mimi's questions about him were met with vague explanations that he would forever be "ill" and "away." But decades later, at the age of fifty-six, she learned of her father's unpublished manuscript when a serendipitous conversation prompted Mimi to reconnect with her uncle..
Comprised of eleven inches of onionskin paper, the manuscript that soon arrived on Mimi's Vermont doorstep led her on a twenty-year journey to uncover his past and learn of his brilliant, tortured insights. Drawing on her father's writings as well as dozens of original medical records, photographs, letters, testimonies, and archival documents, Mimi finally brings her father's story and research to their rightful place in medical history through HE WANTED THE MOON.
When Perry Baird was diagnosed, the causes of manic depression remained largely unknown, and "treatment" for the disorder consisted of brutal and ineffective hospitalizations. Dr. Baird, quite ahead of his time, suspected a biochemical cause for his illness, and during his medical career led several experiments investigating those roots. A few years later, other doctors focusing on the mentally ill pursued a similar conclusion, and in 1949, John Cade published the lithium study of mania that revolutionized the world's understanding—and treatment—of depression. By then, Dr. Baird had been institutionalized multiple times and his medical license revoked. At only fifty-five, he died from complications after receiving a lobotomy.
Both student and sufferer of manic depression, Dr. Baird's observations, written in periods of extreme highs and devastating lows, offer a deeply disturbing account of mid-century American mental institutions, as well as a truly rare first-hand perspective of an acute mind at war with itself. But HE WANTED THE MOON is as much an essential window into bipolar disorder as it is a deeply inspiring account of Mimi's quest to connect with the brilliant father she never really knew. In uncovering his story and bringing his achievements to light, Mimi gives voice to the silent and forgotten who have suffered mental illness without any say in their treatment.
 ABOUT THE AUTHORS: 
MIMI BAIRD a Bostonian, is a graduate of Colby-Sawyer College. While working as a manager at the Dartmouth-Hitchcock Medical Center, she met a surgeon who had once known her father, which prompted her quest to finally understand her father's life and legacy. Mimi has two children and four grandchildren. This is her first book.
EVE CLAXTON was born in London. She has been instrumental in creating six works of non-fiction as a cowriter or ghostwriter, and is the editor of The Book of Life, an anthology of memoir. She also works with StoryCorps, the National Oral History Project featured on NPR. Eve lives with her husband and three children in Brooklyn.
Related Posts:
You Might Also Like