Press Releases
Michael Symon's Playing with Fire by Michael Symon and Douglas Trattner
BBQ and More from the Grill, Smoker, and Fireplace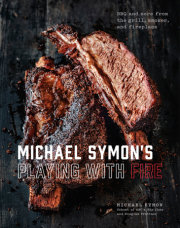 Michael Symon and Douglas Trattner
Imprint: Clarkson Potter
On sale: April 3 2018
Price: $30.00
Pages: 240
ISBN: 9780804186582
Contact:
Erica Gelbard
EGelbard@penguinrandomhouse.com
In preparing to open Mabel's BBQ in his hometown of Cleveland, Michael Symon went on a barbecue vision quest across the country, sampling BBQ by the best pitmasters. In Michael Symon's Playing with Fire: BBQ and More from the Grill, Smoker, and Fireplace (Clarkson Potter | April 3, 2018 | $30.00 | Hardcover), Michael Symon returns to a favorite subject—meat—with his first barbecue and live-fire cookbook.
In Playing with Fire readers can now re-create some of Michael's most delicious discoveries in their backyards and home kitchens, like Central Texas–style beef brisket, fireplace leg of lamb, wet ribs from Nashville, and dishes that showcase Michael's signature Cleveland-style barbecue. Along the way, he offers expert guidance for working with different styles of grills and smokers, cooking various cuts of meat, and successfully pairing proteins with delicious rubs, sauces, and sides.
Chapters and recipes include:
PORK: Grilled Pork Tenderloin with Mostarda; House Bacon; Mabel's Hungarian Smoked Kielbasa
BEEF: Brisket Melts; Smoked Prime Rib; Grilled Skirt Steak Tacos with Pickled Red Onions
CHCKEN: Beer Can Chicken; Grilled Chicken Thighs with Blackberry BBQ Sauce; Campfire Mole Chicken
SEAFOOD: Spicy Grilled Shrimp Toast with Avocado; Smoked Sturgeon; Fireplace Clams with Sauerkraut and Bacon
LAMB: Grilled Lamb Chops with Lavender Salt; Grilled Lamb Souvlaki; Smoked Lamb Ribs with Lemon and Honey
VEGETABLES AND SIDES: Smoked Beets with Horseradish; Spaetzle and Cabbage; Brisket Baked Lima Beans
 ABOUT THE AUTHOR:
Michael Symon is a cohost of ABC's The Chew and Food Network's Iron Chef America and Burgers, Brew & 'Que. He is the chef and co-owner of acclaimed restaurants Lola Bistro and Mabel's BBQ in Cleveland; B Spot Burger restaurants throughout the Midwest; Roast in Detroit; Bar Symon airport restaurants in DC, Pittsburgh, and Philly; and Angeline at Borgata in Atlantic City. He is the author of Michael Symon's Live to Cook, Michael Symon's Carnivore, Michael Symon's 5 in 5, and Michael Symon's 5 in 5 for Every Season.
 MICHAEL SYMON'S
PLAYING WITH FIRE
by Michael Symon
Clarkson Potter/Publishers
On sale April 10, 2018
$30.00 hardcover | ISBN 978-0-8041-8658-2
Related Posts: