Press Releases
This Is Mexico City By Abby Clawson Low
This Is Mexico City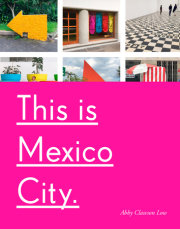 Abby Clawson Law
Imprint: Clarkson Potter
On sale: October 2, 2018
Price: $22.00
Pages: 304
ISBN: 9781524762117
Contact:
Erica Gelbard
(212)572-6182
EGelbard@penguinrandomhouse.com
In 2015, author and artist Abby Clawson Low visited Mexico City for the first time. In awe of the city's colorful buildings, dense vegetation, and unusual public art and design at every turn, she moved her family there just two months later. With more museums than any city in the world and an energy comparable to Paris and New York, Abby's Mexico City is complicated, beautiful, chaotic, and inspiring all at once. Perfect for past and future visitors as well as armchair travelers, This is Mexico City (Clarkson Potter | October 2, 2018 | $22.00 | Trade Paperback) immerses readers in the colors, textures, and shapes that define the capital, and the hundreds of recommendations for what to do, see, eat, and drink will help them build a unique and memorable itinerary.
Organized by neighborhood for efficient adventure planning, This Is Mexico City is filled with insider attractions Abby has collected by word of mouth from friends and colleagues in the city's design community: museums and art galleries, architecture, sculptures, murals, markets, parks, palaces, bars, hotels, restaurants, food carts, and more. Most entries include a "near-by" feature with three to five suggestions for noteworthy spots close by to make every outing count, and each is indexed by subject to help identify can't-miss items. Driven by photographs and colorful graphics, This is Mexico City's information and aesthetic showcases the city's forward-thinking design through the lens of a designer.
With over 200 recommendations, This is Mexico City is a gorgeous travel and look book that is also a love letter to this vast, vibrant, and trending destination.
###
ABOUT THE AUTHOR:
Abby Clawson Low is a design director specializing in identity and publication design. Her studio projects range from logos, websites, and books to self-published projects and collaborations, including work for The New York Times Magazine, Kid O products, Madewell, New York magazine, Abrams Books, Melcher Media, Partners & Space, Mayle, Seersucker, CHANCE, and Harvey Faircloth.

Related Posts: